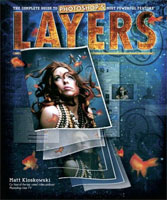 Layers: the Complete Guide to Photoshop's Most Powerful Feature
by Matt Kloskowksi
Peachpit Press
ISBN 978-0-321-53416-3, 255 pages
$39.99 US, $43.99 CN £28.99 UK
When I conduct introductory digital photography workshops, most people say they have trouble using Photoshop because they don't understand how to use layers. Though Photoshop takes us out of the darkroom so to speak, for many people any version of Photoshop seems as daunting and confusing as working with film, chemicals, and an enlarger.
Well, Photoshop guru Matt Kloskowski has written a concise introductory guide about using layers, the heart of Photoshop Elements and Photoshop CS series. His book is appropriately titled, Layers: the Complete Guide to Photoshop's Most Powerful Feature. For this book, Matt incorporates Scott Kelby's trade mark style of explaining Photoshop layer features and techniques in a well illustrated, step by step process. Each lesson is explained in less than five pages with no more than two paragraphs per page.
Matt of course starts the book off with a simple introductory lesson and illustration of how layers function within Photoshop. This is very important because it's precisely where many Photoshop newbies get stuck. The concept of layers is a little foreign for some, and Matt does a good job explaining it.
After the introduction, his next eight chapters cover everything from blending and adjustment layers, to layer masks, to the non-destructive power of using smart layers. All the lessons are based on Photoshop CS3, but I'm sure most will apply to CS2 as well.
The image files he uses in the book (which can be downloaded from his website) are a mixture of his own photographs and stock photography, both of which are very attractive and tailored to the lessons. It's pretty easy to follow the step-by-step, illustrated lessons and not get too confused. But what's more important is that you not only follow the instructions but try understanding the why of how layers are used and not just the how. In many places in the book, tools are introduced and defined, as when Matt defines blend modes and how they function with layers. However, I would not call his explanations a textbook definition. For example, he explains that the Multiply blend mode means it "multiplies two colors (the top layer times the layer under it. Black times any color will result in black…" That's about as deep as it goes. And for most Photoshop users, that's sufficient.
Because Matt is a prolific workshop presenter and has created hundreds of video tutorials about Photoshop tools and techniques, his book is equally thorough, covering the basics of layers, but also providing advance coverage for users ready to learn about the power of layer masks, smart filters, curves, and adjustment layers.
The challenge of any book like this, though, is going beyond the lessons. It's important to apply what you learn to your own images. That's where the real learning sinks in. It also means experimenting and building on your understanding what the book presents.
If you want an example of Matt's concise and friendly style, check out and follow his very useful podcast, Photoshop Killer Tips, and the weekly podcast show, PhotoshopUserTV.
There are indeed other books about Photoshop layers, but this one deserves a MyMac.com rating of 5 out of 5 for being concise, well designed, and probably the best introduction to the subject.
email – MyMac Magazine – Twitter – Advertise – Reviews Archive – Podcast