AppMenuBoy
Company: Google
Price: Free
http://code.google.com/p/appmenuboy/
AppMenuBoy 1.0 is a handy little application that takes away some clicks (and valuable time) to get an application opened. It also put your apps in a quick invaluable hierarchical list, so one can get to all apps in no time flat.
As the included AppMenuBoy "Read Me" This is a small Cocoa application that creates a hierarchical menu, in the dock, and when it is the frontmost app, in the menu bar, of your apps. It only shows apps. If a folder has a single app, it hoists the app up, so no subfolders of exactly one app.
And it works great. I'm running Mac OS 10.4.11, the last version of Tiger, and I feel like I've been given it's a free download something that should have been included with Mac OS X, although the fact that AppMenyBoy exists gives me more faith in third-party developers. The author, David Phillip Oster, created the program for Max OS X 15.0 and he says, "I admit, that AppMenuBoy made more sense when I first wrote it back in the 10.5.0 days. But, there are enough differences between it and Apple's 10.5.2 implementation that I thought it was worth posting the AppMenuBoy source code."
So I dragged the application AppMenuBoy to the dock and voila! I now have rapid access to all my apps. Holding down the AppMenuBoy icon on the dock, an alphabetical list of all my applications goes up in a menu and none of the extraneous stuff in the apps folders appears. No Read Me, no License Agreements, no extra anything, all one sees is the apps in their purest form. The apps are also in alphabetical order to make life even easier.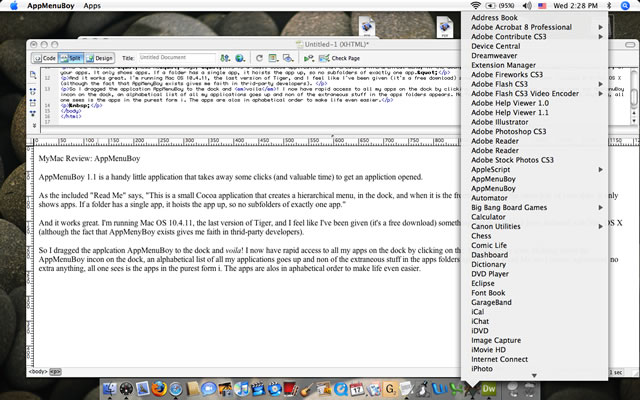 So go for it. It's clean little program that does exactly what it's supposed to do. And it could save you a lot of time.
MyMac rating: 5 out of 5 stars
email – MyMac Magazine – Twitter – Advertise – Reviews Archive – Podcast