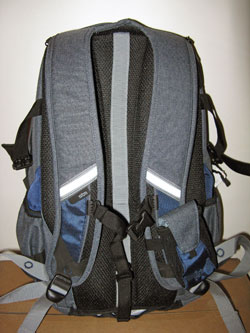 STM Small Rogue Laptop Backpack
Company: STM
Price: $100.00
http://www.stmbags.com
All STM products are available at retailers, on-line stores, and universities only.
Ok, you have your MacBook (or MacBook Air) and you want a laptop case to protect your investment. The problem is that you also want to be able to carry other items around with you besides your laptop. Looking for something comfortable, durable and yet still presents a good image, no matter whether you're in jeans or a suit? Then take a run over to STM Bags and consider their Small Rogue backpack, designed for the MacBook or MacBook Air.
STM, an Australian-based company, has been producing its products for the past nine years and has made in-roads in the U.S. in the past five years, due to great products designed for laptop users. STM's Small Rogue backpack, originally designed for the MacBook, but now also capable of carrying the MacBook Air, is designed with water-resistant external 600D polyester jacquard and pearl nylon, and utilizes 210d water resistant nylon internally, plus it also comes with a water-resistant rain cover for those extreme weather conditions that is skillfully tucked away on the bag. (Trust me, I went looking for it)
The backpack, with a heavily padded laptop section, provides outstanding protection for your MacBook. The ergonomic harness and shoulder straps provided a comfortable and secure carry for the MacBook. I really did not mind carrying the backpack around, no matter what I threw into the pack. I didn't experience any stress points and the weight was evenly distributed. As you can see below, the backpack is well designed and provides a sporty yet professional look.
When you unzip the third outside compartment, you find more storage for mouse, power supply, AC power cord, etc. There's a clip for keys, slots for pens, business cards, thumb drives, you name it and you can probably fit it in there.
Then you reach the large zippered area that contains the larger storage space area, good for gym clothes, running shoes, or notepads and files. Also located with the confines of this large storage area is the separate laptop EVA padded area. The nice aspect of the laptop storage area in the backpack is that it is not readily visible as being such. The MacBook fits securely into the area and is covered over from casual observation unless the top section is open.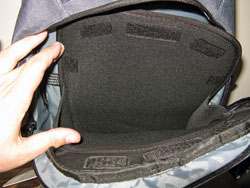 As you look at the pictures, you'll even see that there is a removable pouch for a cell phone, a headphone portal and even an iPod pocket. On the outside of the backpack there are two water bottle pockets, or soda bottle/vitamin water bottle pockets if so inclined. The backpack is high quality and it clearly shows, even in pictures.
I have run the backpack through the course of use. I've taken it to work, used it when on the move, watched it being "handled" by TSA inspectors, even used it to carry my running gear and other items in it. Everything inside the case has come through with no damage, and even the water bottles did fine on the outside pockets. The interior storage area for the MacBook does not rest up against the back of the pack; therefore it's not subjected to additional stress. Even with additional items in the pack, there is no heavy stress on the shoulder straps, nor heavy weight on your shoulders or pressure on the lower back.
Everything about the backpack is designed with comfort and function in mind. Unless you really inspect the backpack, you won't even see the hidden waistband that lets you secure the backpack even more to your body. There are straps across the front of the pack to hold the shoulder straps and straps on the side of the pack to allow for more security when you have gear in the backpack.
One of the best aspects of this backpack is that it just doesn't come across to the casual observer as a laptop backpack. There are tons of backpacks in use daily; for school, for gym, you name it and backpacks are used for carrying things around. So placing your laptop inside the backpack, out of view, works for me as a deterrent to someone who may be looking to rip off someone's laptop.
So to review:
Pro: Well-designed, durable and functional MacBook backpack that offers protection for your MacBook and does so with comfort and protection in the design. Provides storage space for the necessary MacBook accessories and much more.
Cons: If you're not into backpacks, then you're out of luck here. The cost of the backpack may scare some folks off.
Highly recommended!