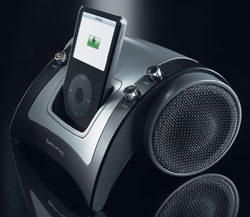 Sabre Femme and Homme iPod Speaker
Company: Boynq
Price: $60 – 70 range online
http://www.boynq.com/
Boynq's Sabre speaker is curvaceous, but it's no gender bender. The company markets the black version for "homme" (guys), and the pink version for "femme" (gals). The latter is the unit we received for review. If you buy one of each, you can be both in the pink and in the black. Is there a femme or homme in your musical future?
MyMac's reviews are original creations, but this one is a minor exception. While looking for some reference information on Boynq's Sabre speaker duet, I first encountered a comprehensive review here by our friend Ilene Hoffman. If you want to read Ilene's review, or one by any of our other webpals (including one by Bob LeVitus), that's fine with your trusted MyMac reviewer. Together we say it all, many times over. My favorite comment from Ilene is: "The Sabre is a lightweight iPod stereo speaker that weighs only 1.63 pounds, so it's very portable, but does not have a battery compartment. It looks a bit like an unrolled tube of paper, with the dock sitting on the front flap."
Good news: Sabre looks weird. Bad news: Sabre looks weird. Good news: black is boring. Bad news: pink is yucky. Good news: there are many helpful included cables and ports. Bad news: most purchasers won't know or want to take advantage of these extras. Good news: speaker volume is loud. Bad news: there is no remote control. Good news: treble and bass knobs are responsive. Bad news: knob level indicators are too small to see. Good news: informative product web site. Bad news: strange JAVA or other coding makes Boynq's web site annoying and slow. Good news: plenty of images and text to help you learn about Sabre at its official URL. Bad news: text is small, white on pink, and is difficult to read.
Good news: Sabre's dock connector and audio cable allow it to be used with iPods and every other portable (and most stationary) music players and computers. This really is good news, as is the lineup of versatile ports and cables that are provided.
Sonic delivery is concentrated in the full midrange, with crisp treble at the high end and nothing special from the bass. Top volume is plenty loud, and distortion should not be a problem. Stereo separation is acceptable, but unremarkable.
Pricing is confusing, because other web sites report Sabre's suggested retail cost to be from $99 to $129, but Amazon.com lists "homme" at just under $60 and "femme" at just over $70. Target.com sells "homme" for $60. At style+sound value for money, Sabre is not exceptional, unless you groove on its peculiar design, "femme's" color, or the very rich midrange output.
I did another sneak peek at a couple of online reviews, to see if I missed anything important. There is a consistent approach to all the writing, with most reviewers wanting to like Sabre more than they are able to do. This is not a review-of-reviews, but you'll learn a lot by doing a Google search for "boynq sabre review" (quotation marks not needed). There are some fine reviewers and web sites for low-end consumer audio products, so take advantage of them.
MyMac.com agrees with Ilene Hoffman that 3.5 out of 5 is a fair rating for our unusual Boynq "femme" Sabre one-piece-with-inserts-and-cables speaker unit. If you can pick one up (guy or gal model) for around $60, you'll like its sound-per-dollar. Black is probably a better choice for most MyMac readers. Sabre is versatile, and can be enjoyed by different generations, if not different sexes.