Naja King Stand for iPod Touch
Company: Thoughtout
www.thoughtout.biz
Retail: $39.99
If you have an iPod Touch, you know that the little plastic stand that Apple includes in the box barely meets the needs of the average user. First, it looks like something broken off a plastic pants hanger from the local department store/superstore. Second, you can't attach the data cable to your Touch unless you've got it lying on it's side in the stand. Third, because it is so small and light, it's easy to misplace, or for someone else to mistake for a piece of plastic from a pants hanger and file it in the circular drawer.
I need to quit griping now. Frankly, I'm glad that I even got a little plastic stand with my iPod Touch to begin with.
But that doesn't mean I wasn't looking out for something better. When I was contacted to review Thoughtout's Naja King stand for the iPod Touch, I was more than happy to do the review. I remember seeing the Ped3 iPhone stand at Tim's when he was reviewing it, and I thought it was a great design. Very sleek, very sturdy, and it looked like some robotic manipulator was holding your iPhone – which I thought was very cool.
Thoughtout brings that same cool look to us iPod Touch users with the Naja King. To start with, the Naja King looks like a snake, which only makes sense, since the name naja is the genus name for the snakes in the cobra family.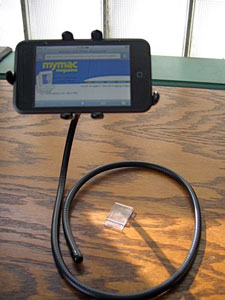 The stand itself is comprised of two parts. The first is the body, which is a three-foot heavy-duty cable coated in a thick black flexible polymer. The other part is the "head", which mounts on the end of the body on a rubber fastener and holds the iPod in its six rubber-coated fingers. The head is crafted from steel, and is powder coated black to match the body.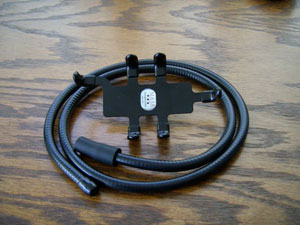 The first thing about the Naja King that impressed me was its construction. Both the head and body of the stand are very sturdy, and you feel like you are getting your money's worth just by the quality of the components. The head fits securely to the body, but can be easily rotated to allow you to view your Touch either vertically or horizontally. The rubber fingers on head hold the iPod Touch securely in place, regardless of the position you have it in.
What really impressed me was the strength of the slender, flexible body. Just to test how strong it was, I decided to mold it into a configuration that would extend it up as far as it would go and still have balance (about 2 feet high). I thought for sure that with a vertical extension of that height, I would get some "drooping" as the weight of the Touch in the head forced the body to bow down to the force of gravity. But the Naja King didn't budge, and had no problem holding up the iPod like a cobra coming out of a snakecharmer's basket.
Personally, I prefer to keep the Naja King tightly coiled, with the iPod held about a foot off the desktop. That way I can fit it under the credenza, and still have room to plug in my iPod cable.
What's nice about the Naja King is that you can pretty much bend it to whatever configuration you want, within limits. So what are the limits? Well, you can't really make a hairpin turn or a sharp angle with the body, so if you were planning to bend it into, say, a square or triangular shaped base, there is not enough "give" in the body to do that. This leaves you pretty much limited to bending it into circular or elliptical shapes. For folks who have a bent towards design and want the ability to twist the Naja King into all sorts of geometric shapes, this could be a drawback.
But the real seller on this stand is that it's more that just a cool conversation piece for your desktop. If you've had any kind of handheld media device, you know how uncomfortable they can be when viewing video for an extended period of time. If you're like me, you usually assume a semi-Buddhist position of contemplation; with your head slightly bowed, staring into your hands, which are resting in your lap cradling your device. This works okay for a five minute You-Tube trailer, but not so comfortable for a half-hour sitcom or a full-length movie. Here's where the Naja King can help.
Twisting the body into a shepherds staff, I looped it around my neck to create a hands-free media viewer. The Naja King held the iPod at the perfect viewing distance (as least for me), and I could still comfortably interact with my iPod to browse through media or surf the internet.
For you iPod Touch owners who are regular travelers, this stand is a great dual-purpose solution for both storing your Touch on your desk or watching it for an extended period on a plane or riding in a car. It can be easily separated into it's component parts and packed into a purse, carry on bag, computer bag, or glove compartment for safe keeping. Heck, if you're Guy Serle, you can even wear and watch it while driving through D.C. traffic (personally, I don't endorse this practice).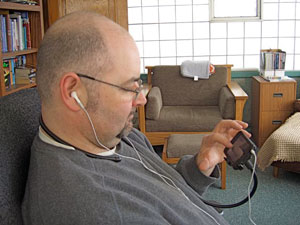 So are there any other drawbacks to the Naja King? Well, if you have a clamshell style case for your iPod Touch, you may not be able to squeeze it into the fingers on the Naja King head to hold it securely. I currently have such a case for my iPod Touch, and while I can't force it into the stand, I can still set it in securely enough to hold it in place while I dock it or just leave it for the night. I don't view this as a drawback, and don't expect Thoughtout to try to anticipate and compensate for every possible iPod Touch case design into their own product.
My overall opinion is that the folks at Thoughtout have done a fantastic job at creating a very simple, elegant, versatile solution for holding and displaying your iPod Touch and allowing you to use it hands-free while traveling or at home.
Mymac.com Rating: 4.5 out of 5.