The Adobe Photoshop CS3 Book for Digital Photographers
By Scott Kelby
New Riders
http://www.newriders.com
ISBN-10: 0-321-50191-2
ISBN-13: 978-0-321-50191-2
472 pages, paperback
US: $49.99, CAN: $61.99
The Adobe Photoshop CS3 Book for Digital Photographers may have the longest book title I've ever had the pleasure of reviewing. This book was written by Scott Kelby who is the Editor-in-Chief of Photoshop User magazine, and President of the National Association of Photoshop Professionals. Scott is an award-winning author of over forty books on Photoshop and digital photography.
I am neither a photographer, nor am I anywhere near proficient in Photoshop CS3. Mr. Kelby says anyone can use his book to "learn how the Pros do it."
Let's see….
Physically, this is a nice book. Full color and glossy print pages. The before and after shots make it easy to see what's been changed. There is also a companion website where you can download most of the pix, but you don't really need them, and Scott Kelby also includes updated tutorials from the last version of this book. That's a nice touch for previous buyers.
There are thirteen chapters in The Adobe Photoshop CS3 Book for Digital Photographers. Chapters One and Two tell you all about the Adobe "Bridge" program. I guess I didn't realize that Bridge acts kind of like an iPhoto on steroids. The program is used extensively for organizing your photos, renaming, and basic manipulation.
Chapter Three covers Camera Raw; Chapter Four is on Resizing and cropping your images. Chapter Five, "Fit to Print," covers printing and color management, while Chapter Six covers color correction.
Chapter Seven, "Black & White World," describes how to create stunning B&W images. This is something I have always wanted to be able to do with my own photos, so I worked through this chapter. You can see the results a little later in this review.
Chapter Eight, "Dealing with Common Digital Image Problems," walks you through fixing color on indoor shots, over or under exposed shots, dodging and burning, red eye removal, fixing reflections in glasses, fixing group shots, and fixing spots and dust on multiple photos at once.
Chapter Nine is titled "Faces," and explains how to removes blemishes, wrinkles, and double chins, right down to giving a digital "nose job." After thumbing through this chapter I'll never trust another magazine photo again. Chapter Ten covers about a dozen "Special Effects" you can use on your photos. Chapter Eleven covers tips on sharpening techniques, while Chapter Twelve covers showing your work, from watermarks to photo layouts, to email.
Working through Chapter Seven:
I took three photos and changed them to black and white using three techniques described in Chapter Seven. The first was using "The Lightness Channel Method" which was fairly easy to do. You use the Channels panel and the Opacity slider to obtain the best results.
Here is the original I took on a street in Vermont.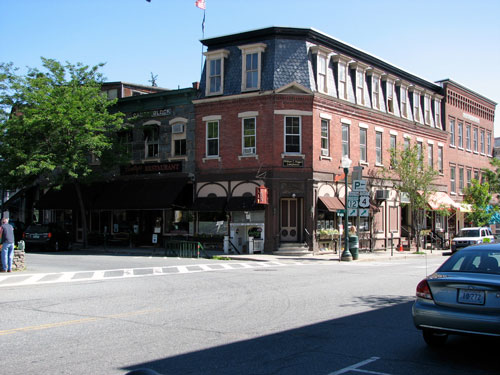 This is the "after" shot, black and white conversion.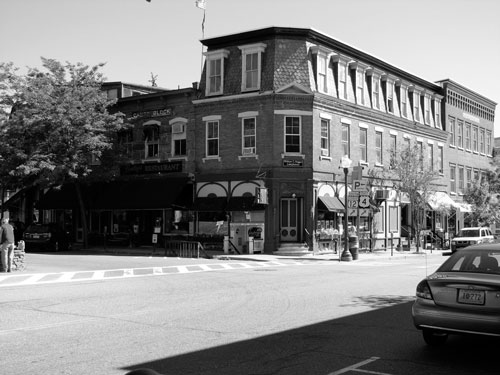 The second method is titled "Using CS3's New Black & White Converter."
This method requires you to add a new adjustment layer and then use the black & while dialog panel that opens. This panel gives you plenty of options to tweak the color channels. However, there is a button marked "auto" which gave me pretty good results. Scott Kelby never seems to be satisfied with "auto" buttons and goes beyond this step to include more options using the channel mixer.
Throughout the book the author always offers multiple methods to get a particular adjustment done.
The original was a shot of the Chicago skyline.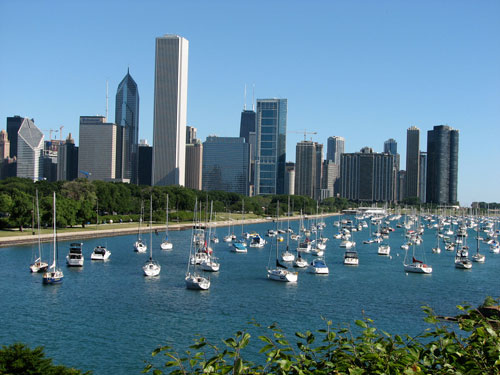 You can see after the conversion that the tree line along the shore is almost too dark to make out. You can adjust this by using the opacity slider to lighten things up.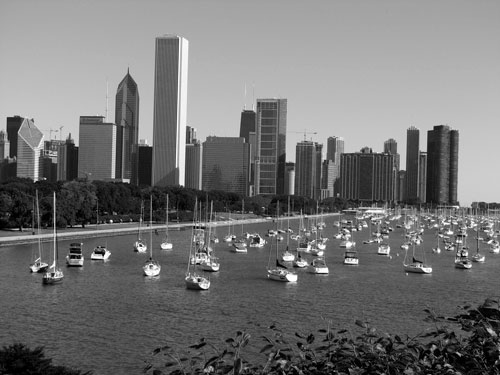 Lastly, there was "Scott's Favorite High-Contrast B&W Technique."
This process involves extensive use of the Gradient Map dialog box and the Gradient Editor.
This was my original shot taken in Kennebunkport, Maine.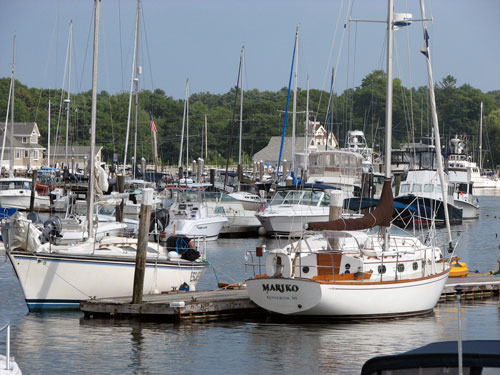 I thought using this method took a little sharpness out of the photo.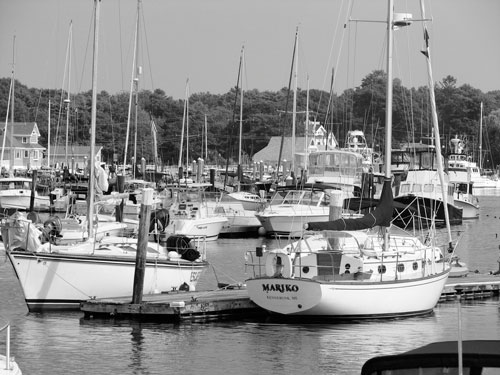 Overall, I like the The Adobe Photoshop CS3 Book for Digital Photographers, but sometimes I think the author gets a bit wordy and conversational, but that is a personal observation. It seems at times this book leans a bit towards those who have used Photoshop more than just casually. I feel it assumes I'll be able to find that menu I'm supposed to click on, or that dialog box will make perfect sense to me. However, I was able to find everything, but I needed a bit more time to locate things and look them over. I wouldn't say this book is for an absolute Photoshop beginner.
Each tutorial is well done and the author usually supplies multiple methods to reach a particular goal.
So I guess I learned how the pros do it, but it certainly didn't come easily.