Ladybug
Company: Vestalife
$110.00 Silver, Red
$125.00 Element Skateboards Limited Edition Designs
(Prices designated MSRP on www.vesta-life.com)
Prices at stores may vary and could be well below MSRP.

I gotta tell you right now I was sure I wasn't going to like this. Too small. Gimmicky. Looks like all plastic. Bass woofer in the rear??? Ha! I wasn't impressed, yet, with the fact that this product won the CES Innovations Design and Engineering Award in November.
I went to Vestalife's press conference at the Macworld show. Wayne Ludlum, Cofounder and CBO of Vestalife, spoke for a few minutes about the quality and the R&D that went into the product, the new Ladybug 2.1 speaker dock for iPod. I thought, "we'll see."
Then Myk Lum, Cofounder and CCO spoke about how the idea came about and how carefully they chose each component to make the best Ladybug they could make. Yeah, mm hmm.
So I got the speech, and I got the product. But they never played the unit at the press conference. Odd, I thought. I couldn't wait to get home to test it out. Let's see what these guys came up with.
Man, was I surprised! Right out of the box, I plugged it in, stuck my iPod in the dock, the lights went on and the iPod came to life. Bill Doggett's "Honky Tonk" was playing, loud and clear.
Let's get something straight right off the bat. Ladybug from Vestalife has NO plastic parts. It's all metal. It has a new soft-touch finish which actually does feel really cool, and the sub-woofer in the back really does put out bass you can feel, if even just a little bit. It does NOT sound chintzy, as so many other players on the market this size do. Ladybug has a quality feel throughout.
Five LED lights on the top visually tell you where the volume is. There are no EQ controls, so volume up, volume down. EQ wouldn't be horrible if it was there but you can bet the Ladybug with EQ would be much pricier. EQ really isn't necessary. It sounds great without it.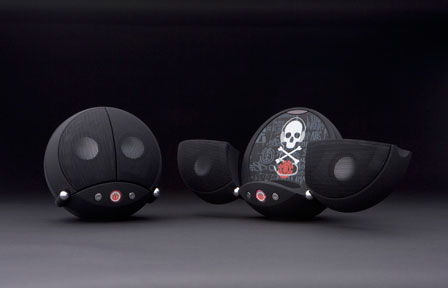 The winged speakers have enough highs and mids to project the sound in a clear wave. Add the 3″ rear sub-woofer and you've got the equivalent of a small stereo. It doesn't get super loud, but at full volume it's loud enough and it never broke up on the any of the old rock tunes I played on my iPod. On one song the bass (upright) broke up a bit because it was recorded so strongly to begin with. That's the only glitch I could find.
I think this Ladybug has a future. The products designed by Vestalife (Ladybug, and Butterfly which will be reviewed shortly by MyMac) are marketed to the tween, teen, and Generation X consumer markets. I can see every kid with one of these things in his/her room. I can even see moms with one in the kitchen. And dads with one in the workshop.
The Ladybug runs on AC power, chord supplied, or 4 AA batteries with battery saving auto shut-off. A patch chord is supplied with which you can hook up other non-iPod players to the Auxiliary in jack, and an AV (Audio/Video) outlet so you can hook it up to your TV and see your photos, AV chord not supplied. It also has a USB connector for synchronizing with your computer. It includes dock connectors for iPod mini, iPod nano (1st or 2nd generation) and iPod with color display. The amplifier is all digital technology. Wow! That's cool. And all for about a C note. Oh, did I mention the multi-function remote control (works great) and the carrying tote bag? And I almost forgot the selection of colors and designs available, with Vestalife adding more designs as we speak.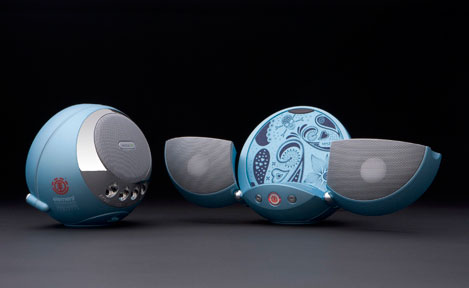 Folks, in the sea of peripherals available these days, this is a little gem among common stones. It's not expensive. It does what it says it's supposed to do (refreshing), it's made very well, it's got plenty of flexibility, and it's cute as a…Ladybug. Get one before they're all gone.