Ped3
Company: Thought Out…
Price: $39.95
http://thoughtout.biz/PED3
I had meant to do a video review of the Ped3 iPhone rotating stand, but with a new baby and loud older kids, plus the holidays and Macworld expo, it seems it was not meant to be. But this product is too cool that I have to at least get a written review posted for it!
First, full disclosure. I know the guy who runs Thought Out, the company behind the Ped3. I have chatted with him often, and I have always wanted him to succeed. That being said, when it comes to reviewing a product, I put all that aside. I cannot let anything to stand in the way of honesty in my review, or any review at MyMac.com for that matter.
So, with that said, what is my opinion of the Ped3? In a word, it is an amazing stand. Sure, it is only a stand, but this is a stand for the iPhone, my favorite handheld devise ever. i don't want to put it flat on a tabletop while charging it up. I also want to show it off, and the Ped3 does a fantastic job of doing just that.
The Ped3 rotates 360 degrees, so that you can view the iPhone either vertically or horizontally. It also tilts slightly up or down for better angling the screen. It has rubber grips that really hold the iPhone tight, but without needing a pry-bar to remove it from the stand. The rubber grips also protects the iPhone from scratching.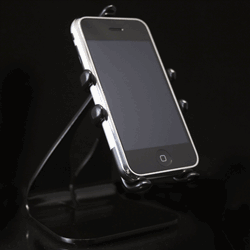 The base itself is solid metal, although it is coated in something that gives it that nice, glossy shine. The back of the Ped3 is split to allow the USB cable to connect to the iPhone. Also, the grips are positioned as such to allow easy access to all the iPhone's controls and USB port.
The only negative is that the grips are not movable at all, meaning if you have an iPhone case that you simply leave the iPhone in 24/7, you are forced to take the iPhone out of the case to put it in the Ped3. Allowing a little play in the grips would solve this, but of course would also leave the iPhone too loose in the stand if you did not adjust the grips each time. I don't see an ideal solution on this point.
All in all, I really like the Ped3. It is now my default iPhone stand when it is not in a case. It does a great job of showing off the iPhone, while allowing (and most importantly) holding it in place snugly and safely.
MyMac.com rating: 4.5 out of 5