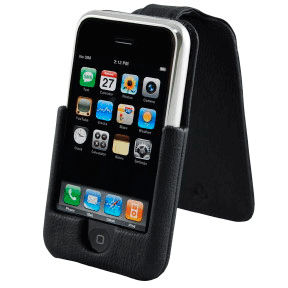 U-Suit Folio for iPhone
Company: Uniea
Price: 34.95
http://www.uniea.com
Another iPhone case arrived from Uniea review; the U-Suit Folio. Following hard on the heels of the U-Suit iPhone case, which I rated very highly, I expected another great iPhone case.
Wrong. Not even close.
Like the U-Suit, the Folio is a hard carrying case with a belt clip. The iPhone slips into the case rather snugly. Folio, however, uses a fold-over flap that covers the entire iPhone, and closes with a small magnetic latch.
When the iPhone rings, you need to flip up the fold-over flap, and pull the phone out of the case. Otherwise, you need to yank the whole affair, belt clip and all, off your belt. The iPhone is a snug fit in the Folio holster, so you'll need to pull harder than you'd expect. This may dislodge the belt clip. Or, you may not get the phone out before the call goes to voicemail…
Once you've finished the call, you need to flip open the flap, and while holding the flap open, slide the iPhone back into the slot. Again, it takes some pressure to slide it down into the holster.
Keeping the flap out of the way is awkward, plain and simple.
The flap does double duty as a stand, but that doesn't offset the fact that it is in the way most of the time. The flap's a good screen protector, but it prevents easy access to the phone.
Was this designed by the same person who scored big with the U-Suit? I hope not.