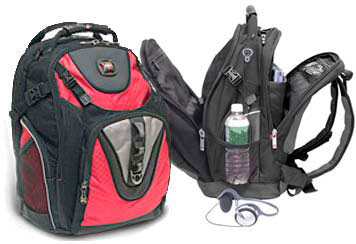 "Maxxum" Computer Backpack
Swiss Gear (by Wenger)
Price: $71.00 (US)
http://www.wengerna.com
I've decided to attend my first MacWorld Expo and there is no way I'm going with my old computer bag, lugging it all over Moscone Center, cutting off circulation in my shoulder for a week.
So I went to CompUSA (R.I.P.) to see what kind of backpacks were available.
A lot.
But most were quickly vetoed. My 15″ MacBook Pro doesn't fit. Not enough pockets. Too much style and not enough utility. No style.
And just about every one dug into some tender part of my anatomy. The straps are too close together on the top. The padding is a lump against my kidneys. And so on. And so on.
But like Goldilocks I finally found one that was "just right."`
Enter the Wenger Swiss Gear "Maxxum"
To begin with, it looks good with colorful red, blue, or dark grey nylon panels offsetting the light gray and black. And to be perfectly honest, its stylish look made it one of the first I tried on, but in the interests of fairness and thrift I looked at the entire selection.
One glance at the number of zippers and pockets tells you we're talkin' some serious storage here. There is an "Essentials Organizer" pocket, a pocket for your iPod with a headset access port, zippered side pockets, two mesh side pockets for those sweaty bottles of Jolt Cola. But it's the main pockets where this case shines. Next to your back is the padded laptop section with an internal strap to keep it snug. Next, on top, is the iPod section with its headphone port followed by, in decreasing size, no less than four zippered sections and pockets . . . ending with the "Essentials Organizer" pocket.
Inside the sections are numerous pockets, flaps, straps, and hidey holes to gladden the heart of your inner geek. Plenty of space even for me . . . the guy that hauls around everything because you never can tell when you're going to need that wire, plug, dongle, car charger, etc. There's even a mesh-sided section for stuffing a light jacket, lunch, gym clothes, chihuahua, or whatever else you have that should need air.
It has a dual handle (carrying handle and trolly strap) and what they call a "CaseBase Stabilizing Platform," stiff inserts that let you sit the case on the floor without it falling over, and more straps and clasps.
The comfortable shoulder straps are characterized as "shock absorbing," and there is a chest strap if you feel the need for even more stability. Finally, is the "air-flow" back padding which rode comfortably without poking me anyplace.
What else would you expect from the makers of the Swiss Army Knife.