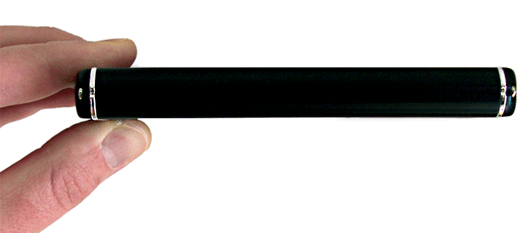 FA2-54-250-1 External 2.5" Firewire Drive 250 GB Model
Company: Oyen Digital

https://oyendigital.com
Price: $224.99 US
I have several small, 2.5" external drives that I use for moving data between Macs, or bringing data back and forth to my workplace, or to carry with me on business trips packed with movies. They all look like a typical hard drive case, except this one.
The Oyen Digital FA2-54-250-1 looks like it's made for a MacBook. It's sleek and black with silver trim in a band around each end. This is a FireWire only drive. USB-only users need not apply.
Truly, I would call this the "sexiest" looking 2.5" drive case I've ever seen.
What's in the box?
This is a buss powered drive. You can purchase an external power adapter for an additional $8.99. There is a small instruction card included in the box.
You get a standard six-pin FireWire cable. Using this cable allows you to transfer data and powers up the unit. You also get a cable that has a four-pin mini Firewire connection on one end, to a six-pin cable connection on the other end. If you use this cable to connect to something that only has the four-pin connector, you'll need to use the included double USB cable for power.
The USB cable is for power only. It plugs into the power jack on the unit and has a "Y" type end with two USB connectors. You can't mount the drive with these connectors, they will only provide power. The Oyen drive also comes with a card that has a registration code for Prosoft Engineering's Data Back up 3 (A $59 value). You'll need to download the program from Prosoft's website and use the included registration number to unlock the software. You also get a handsome protective carrying pouch. The pouch is more like a wallet and is the nicest included case I've seen for a 2.5" drive.
Using the drive:
On it's rear you'll find a six-pin FireWire port, four-pin FireWire (FW) port, power connector, and the drive activity LED.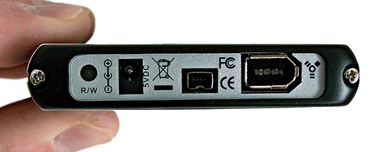 Just plug the included six pin FW cable into the port on the drive and the other end into your Mac and the drive powers up and mounts in a few seconds. The unit comes formatted in FAT32 so it can be mounted on a Mac or a Windows machine. Oyen recommends reformatting the drive as an HFS+ drive if you only plan to use the drive with a Mac. This was easily accomplished using the Disk Utility program that comes on all Macs.
I plugged the external drive into my G5 Mac tower and copied a 7.37 GB video folder. That took four minutes and fifty four seconds. Then I plugged the drive into my MacBook and launched its DVD player. The movie launched and played very smooth with no issues. I left the movie playing and went off to do something else.
When I came back, some forty minutes later, the movie was still playing. I picked up the Oyen drive and it was barely warm to the touch. Amazing. This drive is truly whisper quiet. I had to hold it up to my ear to make sure it was running. It does have an LED on the end with the ports. The LED flickers when the drive is being written to or from. Copying files and folders was a breeze. Mounting and unmounting the drive was easy, just make sure you eject the drive from your desktop first. To power down, just disconnect the FW cable. I'll admit, I would have preferred an on-off button.
The next question I had was, "What's the Four pin port for?" Try as I might, I could not come up with a reason as to why Oyen included a Four pin port on the back of the unit. So I asked Steve Oyen, who explained the reason this way, "Regarding the 4-pin FW port, the sole purpose of this port is to daisy-chain to other FW devices. The reason it is 4-pin instead of 6-pin is because a single Mac FW port is only capable of providing 7W of power. A typical 2.5-inch external drive will consume 5-6W on spin up; therefore any subsequent drives in the chain will need their own power, which would make a 6-pin port a moot point. There are other 2.5-inch FW drives in the market that have two 6-pin FW ports, and we occasionally hear from people who claim they have 2 or 3 bus powered FW drives functioning in a chain. But the specs on Apple's website don't lie - 7W is all that is provided and overtaxing your logic board could cause problems."
Seems the folk at Oyen think of everything.
The final word
A couple of negatives, I wish it had an on/off switch and the power plug/USB cable adapter sticks out a little more than I usually see on units like these. Steve explains the cable this way, "Regarding the USB DC power cable, the outer barrel is ground so it is not a significant issue. The reason why the cable fits as it does is because we use this exact cable with three of our products (EN2, EB2, and FA2) and we needed something that would be the best fit for all three." I measured the distance with a pair of calipers and it sticks out about 1/8". Let me stress that this fit does not affect the operation, nor does it make the connections flimsy.
This is one sweet little drive. It's light, fast and it looks great. It didn't get hot during my testing, and it really was whisper quiet. The cables match the color of the drive and are standard length, 36". This drive is qualified for use with Pro Tools and is compatible with all leading audio/video applications.
It comes in several flavors, the 120 GB, 160 GB, and 250 GB units have a spindle speed of 5400 RPM. There are also 80 GB and 100 GB units with a faster 7200 RPM spindle speed. Oyen also sells an empty enclosure, ready for whatever drive you want to slap into it for $24.99 + shipping.
This is the second unit from Oyen digital that I have had the pleasure to review. If you have not been to the Oyen Digital site, <http://www.oyendigital.com>, and looked at the drives they offer, you really are missing out on some of the most solidly designed external drives and enclosures out there.