This article is a work in progress, as is my home theater installation. I also intend for this article to spawn several product reviews as I go along. Be warned.
I've been playing with HDTV, ever since I got a really nice bonus from work a few years ago. I mean a REALLY NICE BONUS. Being the foot loose and fancy free single guy that I am (and not having a "finance committee" to control my expenditures), I had no intention of doing practical things like paying bills with that money–noooo, it was time to build a home theater with a big screen high definition TV!
Basically defined, a home theater integrates various electronic components to provide an experience not unlike what you might have at a movie theater, but without all the negatives. Please refer to the block diagram below (licensed through Creative Commons, source: teques.com):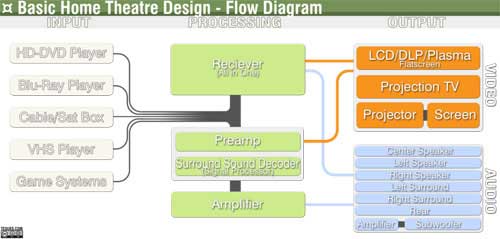 Prices and availability of HD gear in April of 2005 was a heck of a lot more limited than it is now. Many plasma sets were not really even HD (something called enhanced definition or ED–basically widescreen standard definition), and LCDs were out of sight cost-wise and technically a bit blurry in fast motion sequences. So, after haunting my local hi-fi/video emporiums, high end and low, I finally settled on a 50 inch Panasonic rear-projection DLP (digital light processor) 720P (1270 x 720 pixel resolution, progressive scan) HDTV (the highest resolution is 1080p ). In April, 2005, when I bought this set, manufacturers did not have to include HD TV tuners, so the internal tuner was only standard NTSC (National Television Standards Committee–or to some, Never The Same Color). I bought a Motorola external HDTV tuner, only to discover that without an outside antenna, I was going to have serious reception issues (indoor amplified "HD-compatible" rabbit ears are useless, at least where my TV is located). Thankfully, my local cable TV company (rhymes with "Flopcast") began offering HD content, so I picked up a new HDTV cable box with digital video recorder (another amazing invention). My HDTV had a single HDMI (High Definition Multimedia Interface) connector and several HD component video inputs. The cable box had a single HDMI connector and an HD component video output (analog), which meant I was out of luck if I wanted additional HD components that I might want to keep in the digital domain. More about that, later.
This is probably as good a time as any to define a few (more) things, but that's probably out of scope for an article like this, so I'm going take the coward's way out and refer you to the excellent HDTV page on Wikipedia.
I chose an Onkyo TX SR-803 receiver, which had several HD component video inputs, and two HDMI inputs. It feeds a Bose Acoustimass 15 5.1 (5 speakers plus subwoofer) speaker system that I picked up with a nice discount at a local Bose factory outlet store (love those refurbs!). I bought a Samsung upconverting DVD player/recorder/VCR combo box. Big mistake. It did have HDMI output, but I had to make a separate connection to my TV so I could use the menu system to set it up. Furthermore, even with a software update, the picture hiccuped every time the DVD jumped to the next chapter, and response to the remote control was glacially slow. I finally gave up and took it back, replacing with a similar function device by Panasonic DMR ES-46CV, that I got for under $300 at Costco. It upconverts standard definition DVDs to 720P or 1080p so DVDs look great on the HDTV through the HDMI output, which connects to the Onkyo receiver and then to the TV.
To control this mess, it required about four remote controls (the TV, the receiver, the cable box, and the DVD player). What a nightmare. After trying several cheap universal remotes and hating each one of them, I went with a Logitech Harmony 676 which has a mini-USB connector that lets me plug the remote into my Macbook. Logitech has an extensive database of remotely-controllable devices, and through their Mac-compatible software and a web browser, you can easily configure the remote to do whatever you need. Now, I can push one button to turn on the TV, the cable box, and the audio receiver. If I want to watch a DVD, I push one button, which turns off the cable box, turns on the DVD player, and switches the input on my receiver. I can't recommend the Harmony highly enough. It's a real lifesaver.
All told, I think I invested about $5,000 to get to this point: a great TV with DVD, a top-notch audio/video receiver, and adequate speakers (hey, at my age, my ears are shot anyway–the Bose speakers work fine for me). With 50 inch and smaller LCDs and Plasmas dropping rapidly in price, and DLPs getting even cheaper yet, you could probably do something similar to this for thousands less than I paid. That's the cost of being an early adopter (insert iPhone comment here…). You also don't necessarily need all the accessories I have. There are lots of inexpensive home theater systems out there that integrate an audio receiver with a DVD player, speakers with subwoofer, and the ability to switch between the DVD, radio, and cable box. The only downside is that the lower-cost home theater systems might not give you enough inputs for even more devices. Along with the DVD/VCR, cable box, and my Mac mini (see below), I also had a CD changer, a cassette recorder, an open reel tape recorder (remember them?), and a turntable, which dictated a larger and more expensive audio receiver.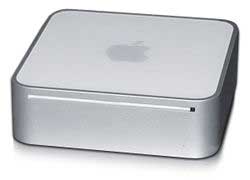 But you know, I felt something was missing (here's where the Macintosh relevancy comes in…I knew you were waiting patiently for this). I've been enjoying the HTGuys Podcast for about a year, and have been listening with great interest about full home theater systems and media servers using an Apple Mac mini as the heart of the system. I have a large DVD and CD collection, and thought it would be neat to have all of it on a server, so I wouldn't even have to get out of my chair to watch a movie (the dream of every male on the planet). So, to test the concept, I picked up a refurb'ed Mac mini Core Duo machine at my local Apple Store, an Iomega MiniMax 500 GB FireWire external hard drive styled to go with the mini (on sale at a local big box store for $139), and a Seagate FreeAgent 750 GB USB 2.0 external drive bought online for about the same price. The idea being that if this really works well, at some future date, I'll buy a NAS (network attached storage) device with about 2-4 terabytes of RAID5-protected storage, and put it in my office, and connect it to my home network, so I won't hear the drives and fans spinning in the living room.
Immediately, some "issues" came up. First, I didn't have enough HDMI inputs to handle everything. Second, the Mac mini has DVI video output–not HDMI. The second issue is no biggie on the surface, because you can buy a simple DVI to HDMI cable to move the video, but unlike HDMI to HDMI, DVI to HDMI doesn't move the audio. Fortunately, you can get digital audio out of the mini (and almost any contemporary Mac) with a mini-Toslink to Toslink cable. Toslink is the optical connector you see on many HD devices. The mini-Toslink variation allows companies like Apple to use the regular audio output jack for feeding either analog audio or optical (digital) audio. On a Mac mini, for example, you can plug a 3.5 mm audio plug or a mini-Toslink connector into the audio out (headphone icon) port. To deal with the issue of having insufficient HDMI inputs and the issue of switching Toslink signals, too, I did a Google search for "HDMI Switch Toslink", and found a little company called Octava, who made the exact device I needed: 4 HDMI inputs with Toslink on each input, to a single HDMI and Toslink output. It even had a remote control. While not cheap at just under $300, it did what I needed, and the Logitech Harmony Remote database knew the codes, so I did a quick reprogramming of my remote, and all was well. Now, the switch has the cable box, the upconverting DVD player, and the Mac mini routing the HDMI cable straight to the TV, and the Toslink cable goes to my Onkyo receiver. I still have an extra input which could be used with a high-end video gaming console, or an equally high-end disk player HD-DVD or Blu-ray Disc. Oh, and before I forget, don't listen to those "experts" at the big box and high-end hi-fi/video stores about cables, in particular, ones running digital signals, such as an HDMI cable. If the overall cable run is under 3 meters (about 10 feet), you shouldn't pay more than 20 or 30 bucks for a cable. Never pay 100 dollars or more–it's money in the wastebasket. The signals going down that cable are entirely digital, and as long as the signal can go unimpeded from point A to point B, the signal will be identical at both ends. There's nothing that can "color" or otherwise alter either your audio or video fidelity, as long as it remains in the digital domain. A "one" is always going to be a "one", and a "zero" will always be a "zero". If the run is longer than 3 meters, a better-quality cable may pay, as there will be less attenuation (loss) over a long run. The same goes for cheap vs. expensive optical audio cables (Toslink).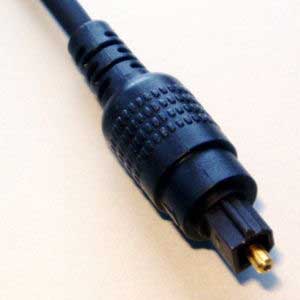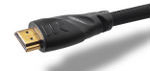 Photos from Wikipedia Commons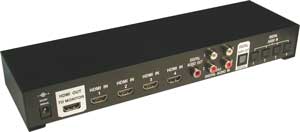 Octava 4×1 HDMI Switch with Optical Toslink Routing
Photo from Octavainc.com
I began "backing up" my DVDs with that amazing program Mac the Ripper, which has dealt with every issue thrown at it. Backing up with MTR creates a folder that contains an copy of your DVD on your hard drive that can be read by a number of products (many of them described below). While the MPAA isn't thrilled about people doing this (that's putting it mildly), I am only backing up DVDs that I own and have legally purchased. It's really bad form, and really, really illegal to RIP someone else's DVDs to put on your system. Don't do it.
Ripping your DVDs can be a time-consuming affair, and there are alternatives if you want to have all your DVDs loaded all the time. Sony has a neat upconverting (to 1080p) disk changer that holds up to 400 disks, that sells for under $400, but it doesn't really integrate into home theater software, and simply isn't as "geeky" as using your Macintosh to integrate your various media formats into a single box, controlled by a single piece of software.
I've also been ripping my own CDs, using iTunes to feed my iPod (I recently bought an iPod Classic 160), but would like to be able to play my library of 1300 CDs through the computer. Again, RIP your own stuff–not someone else's! I enjoy hitting Shuffle to see what comes next, when playing the iPod. Now I play my MP3 collection through my home entertainment center I'm not watching TV.
Finally (not by a long shot!), I'm still struggling over an integrated media center solution. There are a lot of partial solutions. I really like Matinee for playing DVDs residing on my hard drives. It basically tricks the Apple DVD player into thinking the VIDEO_TS (folders containing DVD content) folder is really a disk in the internal CD/DVD player, and it does that job really, really well. Unfortunately, it isn't very pretty (the Finder is still sitting there in the background in all its glory), and it requires that you control it with a Mac keyboard and mouse–not a more convenient Apple Remote. Finally, it's a one trick pony. It only plays movies stored on your computer or network–no MP3s or other media.
Next, I looked at MediaCentral from Equinux. It is a complete solution that mixes VIDEO_TS folders, digital TV, IP TV, DVD, Internet Radio, pictures, music, etc. It is also very much still a work in progress, and is really picky about where you can put things, which in my case caused some problems, because I am using two large external hard drives for my DVD backups, and Media Central can only look in one place (and it doesn't like aliases). It's a tad slow when first launched, as it seems to scan local drives and the internet for content. It is compatible with the Apple Remote. It's pretty inexpensive at 29.95 euros. If I ever get a multi-terabyte NAS device, I'll revisit Media Central.
I couldn't get Xhub Media Center to work. Spec-wise the $24.95 looks good, and it may just be a conflict with something else I have installed, so I will revisit this app sometime in the future.
The open source community has a few items of potential interest. First, the Mac-only Centerstage (including the supporting program, Backstage). It's in alpha release right now, at version 0.62 and shows it. I think it has tremendous potential, though, and bears close scrutiny. So far, it hasn't destroyed any files, and hasn't crashed badly, but there are a lot of features still missing. The developers are actively seeking additional programmers to finish up the user interface and get the product into full beta. One thing I like about it, as well as MediaCentral, is that you can use your Apple Remote, so you don't need to haul out your keyboard and mouse to select a movie or other stored content. It integrates with iTunes, too. This is the application I am currently using.
If you are willing to be a real pioneer, there's the interesting open source package called Myth. Myth has gotten a lot of buzz in the hobbyist community, with features like a personal video recorder, electronic program guide, and more. This is an interesting product, but again, kind of out of scope for a typical Mac enthusiast. Primarily a Linux product, there is a parallel development effort to port Myth to MacOS X, but it's nowhere near ready for prime time. I wouldn't try this on the family TV or a revolt could develop!
So far, the only problem I haven't been able to solve is probably unsolvable–my Panasonic HDTV uses some trickery to up the native 720P resolution from 1270 x 720 pixels to 1366 x 768 pixels. My Macintosh mini can't seem to deal with that and insists upon outputting at 1270 x 720, so there's a small black border around my movies when I play them from my Mac mini to my HDTV. I've tried several software solutions that extend and expand the number of video resolutions a Mac can support, but everytime I tried, the screen just went blank–and remained blank until I deleted a bunch of files, zapped the PRAM, and other really annoying stuff. For now, I have taken advantage of a setting in the Displays System Preferences module that permits me to "overscan", so the Mac handles the needed increase in resolution for the TV (and takes the image to the edges of my display–only downside is that when this is set, I can't see the menu bar at the top of the Finder). This feature only seems to be available when connected to a TV, when a third tab, called Options, appears on this module.
Doing a home theater with a Mac at its heart has been a fun project, and as you can see, it's not done by a long shot. Like the man said, the journey is the reward.