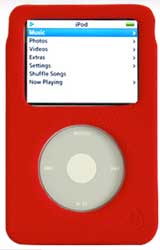 U-Suit Leather Cases for iPods
Company: Uniea
Prices: $29.95 and $34.95 US (see below for details)
http://uniea.com/
* * * * *
U-Suits from Uniea are here in a colorful range of stylish, protective cases for all new and recent iPods, plus the iPhone. Artie recently reviewed the company's MacBook case here and gave it a high rating.
iPod U-Suits are rigid one-piece slip-in sleeves, with top, bottom, and front exposed. iPhone U-Suits are mostly open in front, to correspond to the large display area. An iPhone Folio model has a protective front flap that stays in place via a clever, gentle magnet, plus a belt clip and hole upper right rear. Card slots and dock ports are readily accessible.
I've been using a previous generation 60GB U-Suit to protect my new 80GB iPod Classic. The iPod slips snugly into its U-Suit, with little danger of unexpected escape. Screen visibility is acceptable through the permanently-affixed thin, clear screen cover. Click-wheel and Menu controls are easy to operate.
Fit, finish, and materials are first-rate. "Soft leather exterior, hard ABS plastic interior, and scratch-resistant inner lining" are accurately described by company PR. I prefer lean and stylish U-Suits to Case-Mate's more chubby Signature and Patriot model iPod cases, discussed in an audio podcast review here.
Gen 3 iPod nano U-Suits are colorful and attractive. Uniea provided four different colors, and I wish I had four different Gen3nanos to inhabit them.
An iPod or iPhone case is only as good as its weakest attribute. With U-Suits' tight grasp, good construction, and attractive appearance, an iPod/iPhone is only at risk from operator error or stupidity. Dust or liquid or goo can find their way into all exposed sections, which is why I urge you to consider an exterior sleeve, or Ziploc-style plastic bag, when not actually using your U-Suited device.
Prior to testing my iPod Classic + U-Suit combo, I was satisfied with Matias' original iPod Armor Case for an earlier model of iPod, but most people would consider a metal iPod coffin to be heavy and awkward. Whatever you decide, please DO cover and protect your iPod and iPhone, because the alternative is not in your best interest.
Prices are reasonable at $29.95 for iPod U-Suits and $34.95 for iPhone models. For people who want good quality cases with full access to their equipment, MyMac.com rates Uniea's U-Suits at 4 out of 5.