* * * * *
All photos below were taken using a Casio Exilim EX-Z50 camera. Some of the images were fine-tuned by cropping and Levels adjustments in Adobe Photoshop Elements 2 software. No flash on any of these pictures.
* * * * *
SEEING DOUBLE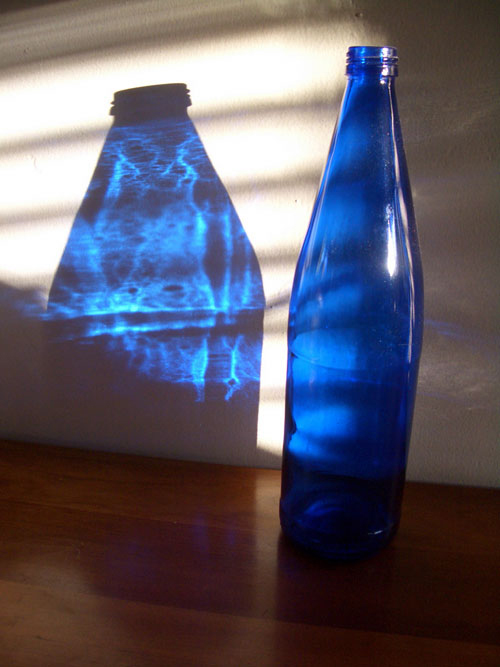 The evening before we drove off into the sunrise to begin our summer vacation, Barbara noticed this colorful shadow of a blue bottle on our dining room buffet. The light was descending minute by minute. I took several vertical and horizontal pictures, and chose this one as my best.
When lighting conditions offer the gift of a remarkable shadow or silhouette, stop whatever you are doing, carefully pick up your camera, and take a bunch of photos. Afterward you can enhance them using Apple or Adobe software.
I'm an experienced photographer, but I almost always make minor improvements from the digital negative JPGs. This image is full-frame, without any alteration. Shadows are your friend, when you embrace a creative way of seeing.
* * * * *
LOOKS GOOD ENOUGH TO EAT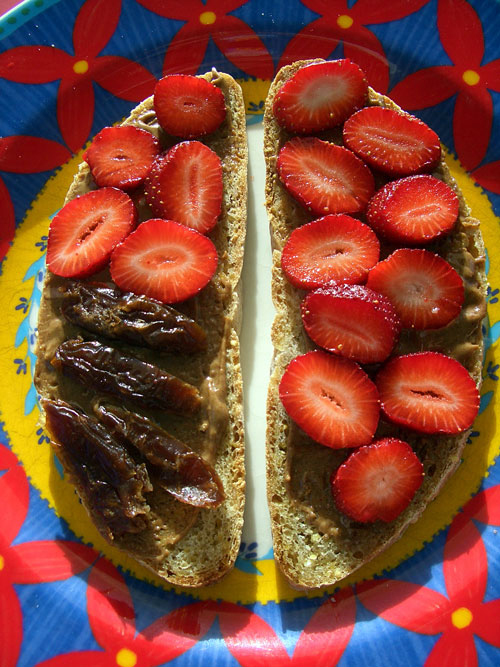 It's a long drive from Tucson to Los Angeles. I needed nutritional fortification before I put pedal to metal, rubber on road.
First light in summertime Arizona is intense, delivering directional illumination to my humble breakfast plate. Vertical framing is again most satisfactory.
Food is not often a primary photographic subject. When it is, make pictures from different angles, preferably before eating. My experience is when something edible catches my creative eye, I rarely improve the composition over the initial exciting sighting by rotating the plate or altering my position.
* * * * *
EXTERIOR/INTERIOR FRAMING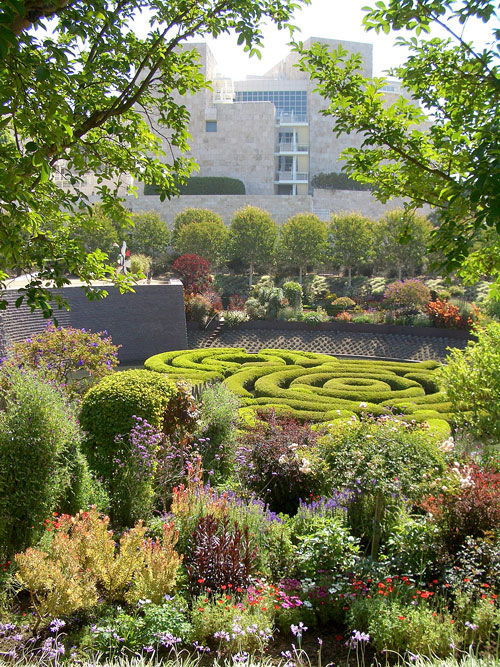 Getty Center in Los Angeles has a world-class garden that opens to the public at 9:30 a.m. Admission is free! Be the first one to arrive, and have an uncluttered view of horticulture and architecture.
Create an outdoor frame by placing your composition with trees at left, right, and top of the photo. Then frame your primary subject with different texture or form at the bottom, for depth and dimension.
* * * * *
SNAP, CRACKLE, AND POP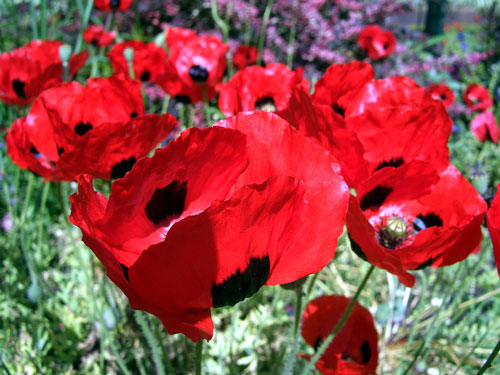 When you place your camera at its minimum non-macro focal distance, the near part of your subject can appear to be sharper than the far part. Look in the manual, if you dare — practice makes perfect. This is called selective focus, and photographers refer to it as "snap."
Depending upon the ambient lighting, your subject can seem to be popping out of the picture. With a mixture of skill and luck, you'll achieve stunning results, such as with these poppies in the Getty's garden.
* * * * *
WISDOM FROM ABOVE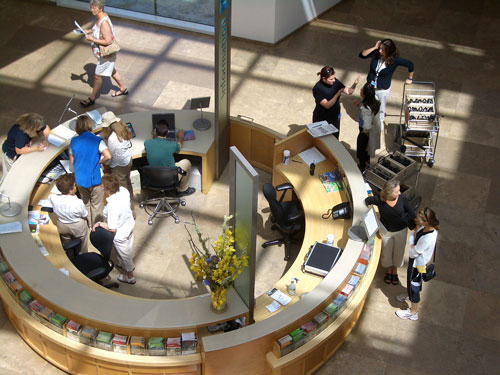 Indoors at Getty Center, curved and straight lines and shadows define human interaction. You see a lot of posed pictures such as this one, done for magazine and television advertisements, and in movies and TV shows. They almost always look fake.
A real life story is taking place in this lobby, and I'm poised on a stairway waiting for one or two possible opportunities. People move, light changes, and the visual energy shifts.
Be decisive, and have your camera handy. Use your strap, and don't drop the camera onto the head of one of your unsuspecting subjects.
* * * * *
PURE DUMB LUCK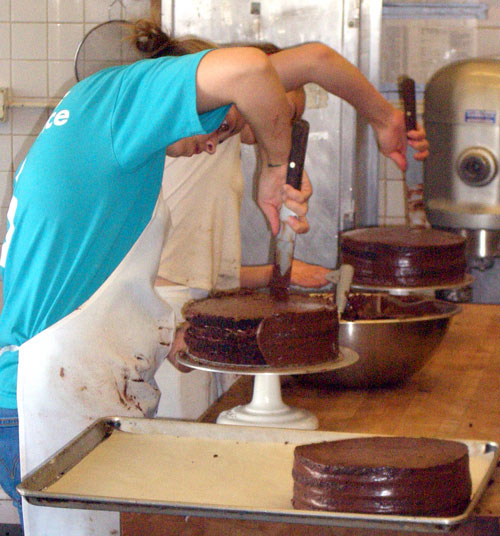 I liked the look of those chocolate cakes at a San Francisco bakery, but I was too stingy to buy one. By accident, both pastry chefs assumed an icing-ballet position between when I pressed the shutter release and when it clicked, only a moment later. I bought and ate a delicious piece of cake to celebrate.
* * * * *
WET REFLECTIONS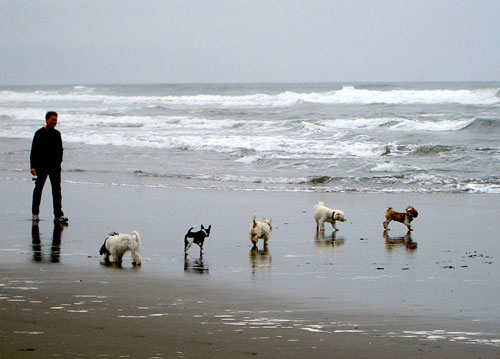 It is difficult to obtain a photo of moving ocean waves that look and feel wet. That was my goal at San Francisco's Ocean Beach, and then the poochie parade entered my viewfinder. I let the water take care of itself, and by luck and brilliance I was able to click when the person and dogs were equidistant from one another and standing on wet sand. Would this image be improved by glorious sunshine and dramatic clouds? Not a bit, says Nemo.
* * * * *
WHERE'S THE PARTY?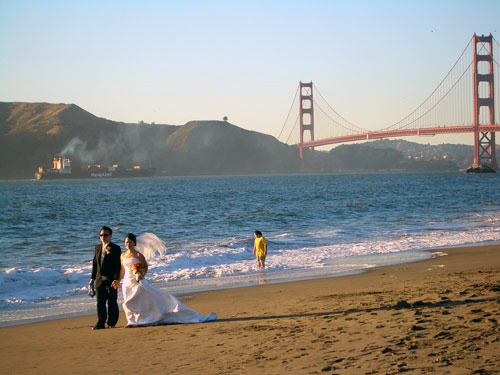 The incongruity of a wedding couple having their photo taken by an offscreen pro, plus a kid in the water, with freighter and bridge behind, is too weird to have planned. Sunset was imminent, as seen in the veeeerrrryy long shadow stretching from the bride's dress.
Baker Beach in San Francisco hosts sunny-evening wedding photo shoots by the hundreds, weather permitting. I should do a photo essay of just this subject, in its infinite quirky variety.
* * * * *
GLOW IN THE GLOOM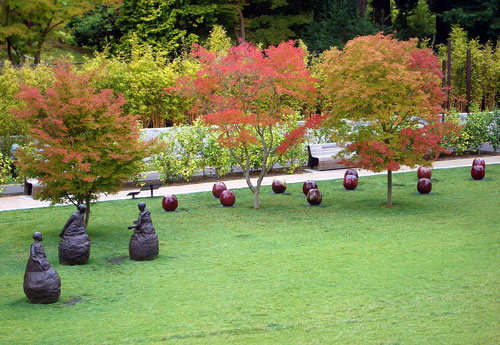 Looking down on the sculpture garden behind San Francisco's De Young Art Museum through a window, standing inside the building, I saw shape, form, and color that needed little enhancement from Adobe Photoshop Elements or iPhoto.
Be bold in your photographic experiments. When a subject grabs you, grab your camera, collect your thoughts, take a deep breath, look around for a moment, and make the photo. If your mind and imagination are in focus, you may hit a home run on your first time at bat for the scene. Additional snaps are often wasted, regardless of the capacity of your camera storage card.
* * * * *
LOOK OVER YOUR SHOULDER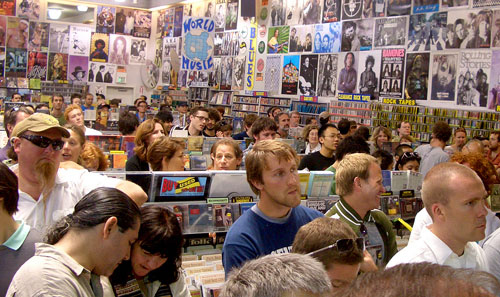 At a stand-up concert in the Amoeba Music store, with performances by the stars of the movie "Once," I looked backward at the assembled crowd. I held camera high and snapped. Out of three or four attempts, this is the most successful. I cropped and sharpened the image for clarity and to give a sense of a room that extends forever, full of music and posters, which is not far from the truth at Amoeba.
* * * * *
BUT WAIT, THERE'S MORE: POLITICAL STREET SIGNS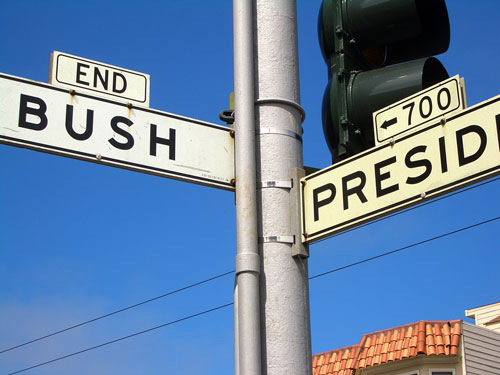 On our way out of town from San Francisco, we passed this intersection. Regardless of your political persuasion, there is no doubt of the remarkable juxtaposition.
* * * * *
Previous tutorials are archived here. More tutorials will be coming once we're back home in Arizona. I hope your summer travels have been joyous.