Packing for summer vacation ain't what it used to be. With less than a square foot available within our VW Beetle for technology gear, I had to be very precise when preparing for a long journey, followed by weeks of house sitting a thousand miles from Tucson, Arizona.
Using the "one of everything" rule is good, but what about redundant backups, or missing cables at the California house? I made lists. I made piles. I sorted into Ziploc bags. I pruned and culled. I told Barbara we were bringing MUCH LESS equipment than in previous years.
I purchased nothing new of consequence, figuring if I didn't already own a piece of equipment, I could buy it in San Francisco, but I probably hadn't needed it anyway. Here's a rundown of what I've been using so far, with links (when available) to our MyMac.com reviews of the products, and an approximate 1 – 5 score of what I would rate it if doing a review today.
* * * * *

My 30GB iPod, third generation, travels within a Matias iPod Armor hard metal case. The more I use iPod Armor, the more I value its padded, rugged protection. It's not perfect, but it keeps the iPod snug and safe. RATING = 3.5
I needed a new audio cassette adapter to play my iPod through the VW Beetle's stereo system, so I purchased an overpriced $25 Monster unit from our Tucson Apple Store. These adapters should only cost $10, and any brand will suffice, so I won't give Monster a link. RATING = 3.0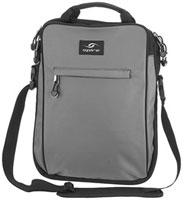 Spire's Dart Sleeve contains my stash of iSight, hard drives, cables, and accessories. Dart is better for miscellaneous storage than I originally thought, and well worth a high score for good construction, plenty of space, and multiple vertical pockets. RATING = 4.5
FastMac's TruePower supply charges my PowerBook and my wife's iBook. I noticed a frightening buzz coming from TruePower's central electrical briquette. Michael from FastMac sent a replacement unit to me in California, with a much quieter and safer hum. Whew. That was a little scary.
We were approaching the 4th of July, but I didn't want fireworks blasting my computer into bits. RATING = 4.0

AOL/XM Radio and Audio Hijack Pro work perfectly together to record Bob Dylan's "Theme Time Radio Hour" wherever I happen to be. If you like Bob, appreciate idiosyncratic choices of music, and have a quirky sense of humor, you have nine opportunities each week to listen and record this one-of-a-kind program. RATINGS = 4.5 for AOL/XM and 5.0 for AHPro, respectively.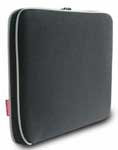 PowerBook and iBook each travel within their own MaxSleeve from MaxUpgrades. We prefer and use the models with handles. Sleeve padding is firm, size and weight are minimal, and protection is first rate. RATING = 4.5
I'm still in love with Casio's tiny EXILIM-EX-Z-50 pocket digital still camera. Small and fast, it's a reliable workhorse that takes decent photos and movies, year after year. Use the wrist strap, don't drop the camera, and consider it indispensable. RATING = 5.0
David Every hated his Motorola RAZR cellular phone, but I still am happy with mine. Wherever and whenever I need to make or receive a call or text message, RAZR is reliable. Its speakerphone is very good, which is my top priority. RAZR may by eclipsed by iPhone, but Motorola makes a darn good mobile phone that takes up almost no space in my pants pocket and doesn't need a special carrying case. RATING = 4.0
How many Ethernet cables must accompany the traveling techie? I have one each yellow, blue, and green, two being six feet in length and one is three feet long. I'm using them all. Any brand will be okay, as long as it's CAT-5-E standard.
[Part Two coming soon.]