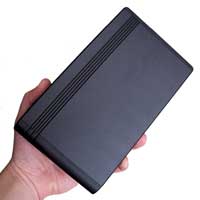 320GB eSATA, Firewire 800/400, USB 2 External Hard Drive
Oyen Digital
Price: $169.99
http://www.oyendigital.com
If you've read some of my past reviews, you know that I have lots of external storage. To recap, I own six OWC Mercury Elite Pro HD enclosures, as well as an OWC Mercury Elite AL Dual enclosure. In addition, I also own an OWC Mercury On-The-Go 2.5" SATA enclosure, and finally, a MacAlly 2.5" IDE enclosure.
I was very interested in reviewing this hard drive from Oyen Digital. Oyen has been around for about two years and is an innovative developer and manufacturer in the portable storage industry, specializing in fast, secure storage of all forms of information including digital video, audio, and system files. They have some interesting hard drive solutions on their website, so make sure you pop on over there and take a look at what they offer.
http://www.oyendigital.com
The drive I am reviewing today is a 320 GB model. The drive enclosure is black in color and sleek looking. On the back of the drive you'll find two Firewire 800 ports, one eSATA port, and a USB 2 port. There is a jack for the power supply, and an on/off switch. This drive comes with all of the cables you need for the connection types, plus the power supply. The cables are black to match the enclosure and all come in 5' to 6' lengths, which is nice to see since many drives ship with short cables. This includes a FW 800 to FW 400 cable.
This drive ships with NO software. I have been told that Oyen will begin including Prosoft Engineering's "Data Backup 3" software, which will begin shipping with the drives on July 1st. The drive has no feet, so it could possibly slide around on your desk.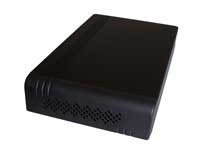 Operation:
I took the drive out of the box and plugged in the power supply, hooked it up via the FW 800 port and fired it up. The drive icon popped up on my desktop almost immediately. The drive is formatted in FAT32 so I launched disk utility and reformatted the drive to HFS+ format.
The first thing I noticed was how quiet this drive is. It has an amber power light on the front, but I still wasn't sure if the drive was powered on. I picked up the drive at one point and put it up to my ear to see if it was working. This drive is exceptionally quiet! This may well be the quietest drive I've ever used. Even when writing to this drive it is better than whisper quiet.
For reading/writing testing I copied a 2.94GB file to the drive using the various connections.
The results are as follows:
Using the FW 800 to FW 800 connection: 52 seconds
Using the FW 400 to FW 800 connection: 1:38 seconds
Using the USB 2 connection: 4:19 seconds
Then I copied a 10.59GB folder with over 3,000 small files within. The copy speeds were as follows:
Using the FW 800 to FW 800 connection: 3:46 seconds
Using the FW 400 to FW 800 connection: 6:31 seconds
Using the USB 2 connection: 15:12 seconds
These speeds are very respectable and of particular note was how fast the USB 2 connection was. Really impressive. This drive uses the Oxford 924 chipset that is a very fast controller. Small files copy so fast, the copy window barely has time to open.
I don't have an eSATA connection on my computer. I did some research and found that the current implementation of eSATA would make the Read/Write speed comparable to the FW 800 to FW 800 connection speed. However, the potential of this emerging technology has theoretical speeds of 375 MBps/second as opposed to FW 800s theoretical top speed of 100 MBps/second. So if eSATA is the future, this drive is ready for it.
Reviewer John Nemo will have more to say in a forthcoming article on eSATA.
Summary:
What I liked:
Full-length cables
Very fast copy speeds
Black enclosure
Super quiet
What I didn't like:
No software (Prosoft Data Backup comes included in July)
No feet on the bottom of the drive, and if you want to save desk space you can't stand the drive on its side
Power light faintly indicates when the drive is reading and writing.
Over all: I was very impressed with this drive. I highly recommend you take a look at Oyen offerings if you are in the market for external storage.
MYMAC.COM Rating: A solid 4 out of 5