Apple's move to Intel processors has made it possible to run Windows natively on the Mac with Boot Camp or Parallels, but what about all the viruses and spyware and other threats lurking out there? McAfee, a leading security software company, states that there are over 180,000 threats that affect Windows. Here are some excellent free utilities that you can use to protect and care for your Windows installation.
The largest threats come from viruses, worms, trojans, and other things that get passed from one PC to another. Viruses can range from pranks that cause funny behavior in Windows to more destructive variants that delete data.AVG AntiVirus Free from Grisoft is an excellent anti-virus program that is licensed for personal use. It's fast and not nearly as intrusive as some competing commercial anti-virus products. It features auto updates, scheduled scanning, background monitoring, e-mail scanning, integration with Windows Explorer (Windows' equivalent of the Finder), and versatile scanning options. There are also commercial versions with more features.

Spyware is almost as big a threat as viruses, but where viruses lean toward being destructive, some spyware hijacks your computer. This can allow someone to remotely control Windows for illicit purposes such as attempting to steal your personal information or using your computer to send out millions of spam email messages.Spybot – Search & Destroy from Safer-Networking.org andAd-Aware SE Personal from Lavasoft do the same things for spyware that AVG Free does for viruses and they do them just as well. Spybot has one free version, but Ad-Aware, like AVG AntiVirus, also has paid versions with more features. Weekly updating and scanning with all 3 of these products will provide you with excellent protection against all but the newest undocumented threats in the wild.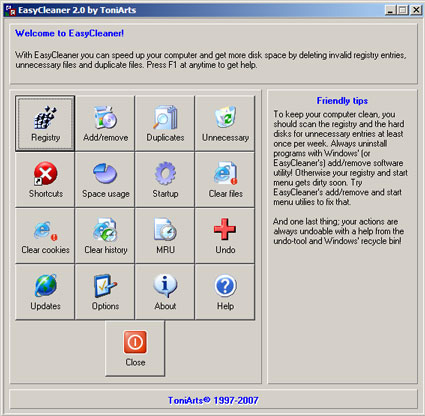 Windows has a huge database called the registry that contains a whole bunch of settings and preferences, things that in Mac OS X are often kept in .plist preference files. This database gets messed up pretty easily, and if it gets bad enough Windows can slow to a crawl.EasyCleaner from ToniArts is a freeware registry cleaner that also cleans out a whole host of other things, including some you might not want to often, like Internet Explorer history and cookies. It is very simple to use. Pointing the mouse at the buttons for each function in the main window displays a description of that function on the right side. I noticed a marked improvement in startup time with Windows XP after the first time I used EasyCleaner.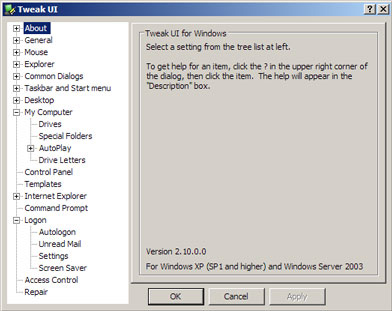 Windows XP has some default settings that can throw Mac users for a bit of a loop, and no built in way to change them. Enter TweakUI, part of the freeMicrosoft PowerToys for Windows XP. TweakUI allows you to customize dozens and dozens of things in Windows XP to make it easier for you to use. For example, TweakUI enables you to turn on automatic login without manually editing the registry. Some of the things that are available in the Windows XP control panels have more options in TweakUI. ClearType Tuner is another good Windows XP PowerToy to install. It makes text appear much nicer on screen in Windows XP.
I have found these five programs to be absolutely indispensable and I recommend them to all of you who use Windows on your Mac. They all work in Boot Camp, Parallels, and in Virtual PC on PowerPC Macs.
——————————
Seeing Double
Hey Tom:
I noticed I still have iPhoto 4 still installed on my Mac even though I've moved up to iPhoto 5, then 6.
if I drop iPhoto 4 into App Zapper, I get this list… (screen grab includes an application named iPhoto 2004) What should I delete, what should I not delete to safely removed iPhoto 4 and not affect iPhoto 6?
Thanks
Keith in Redmond, Washington, USA
Keith,
If I'm reading that screen grab right, it looks like you renamed the iPhoto version 4 application to "iPhoto 2004.app". If so, that's not something you want to do. I assume the version 6 copy is named "iPhoto.app"? Renaming an application or moving it out of the Applications folder can cause upgrades to go awry like this. Having multiple versions of the same application installed can confuse your Mac.
Double check that you have iPhoto 6 installed and that it runs, and that you only have the 2 installed copies and not version 5 also or other multiples. If so, it's safe to delete iPhoto 2004.app and the iPhoto 4 and 5 receipt packages.
Tom
——————————
Flying Blind
Tom,
My Dual 2.0 G5 video card seems to be kaput. The last time my monitor would not get a signal I tracked it down to scrambled video drivers, but I can't even start off the Tiger disc or the Apple Hardware Test disc. I pulled the video card, blew out the connector and re-seated the card. After I started up again there was video, but it went away after a few seconds. I even tried a different monitor and no difference.
Now, after each start up, after a few minutes the fans start to blow and it sounds like we are in a kernel panic. I'm stuck, but I'm pretty sure it's the video card. Any suggestions?
Thanks
Rich in New Hampshire, USA
Rich,
Sounds like you've been very thorough. Those symptoms point directly to the video card, and that is what I'd replace.
Tom
——————————
Rollin' Snake Eyes
Hi Tom,
My Family recently purchased an AirPort Express to extend the range of our wireless network. Our wireless modem, a Siemens SpeedStream 6520, is in one room and my sister's Mac mini is in another, out of range of the SpeedStream.
I've put the AirPort Express in a room between the two. What I want to do is get the signal to the Mac mini via the AirPort Express. I've been doing some research, but haven't found the solution. One article says that the only wireless modem with WDS that works with the AirPort Express is, of course, the AirPort Extreme. Any ideas? Any information would be greatly appreciated.
Adam in Sydney, Australia
Adam,
I think you may be out of luck. I haven't found any indication your DSL modem supports WDS. If you add a second AirPort Express connected via ethernet you can do it, but then you'd be wasting the wireless capability of your router. Here's what I found on the Siemens web site:
"Siemens SpeedStream 4200 and 6520 modems and Gigaset SE551 modems are only sold in Australia through selected internet providers, which include them in their internet access packs. If you have any sales related queries, please call one of the following providers:
BigPond Sales on 131282,
Optus Sales on 1800 555 669 or
TransAct Sales on 02 6229 8000 or 133061
To assist you with any technical queries, Siemens has collated data sheets, user manuals, drivers and answers to common questions. Please click on the relevant link.
Q: Can the range of the 6520 modem be extended?
A: No, the range is set to 30m."
That last part doesn't explicitly say WDS is not supported, but it doesn't say it is as I'd expect if it was supported. Also, WDS isn't mentioned at all on the data sheet.
Sorry I don't have a better answer.
Tom
——————————
Tom has been a service technician with First Tech Computer in Minneapolis, Minnesota, one of the most highly regarded Apple Specialist dealers in the US, since 1994. Previous to that, Tom was the systems manager and a graphic designer for a small marketing firm from 1990 to 1992, then worked in technical and product support with Mirror Technologies and Envisio for 2 years.
Send your questions to tom@mymac.com. He will personally reply to each message when received and select letters will be included in the MyMac.com Help Desk column.