FastTrack Schedule 9.2
Company: AEC Software
Price: $349
www.aecsoftware.com
Project Management – one of the business buzz terms you often hear being bandied about. A project can be defined as any one-off attempt to create a unique product or service that will impose some sort of benefit or added value. But you can strip all the jargon away – a project is about getting something done, and project management is about doing it while balancing time, money and workers.
Those of you not in the business world may think that we will never have to deal with Project Management, but the truth is that many things in life, even doing taxes or planning a meal, can benefit from the discipline of being run as a project. But realistically, we do those things as a one or two-person project in an ad-hoc way based on personal experience.
The problem is that there are many people in business who try and do the same thing with much larger, more complex enterprises – and as such they fail. Project Management is about bringing some structure to the process, and allowing the manager to plan for and deal with upcoming problems before they happen.
"All project managers face problems on Monday mornings – good project managers are working on next Monday's problems."
As you might imagine, there are a variety of processes and systems to help you get your head around this. And a good computing tool is a powerful ally in the fight against project failure – the granddaddy being Microsoft Project. Like all things Microsoft, its wide availability on the Windows platform (it is one of the components of more expensive versions of Office) has lead it to become a de facto standard. Yet it is not available for the Macintosh.
A good opportunity for the market than, and AEC has a powerful, feature-rich alternative in FastTrack Schedule 9.2.
These guys really know their onions (and their market!). The product is available in Windows and Mac versions( the Mac version is a Universal Binary as well), and are feature/file compatible. The Mac version can natively open Microsoft Project files, and can export projects in an XML format that Microsoft Project can read.
The interface is like the Mac – in that it is done right! You open up to a standard view with a task list on the left, and a 'year planner' style view called a Gantt chart on the right. You fill in your tasks, indenting sub tasks underneath them (e.g. the task 'Buy a computer' might have the sub tasks 'Research computer models', 'Agree model wanted', 'Call and place order', 'Take delivery', 'Pay invoice') and assigning an estimated duration to each task. You then start defining the order the tasks must occur in, creating a sense of dependency to the tasks, and as you do so, the bars fill in on the Gantt chart, showing the total time to do everything and the 'Critical Path' – this is what show you where a problem with a task will introduce delay.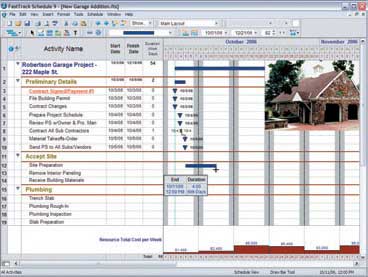 OK, so far just like Microsoft Project. But delve below the surface, and FastTrack Schedule really let's rip. You can create the links between the tasks by dragging over the Gantt bars. You can annotate the bars or anywhere else on the chart. You can turn the chart into a calendar view that a non-Project Manager can understand. You can change durations by dragging out the Gantt items, or clicking in pop-up calendars. You can assign and view graphically three sets of dates to each task (planned, revised and actual) so you can account for slippage. You can customize pretty much everything.
This is exemplified by the many bundled templates – these have predefined projects set up for different activities, to get you started on the tasks to consider, and each one is appropriately formatted for the job at hand. If you want to get tasks in from a brainstorm session, and you have MindJet MindManager, that is natively supported as an input format as well.
Their is a full resourcing module as well – something more advanced project managers like to use. You list the staff you have on the project, and when they can work, and then you assign them to the tasks. This allows you to see what tasks will have to wait until the correctly skilled people are finished doing other things. Like all things FastTrack, this is customizable in look and feel and is very easy to use.
An oft-forgotten part of the Project Management process is keeping other people informed of progress. Here the program really shines (unlike Microsoft's effort, which is abysmal at presentation). You can use that customization to create just the look you want, and then export the data in a variety of formats – including HTML, which is then easy to run in a presentation and show what the project is doing. Even better, if you have several different Schedule files for different projects or sub-projects, you can automatically import them into a master file and roll-up the details to provide an overall view. Windows users need a full Project server infrastructure to pull that off. The program also has full iCal integration, and a very comprehensive print module that works very well in helping you format the large Gantt charts so that they are readable – again, an area where the Microsoft product hasn't been updated since the mid-nineties.
In short, this just shows what Macintosh developers can do when they really innovate – this is twice the product that Microsoft's Project is. Now, it won't be for everyone – as an enterprise-class product it is quite expensive for a non-business user, even though it is extremely feature rich and very capable. Nevertheless, for smaller projects you might want to look at some of the cheaper alternatives. But if you want a Project Management heavy hitter, FastTrack Schedule 9.2 from AEC Software is the one to go for.
One quick note for non-US readers – you can't buy online from AEC outside the US, you have to go through a dealer. Make sure you have a good look at all of the dealers in your country before buying, as I found pricing to be a little variable.