QuickSnap
Fastforward Software
Price: $14.95
http://fastforwardsw.com/
I take a lot of screenshots for my articles at MyMac.com, so I am always looking for a program to make that task easier. QuickSnap is a new, easy to use, program for doing just that.
In simplest terms, QuickSnap lets you take screenshots of windows, selected areas of your screen, or you entire screen. It will save these images in a number of file formats (jpg., gif, tiff, and others), to the location on your computer of your choosing. You can even set a time delay between the time you click "Capture" to the time the picture is taken. This is a nice feature.
As I said, QuickSnap is easy to use. To take a picture you click one of the three picture options from the interface window.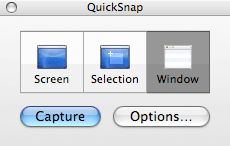 If you don't want the interface to be visible, you can close that and use the QuickSnap menu to initiate a shot. You can also turn off the interface window through the programs preferences (a window which, for some reason, annoyingly opens every time the program opens).

Image quality is good, but there is no way to adjust the image quality for a smaller file/lower quality image. To do this, you would have to use another program.
I mentioned earlier that QuickSnap allows you to save the images in several formats. One of these formats is PSD, or Photoshop. However, when attempting to save in this format, the program saved in bitmap (BMP) format. I also had a problem opening files saved in other formats in Photoshop. I had to open them in Preview and resave them in order for Photoshop to be able to open them.
Another issue I had, as a person taking screenshots for an article, is that the program will not take pictures of menus. The menu image above was taken with another screenshot program, because when I tried with QuickSnap the program would not respond. In timer mode, the timer stopped until I closed the menu.
Overall, QuickSnap is a good program. It is priced right and easy to use. It shows a lot of promise. I have been told that a 1.1 release is right around the corner, and hopefully it will fix some of the bugs that I found.