Attendance was by invitation only at the top-secret Adobe Media Event held in an undisclosed location within San Francisco's Moscone Center during January's Macworld Expo. Select editors of online and print publications were given a high-energy preview of the comprehensive group of applications within Adobe's new Creative Suite 3, or CS3.
Product managers for each software component had a brief time allotment to show and tell us what's new and wonderful in powerful graphics, publishing, and audio applications that have undergone substantial upgrades since their prior versions. Adobe had purchased Macromedia, and the absorption of this former competitor into the family was impressive in both cohesion and compatibility with the Adobe look and feel.
INFO #1: Adobe GoLive will continue to be supported, but is no longer included as part of CS3. Dreamweaver now holds that spot in the CS3 "Web Edition" lineup.
Six different product suite bundles assembled from thirteen Adobe products, and fifteen individual software titles, bear the CS3 name. You are not alone if you're perplexed as to which version of which suite is best. A three-tier pricing structure applies to each edition, with upgrade costs depending upon any Adobe or Macromedia products you already own, unless you are starting from scratch with a totally fresh purchase. From the $2499 Adobe Creative Suite CS3 Master Collection to the $79 Adobe Contribute CS3 upgrade, there is an enormous price spread. Please don't rush to buy without carefully studying the pricing overview and asking for help, when necessary.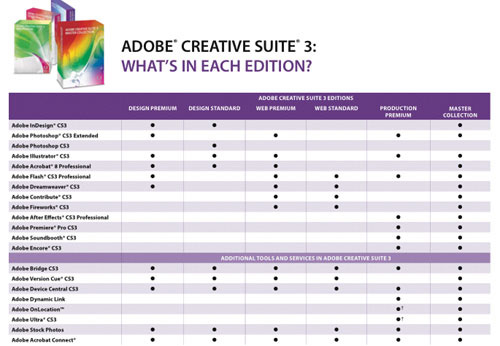 Adobe has added a new Product Selector tool on Adobe.com to help you identify which suite will fit your needs based on upon the work you are doing. It also includes an upgrade option that allows you to see how much it will cost to upgrade from the software you already own.
INFO #2: Many (if not most) graphics and web professionals will choose to save a little money and obtain Standard Editions instead of Premium Editions, when buying or upgrading from CS2 to CS3. Pay attention to the terms "extended" and "enhanced" in descriptions and pricing for CS3 apps and bundles. Remember that "Why is this software so affordable?!" is more accurate than "Why is this software so expensive?" when evaluating features and usability versus Adobe pricing.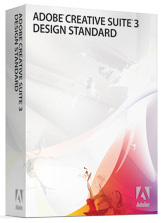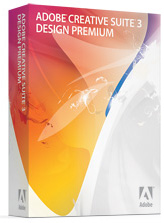 Adobe is making a huge splash with the release announcement on March 27, 2007. Because this first look was written just before then, we don't have URLs for the final information. Adobe.com will have prominent links for everything mentioned here, plus a ton more. MyMac.com is covering CS3 software in depth during the next months, with reviews written by several of our most experienced staff members.
* * * * *
MyMac.com was given an advance copy of CS3 Design Premium and Web Premium editions. I chose to install the former, because I'm most familiar with its components. When you install the final version, your procedure should be at least as easy as mine. There may be minor changes, but the following gives you a rough idea of what to expect:
1. Insert installation disk, double-click the Setup icon, wait a bit, and type in your OS X password to proceed.
2. Adobe's installer initializes, and presents you with a green progress bar that takes a minute to complete.
3. The Setup screen appears. I needed to quit Safari, click Cancel, and go back to step one, but this may not happen to you.
4. I was told "Port 3703 is in use by another application," which sounded scary, but I clicked Next and hoped there wouldn't be a problem. There wasn't. I clicked Accept. This bug has been fixed, Adobe tells MyMac.com.
5. An "Installation Options" screen appeared, with all CS3 Design Premium applications checked, plus information that "one or more components that are already installed will be updated," which makes perfect sense. I clicked Next.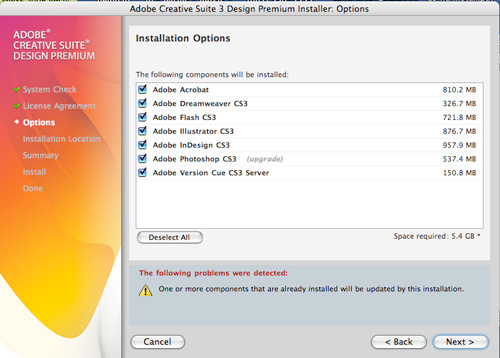 6. I was told 4.1 GB is required on my destination disk (not my primary hard drive) and 1.9 GB is required on my startup drive, which was fine, and everything was headed to the Applications folder on my destination (second) drive.
7. An "Installation Summary" screen confirmed the above, so at 2:34 p.m. I clicked Next and installation began, accompanied by two parallel green progress bars, finishing at 3:21 p.m. That's a long time, but a LOT was installed onto my dual processor 1.8GHz G5 tower.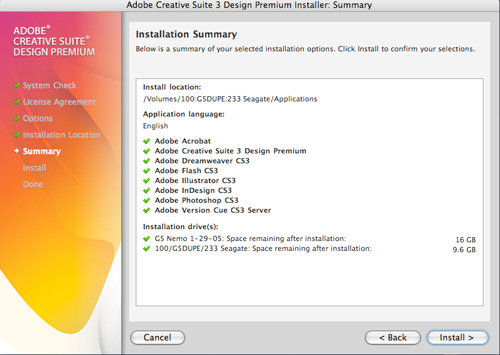 8. I double clicked Adobe Photoshop CS3 to open it from within the folder of the same name in the Applications folder of my second drive, and entered the serial number from my software sleeve.
9. I clicked Next, then chose "Activate Now," and was told my activation was successful.
10. Clicking Next again, I filled in my personal information on the Registration Screen, and clicked Done before Photoshop launched and I ejected my Adobe installer DVD.
11. Photoshop worked fine, so I tried opening InDesign, which also behaved itself.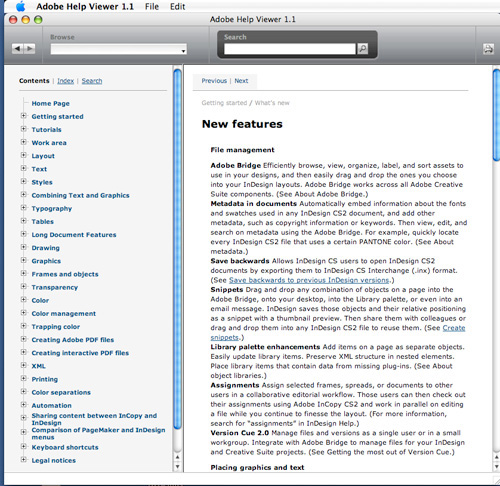 12. I'm interested in the new features of InDesign, and Adobe's HelpViewer 1.1 provides tutorial and other information for each application. You'll be reading and hearing about the usefulness of HelpViewer throughout the CS3 product cycle.
* * * * *
I worked on some image files using new Photoshop CS3 Extended, which is the version included in the Design Premium Edition. I followed through a few tutorials provided by Adobe, plus some of Deke McClelland's excellent video lessons at Lynda.com. Just like Deke, I'm very happy with the new releases of both Photoshop and Bridge. MacLife's current April, 2007 issue features a sneak peek "Inside Photoshop CS3," and plenty more articles are being posted and published daily worldwide.
INFO #3: Much more will be presented by MyMac.com and a zillion other publications about how Bridge v.2 enhances workflow and interacts efficiently with each component Adobe CS3 app. You don't hear the term "integrated software" much any more. Adobe is changing that, pronto.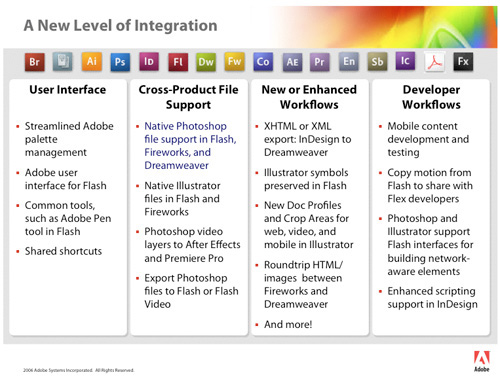 Photoshop CS3 Extended includes, according to Adobe: "3D and motion support with the ability to edit 3D content and incorporate it into 2D compositions, paint and clone over multiple video frames," plus "comprehensive image analysis with new image measurement and counting tools."
Where the non-extended Photoshop is developed for the usual suspects in photography, web and graphic design, and print, the extended version is geared toward:
Film, video, and multimedia professionals
Graphic and web designers using 3D and motion
Manufacturing professionals
Medical professionals
Architects and engineers (AEC professionals)
Scientific researchers.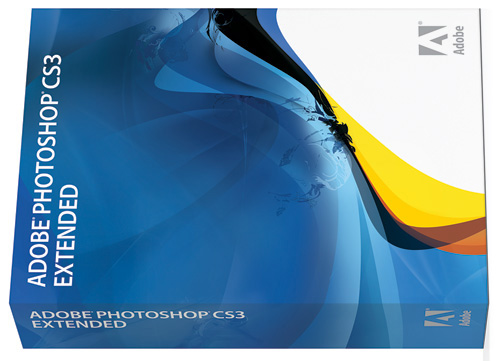 We'll stop quoting from the company, and begin our own explorations of CS3 Design Premium for the readers of MyMac.com as soon as possible. Please send your questions and comments, and we'll see if we can obtain answers. Weeks remain between today's announcements and the retail release of CS3 software, and it will be interesting to observe how professional content creators respond to Adobe's latest and greatest. Here at MyMac.com, we're very excited, and we applaud Adobe for what we've had a chance to sample.
A 30-day fully-functional free trial of CS3 software is being offered. We don't have all the details yet, so we'll report them as soon as they are available. An Adobe representative tells MyMac.com that a single CS3 software license can be installed on two of the user's computers, same as with CS2 products.
INFO #4: The year 2007 is going to be remembered for some great developments in technology. Advance hype and fervor already surround the not-yet-released Leopard (Mac OS 10.5), iLife '07 (or whatever it's called), AppleTV, and iPhone, all from the wizards of Cupertino. Adobe hasn't been sleeping. Intel Mac native CS3 promises to be a huge success for any one of a hundred reasons. Adobe + Macromedia = One Potent Platform. For creative pros it may tower over the more high-profile products from Apple, Inc.