Back2Pak Carrying System
Company: bbp (formally BumBakPacks)
Price: $95.00 in several sizes and colors
http://www.bbpbags.com
Many of you may still recall my search for the perfect shoulder or messenger style bag for my PowerBook. As I reported in the past, I kept trying bag after bag looking for the one that had the right combination of features, fit, comfort, and protected my PowerBook as well as possible. I finally chose two clear winners, the Timbuk2 Commute XL bag, and the Brenthaven Professional. These two bags did a great job in almost every category.
But, to my surprise, Timbuk2 was nowhere to be seen at this year's Macworld, and I do not recall seeing Brenthaven either. And neither company returned calls to meet and discuss their new products for the Mac market. In fact, a quick look at Timbuk2's website shows no mention of Macintosh at all now. Seems these companies have chosen to ignore the Mac market, so perhaps, we can ignore them too because there are some great new bags taking their place. The bbp bag discussed here easily takes their place, and will save you some cash too.

Shown here in Obsidian Black
bbp (yes, all lower case) was showing some amazing bags with something they call their "Bak2Pak carrying system". I tired the bbp Hamptons™ Collection case, which, in my view, wears like a cross between a shoulder bag, a backpack, and a messenger bag all in one. This new system hangs low on the back to reduce back strain and employs a dual strap system that evenly distributes the weight. The innovative dual strap system can convert (see below for more on this) from the dual backpack mode, to a single strap system for messenger style carrying. There are also sternum and waist straps to secure the bag when biking. Lumbar pads on the back of the bag fit nicely into the lower back area, and make this bag very easy to carry, and quite comfortable too.
There are several versions of this bag, and they come not only in your standard black, but a great many colors as well, including a pink and white bag, and a very bright ruby and white bag as well. I received the "Titanium Tango" color combination, more on that below. Bags are available in small (up to 12" Mac), medium (up to 15" Mac), large (up to 17" Mac), and extra large (for the 17" and lots more) sizes, so there is sure to be one in the right color and size for you. And with a retail price of $95, this bag is not only very functional, but an amazingly good buy when compared to bags costing as much as twice the price from other companies.
But the real question, how did it perform?
The Good: This bag is strong and lightweight made of ballistic nylon, and after taking a short time getting use to how low it hangs compared to other bags, was quite comfortable as well. I noticed considerably less shoulder and back stress when using this bag over both the other bags.
Unlike other messenger bags, the computer can be easily removed from this one without having to open the flap. On this bag, the computer goes into a reinforced back slot, protected by a waterproof zipper along the top, making placing and removing the laptop a snap without having to open the flap and expose the rest of the contents. I tested this waterproof zipper as I got caught (again!) in the rain in San Francisco, and my PowerBook was completely dry inside, as were all the internal contents in the other pockets as well. In addition, although my case could hold up to a 15" PowerBook, my smaller 12" PowerBook was held snuggly inside and did not slide around when carrying the bag. There was sufficient room for my charger right along side as well.
Also to my delight were two external web pockets on one side, and a solid external pocket on the other, both along the edge. My sunglasses and water bottle fit easily into these pockets, and were quickly accessible without having to open the case, something I require in any bag I carry. Thank you bbp, you would be surprised how many companies leave off these pockets on the outside.
On my trials, I filled this thing up fairly full, and it was still rather easy to carry. Inside went my 12" PowerBook, power adapter, Treo, Treo cables, water bottle, reading glasses, a book, a number of file folders full of papers, many cables and accessories for both the Treo and PowerBook, car and office keys, wallet, business cards, memory sticks, pens, paper pad, small first aid kit, and a dozen other smaller items as well. All these things fit well inside my medium pack with room to spare, and the great array of internal and external pockets kept all my junk well organized too. And even after all that, it was easy and comfortable to carry.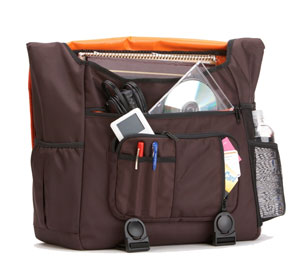 Shown here in Choco Tango
Inside, there is one large pocket under the flap and next to the computer slot, and a mesh pouch along the back wall of this larger pocket. In front of that large pocket is a full width zipper pocket, with one smaller pocket in front of that one. On this smaller pocket are locations for pens (4) and yet another even smaller pocket great for holding your wallet or business cards. Along the back just behind the computer slot is another open top storage area that can hold magazines or file folders. Along the bottom of that area is a zipper, which, if the pocket is empty, allows this pocket to double as a strap to hold the case to a roller bag (see picture.) On the front of the flap are two more solid pockets and one more web pocket, almost the right size for holding a wallet, phone, or cards.
The Bad: I said almost above, because obviously no one at bbp owns a Treo. While a small Razor might fit, with the exception of the largest front pocket, the Treo does not easily fit into a front pocket, and the larger one is a bit too big. One more inch on the front left pocket would have solved this problem. Same size issue for the horizontal zipper pocket on the front right. I have a fairly small wallet, and even it did not fit into either small front pocket. I assume the goal is to make a wallet and phone easily accessible, and neither worked for me at all.
While I find this bag extremely easy to carry and very comfortable, it has a few more annoying design issues. First, in the single strap mode, the straps lack reasonable strap adjustments. If you wanted to carry this over your shoulder you are out of luck. The bag hangs so low this way it hits you in the thigh! A simple strap adjuster would have fixed that and made the bag a lot more universal. Even in messenger mode, more adjustment would be nice to help position the bag. I even tried putting it back into backpack mode, a suggestion of the bbp representative, and then carrying it over one shoulder, but that was really no help.
While I am on the strap's issue, the ability to change strap modes causes them to be a bit daunting and confusing in configuration with many fasteners, straps and connectors. It took time to figure how to make the changes properly. I am still not sure if I got them back to the correct backpack configuration. I also did not know about the luggage mode "pocket" on the back until I looked at the bbp website and saw a picture of it used that way. I wonder what else I missed on this bag? A small user's booklet would be very helpful here.
I loved all the pockets, but they are organized and placed in such a way that if you fill them all, the bag becomes quite bulgy in the middle. All the pockets in front of the larger open pocket inside, and the mesh pocket in the back inside are aligned right with the middle center of the bag, thus causing a large bulge. Not terribly bad if you simply do not fill them all with bulky items, but I can't help but wonder if they could have been spaced differently.
I am please to see a place to store keys, but the strap is WAY too small and the location is poor. On my Timbuk2 bag, I can unlock my car or front door without having to remove the keys from the strap, as I can reach it under the flap without opening the bag, and the strap is very long. bbp should have moved their strap closer to the top, just inside the main flap (so it can be reached from outside), and made it much longer. Right now, you have to take off the bag, open the flap, open the zipper pocket, and then remove the keys to use them. They did all that design work to make the computer easier to remove, and then they made the key holder impossible to use.
As for balance, it works well when carrying it in either backpack or messenger mode, but unless you fill the larger inside pocket with sufficient weight, the bag does not stand well on its own when set down. A more rigid inside pocket bottom might help here. And I would really like to see a bit more padding at the bottom of the computer slot. There is more here than on the inside pocket, but it is too narrow. If you set your bag down a little hard (which I have done on occasion), it should protect the computer well. I did not try that with this bag, but it seems a bit thin to me.
The ugly: Actually, I like the looks of this bag even though it is a much different style from the typical messenger bag or backpack I am use too. And even with the few small negatives above, I enjoyed using this bag a lot. But I must be getting old, because with the exception of the all black bag (which I did not test), I just do not understand these colors. As I said above, I had the "Titanium Tango" color which looked like this:
First off, when did this orange color become so popular? Sorry, but that orange is so obnoxious. Perhaps younger people in school love this color, but for me, it was not so great. To be fair, I told bbp I would test any color bag because it was the bag function I was really testing, and of course the color does not effect the way the bag functions. And, the black sells out all the time, so I obviously did not get black. Unfortunately for me, I work in a professional office, and I took a great deal of ribbing over the color of this bag. One person even walked up and said, "You must have gotten that bag free at a conference…" Others told me to hide it in a cabinet as they were blinded by the color. And this was, in my opinion, one of the tamer colors. It also comes in two brighter colors, pink and red:
Ok, red for the right person might just work, maybe, but the pink is obviously aimed at younger women, who I would not expect to be the target audience for this bag. Maybe they are on to something here, computer bags for women? Two additional less bright colors were also available, but again, they had that damn orange:
Colors aside, this is truly one excellent bag, and I would highly recommend it. If you work in an office, the black bag is very professional looking. And if hip is what you are going for, some great color choices there as well. And with a price much lower than other bags in the same class, this bag is a serious bargain as well. Of course, if they could get to a system like Timbuk2's "design your own bag" ability where one can select any combination of colors they offer, this just might become the best bag on the market. Nice job bbp.
You can read more about this bag and other products by bbp on their website at http://bbpbags.com