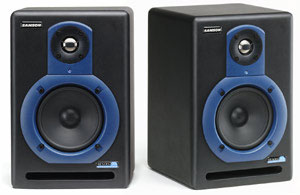 Resolv 50a Active Powered Small Studio Monitor Speakers
Company: Samson Audio
http://www.samsontech.com
Price: $240 US
(for quality discount speakers click here)
The concept of neutral or flat or "reference" audio response is neither important nor well-known to home music listeners. Rock music fans want brain-piercing guitar solos and foundation-shaking bass and drums. Classical music lovers appreciate soaring instrumental and vocal solos. Pop music must grab you and never let go. And so on: jazz, show tunes, disco, salsa, world music, easy listening, younameit. Home stereo speakers should make your favorite music sound like you want it to sound, whatever the "it" is.
In the recording studio, engineers require as little built-in coloration as possible when monitoring live or recorded music. The performance needs to have its own sonic identity, without being influenced or tweaked by speaker design and construction. Mixing boards are used to enhance a finished recording, with engineers and speakers serving as the supporting cast, not influential guest stars.
I found a well-written explanation at zZounds.com that includes the following:
"What is the difference between a good pair of hi-fi speakers and true studio monitors? Two things. First, hi-fi home speakers exaggerate the lows (and often the highs) to create maximum 'impact'. This can be fun to listen to but it's seldom accurate. Studio monitors are very accurate to insure a real reproduction of what is actually being recorded. And second, monitors must be very transparent sounding. This allows you to effectively mix parts of the music like vocals, bass, and even reverb trails without each part colliding with another. Well, you have just described the sound of the new Samson Resolve Series Studio Monitors. Powerful and compact, Resolv 50a monitors sound rich and accurate, and are ideal for tight spots."
MyMac.com agrees with this description. I've been using a pair of Samson's Resolv 50a small, black, powered speakers for a month, and I'm impressed. They are easy on the eyes, reasonably priced, very compact with heavy-duty construction, and are accurate at medium to L-O-U-D volume levels. When very quiet music is played, they are not exceptional.
Here are the specifications:
• Dual power amp (50 watts low and 20 watts high)
• 5.25″ polypropylene butyl surround woofer
• 1″ ferro-fluid filled titanium tweeter
• Active crossover
• 1/4″ and RCA inputs
• Ported, tuned cabinet
• Wall mountable (with optional bracket)
• Sold in stereo pairs
Testing Resolv 50a was tricky. All my different sets of budget-to-premium computer speakers, five pairs, were pale in comparison, including Harman Multimedia's SoundSticks, that I anticipated being a fair match. Ha! Not even close.
I set up Resolv 50a in my living room, adjacent to my $1,000-plus Cambridge SoundWorks floor speakers, which are similar to their current Newton T500 model. These Cambridge home units are designed for flat, neutral response, using the same theory that goes into reference speakers. Without knowing which was which, both sound darn good playing the identical music in an A/B comparison test that consumed an entire day.
Take a few minutes and read user reviews here , here, and here. The general drift is "good value and solid sound."
A $240 price tag for reference quality monitors makes Resolv 50a affordable for most of us doing podcasts and home-studio recordings. If your audio is fine on these Samson speakers, it will be fine wherever it is heard in the real world. If it sounds lousy via Samson, re-record or re-mix it immediately.
Being powered or "active" speakers, each Resolv 50a unit must have its electrical cord plugged into an outlet or power strip. Then each speaker must have its own (left or right) audio input inserted. I use a Y-connector from the audio out port at the rear of my G5 tower, or my iPod's headphone jack, into the RCA jacks on each speaker. Turning both Resolv 50a volume controls to highest, I control listening levels from my computer or iPod.
Once I forgot the speakers were switched on, my iPod volume was all the way up, and WWWWWOOOOOOOWWWWWW was the music loud. No dishes shattered, although my sofa shifted across the room (just kidding). My ears and nerves were stunned for a few minutes afterward, but there was no subsequent distortion or damage to either Resolv 50a unit.
A comprehensive printed manual is included, as are rubber bumper feet, but nothing else. You provide audio cables for 1/4″ or RCA inputs, as appropriate. I found one minor error in the manual, but nothing significant. There is a probability you'll encounter some low-level speaker hum at first, that can be avoided by aligning your cables as directed by Samson.
Now that my testing is complete, the Resolv 50a duo reside proudly in my home studio. When I'm not using them to monitor my podcast recordings, meaning most of the time, they are playing music from AOL+XM Radio, described here. Whoever wants to relieve me of these RECOMMENDED speakers will need the strength of Samson to remove them.