Posterino
Company: Zykloind.com
Price: $24.95

http://zykloid.com/posterino/
If you read my reviews on a regular basis, you know that I love finding art and design programs by smaller companies. I like it even more when the programs are great programs and affordable. Posterino is a great program, and at a price of $24.95 it is definitely affordable.
At first glance, Posterino looks like a Print Shop/Photoshop type of program, but it isn't. Posterino is a program for making photo collages, photo postcards, and more. The projects you work on can be as simple or as complicated as you want. Plus, you don't have to use only photos. If you can import the image file into iPhoto, you can use it in Posterino.
To start a project in Posterino you select one of the pre-made templates and you select a size. You can also make your own layout with a blank template. Once the layout is made on the blank template, you can save the template to use again later. If you do not see the size you need, you can enter your own dimensions and the templates will adjust to the new size. I tried a long and narrow poster of 35 x 18. The program easily adjusted the template.
The templates have what I would describe as drop-in spaces or place holders for each image. A media window similar to the one in iLife and iWork allows you to drag and drop photos into these spaces. The window gives you access to your iPhoto library and your Pictures folder. You can also drag and drop from the Finder.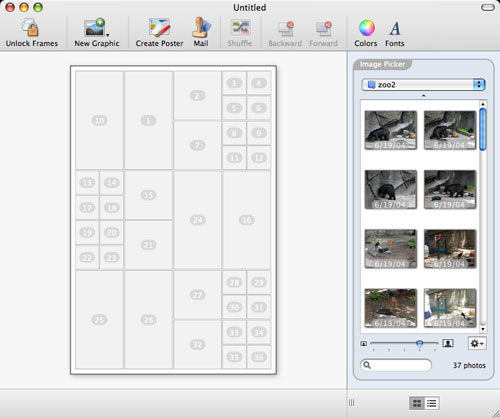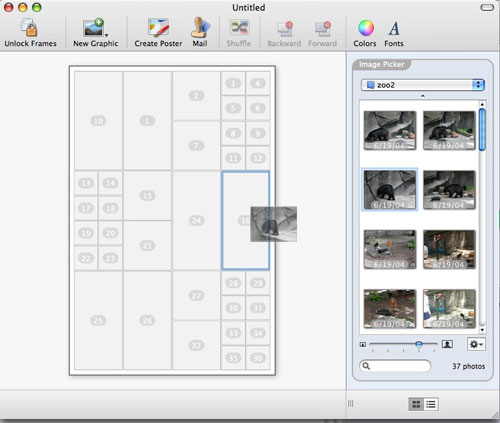 Once there you can move the photos around the border of the space and resize them in the space to get it just right. You can also rotate the images. This is a great way for making photo collages. The only drawback is that you cannot use the arrow keys for nudging photos to get them perfect.
If you want to add a picture to the image that does not have a prearranged space you can add those too. An annoyance here is that the drag and drop from the iPhoto window will not work. You have to use the add graphic button to make a place holder. This gets really annoying when you are making a project with the blank template. Instead of quickly dragging and dropping images you want to use, you have to make a graphic space for them.
Once finished laying out the project you make your poster. Posterino will render the poster, and when finished you have a choice of emailing the image, saving it to the hard drive, or sending it to iPhoto. One of the downsides of Posterino is that you can't print directly from the program. Therefore, you'd have to export to iPhoto or a file and use another program for printing. Of course, most people will not have a poster sized printer and will have to take the file to a printing service; but for those projects that are smaller, it would be nice to be able to print directly from the program.
The included templates are great. Some have text fields for titles, while the postcard templates have a stamp space that you can drag and drop an image into. As I was working on this review, an update to Posterino was released which included even more templates. As I said earlier, if you don't see a template you want, you can use the blank template.
Despite the drawbacks I mentioned above, Posterino is a great program. The more I use it, the more I like it. The projects you can produce can be used for posters, gifts, yearbook pages, postcards and more. The uses for the projects are only limited by your imagination. Writing about it does not do the program justice. I highly suggest you download the demo and try it for yourself.
If you like it, buy it. At a price of $25, Posterino is a great deal. MyMac.com rating: 4 out of 5.