This week I have five really quick and easy tips for you.
FIND THAT MISSING EMAIL ADDRESS
Need an email address that is not in your address book, but you have sent to it before? Well, if you'll know it on site, or you had the recipient's name in the "to" try this tip. In Mail, go to the "Window" menu. Choose "Previous Recipients." This will produce a list of every email address you have ever sent to through Mail.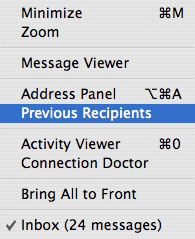 MAKE YOUR OWN IPHOTO FILM ROLL
In iPhoto what do you do if you have several photos in different albums which you are constantly using? Easy, turn them into their own roll and group them together. To do this, start by selecting the individual photos while hold the Apple Key. Next go to the "File" menu and choose "Create Film Roll." These photos will now be grouped together in a new film roll.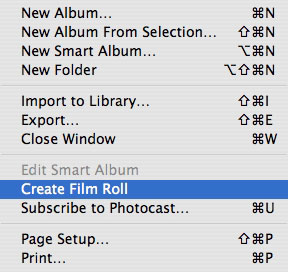 QUICK IPHOTO ALBUMS
If you would rather have an album with the photos mentioned above, instead of a film roll, you start by selecting the photos in the same manner described above. Instead of choosing "Create Film Roll," you click the "+" under your source window to make a new album. The selected photos are instantly placed in this new album. Name the new album that appears.
CREATE AN ALIAS WITHOUT THE "ALIAS" IN THE NAME
I just learned this one a short time ago. I can't remember where I learned it, or I would give credit where credit is due. When you create an alias, you are stuck with "alias" attached to the new icon's name. Of course, you can delete that part of the name, but there is an easier way. First, you need the item you want to create an alias for visible in a finder window. Next click and drag the icon for that item to the desktop while holding the Apple and Option keys. Unclick, and an alias without the "alias" attached to the name will appear on your desktop. You can move this alias icon anywhere you wish.
EMPTY THE TRASH WITHOUT BEING ASKED
When you send an item to the trash it is not wiped from your computer until you empty the trash. To empty the trash go to the Finder menu, and choose "Empty Trash." You'll be presented with a window asking if you really want to empty the trash. Once emptied, the deleted files are no longer available for recovery (unless you are running a program like TrashMagic which I recently reviewed).
To turn this warning off go the the "Finder" menu from the Finder, and choose "Preferences." Click the "Advanced" icon, and uncheck "Show warning before emptying the trash." Now when you empty the trash it will be emptied immediately.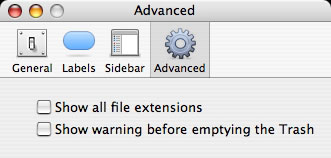 ACCESS YOUR iDisk FROM ANOTHER .MAC USER'S COMPUTER
Have you ever been on another .Mac users computer and needed to access your iDisk? You can't choose "My iDisk" from the "Go…iDisk" menu, because that is the computer owner's iDisk. However, if you look closely there is an option to go to "Other User's iDisk." This is what you want. A window will open asking for the .Mac username and password. Enter your information, and your iDisk will open on the screen.

Look for more "Super Quick Tips" in future Macspirations. Leave your tips below.