In Macspiration #53 I discussed some ways to customize your computer using some of the System preferences. This week I will continue that list of tips.
First, to access the list of System Preferences go to the Apple menu and click. From here move down and click "System Preferences."
Let's begin.
IF YOU DON'T USE IT TURN IT OFF
If you buy a new Mac today, you probably will get one with Bluetooth capabilities. If you are like me you have no need for Bluetooth. If that new Mac is a laptop I suggest turning off Bluetooth and get some extra time out of your battery (on laptops). To do this go to the Bluetooth System Preference and click. In the window that opens click "Turn Bluetooth Off."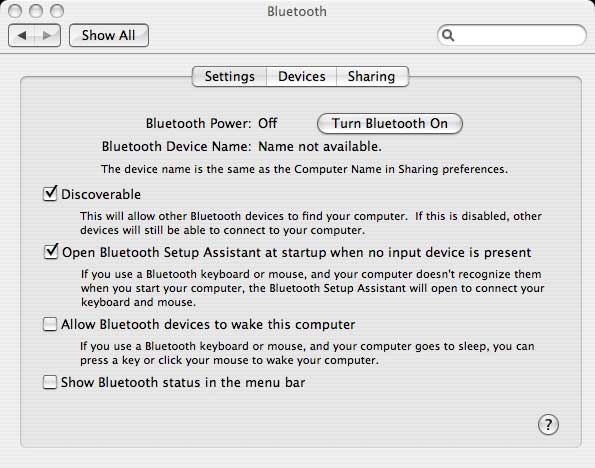 On that same note, if you have no need for wireless turn Airport off, too. To do this go to the Applications folder and open Internet Connect. Click the Airport icon at the top of the window, and click "Turn Airport Off."
CHECK YOUR QUICKTIME SETTINGS FOR BEST PERFORMANCE
If you find that quicktime movies load slow over the internet check your Quicktime System Preference. Click the "Streaming" tab, and in the pull down menu make sure the speed is set to your proper internet connect speed. If you are on DSL or Cable and the speed is set to 56k, you probably want to make a setting change.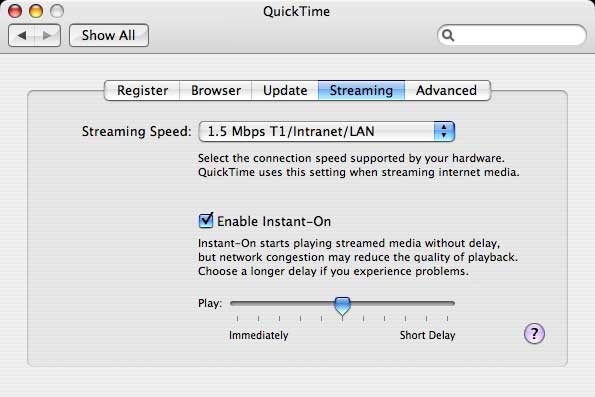 At the bottom of this window you can also set how quickly you want a movie to start playing over the internet. In other words, how much of the movie should load before it starts playing. The longer you wait, the less likely you are to have to stop viewing the movie while more loads.
CHANGE THE RESOLUTION
Do you have trouble seeing things on your 24" iMac because everything is so small? One way to fix that is to change the resolution of the monitor in the Display System Preference.
In the Displays window the left side has a list of screen resolutions. Click this list and your current resolution will have a blue bar highlighting it. Clicking a setting above that bar will reduce the resolution, and make everything bigger. The smaller the numbers, the bigger everything will get, but it will also get blurrier or more pixelated. Choose the resolution that works best for you and your eyes.
CALIBRATE THE COLOR
While you are in the Displays System Preference you might want to calibrate the color of your monitor. If colors seems off when your print, or they just seem off when you look at the screen., calibrating your monitor can help.
To start click the Color tab at the top of the preference window.
This will open a new window.
Click continue, and you'll be run through a series of interactive tests to correctly calibrate the color on your monitor.
That's it for this week. More System Preferences coming next week.
Leave your comment below.