Holiday time is a time for reflection. For thinking about the things you are thankful for. Some recent experiences I've had with my own computers have reminded me of how grateful I am to be a Mac user.
I have two computers at home: a PowerBook G4 that I bought almost a year & a half ago and a home made PC that I built a little over 3 years ago. I built it so I'd have a PC to experiment with and so I wouldn't have to say no to my daughter if she wanted a game that was Windows only. Recently I upgraded the memory in both. The PowerBook was a piece of cake. I opened the trap door on the bottom, took out the 256 MB DIMM that I added when I bought it, and added a 1 GB DIMM – doubling my memory from 768 MB to 1.5 GB.
Things with the PC did not go nearly as smoothly. When I built it, I skimped on two things to save money – RAM (toddler games don't tend to be demanding) and the video card (a Radeon 7000 which I just replaced with a Radeon 9800 Pro so the Happy Feet game would run). My PC has 3 RAM slots, and the instructions say the DIMMs don't need to be installed in any particular order. I originally put a 256 MB DIMM in the first slot, leaving the other two empty.
I bought a 512 MB DIMM to triple the memory to 768 MB and installed it in the second slot. All appeared well, until the PC abruptly restarted itself once it reached the desktop. Trying the RAM in different slots I discovered that they worked fine alone, but when both were installed this repeating restart thing kept happening. I went in to the BIOS, the equivalent of a Mac's firmware which has a lot of options that can be changed, and manually set the RAM bus speed, which had been set to default automatic. The problem has since vanished and the PC is working fine.
I've been doing computer support for a long time, and have worked with lots of Macs and PCs over the years. In that time I've discovered that upgrading a Mac tends to be pretty painless, but upgrading a PC tends to upset the apple cart. So to speak.
I'm grateful that I'm a Mac user. Whether you celebrate Christmas, Hanukkah, or any other holiday, I wish you and yours the best and a Happy New Year.
No Tone, No Mail

Hi Tom,
I just returned from the Apple Store Genius Bar very underwhelmed. I am hoping you might be more helpful. I was listening to the MyMac podcast on the way home and heard your promo.
My 15 inch PowerBook G4 running Tiger has suddenly stopped chiming on startup. The Apple guys just sort of shrugged and said, "That's weird." They took it to the "back room" to run some kind of hardware diagnostics and everything checked out OK. They did the obvious, like checking that the sound was on and resetting PRAM, all of which I had already done. Still no chime. I thought you might have some suggestions. My computer is still covered under AppleCare so I could have the logic board replaced but that's an inconvenience.
Second problem is that when I send email from my .Mac account using Mac Mail on my PowerBook through my AirPort wireless network at home, it doesn't get saved to my .Mac sent folder. I have DSL. I use 3 email accounts and it only happens with .Mac. I also think it's an intermittent problem but it happens more often that not. At the Apple Store they had me log on to .Mac through Safari and set the preferences to save mail to the sent folder and of course it worked at the store. BTW, I have always had my Mac Mail preferences set to do that. But it's a problem I've only observed to happen when sending mail from home. Now that I'm home, I find that I still have the problem. If I go to the Sent mail folder right after sending the email, it appears for a few seconds but then disappears, never to reappear. Isn't that odd? I often rely on that folder as a record of my correspondence. I suppose I could set it to copy me on all email that I send, but that's a pain and it bugs me when things don't work they way they should. I'd rather not use a workaround. Thought you might know of a solution.
Thanks in advance for your help!
Diane in Kalamazoo, MI, USA
Diane,
I've seen that start tone problem before. If zapping the PRAM and/or resetting Open Firmware didn't fix it, a logic board replacement is what would since the sound plays through the speakers normally once it's started.
As for the Mail issue, the geniuses were barking up the wrong tree. I've found that your local independent Apple Specialist tends to be more knowledgeable. The .Mac Webmail Save Sent Mail To preference only applies to the webmail and has absolutely no effect on Mail.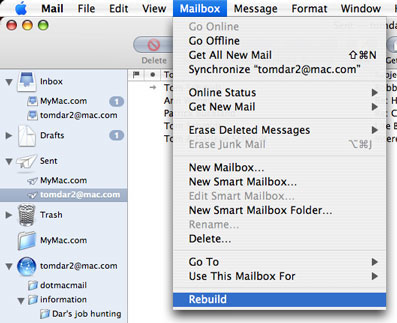 My expectation is it may be some corruption in your .Mac Sent mailbox. Create a new user account in the Accounts system preference, log in to it, and set up Mail. If the problem occurs in the existing account, but never in the new account (this is what I expect), then rebuilding your .Mac Sent mailbox should fix it. You can do that by selecting your .Mac Sent mailbox and choosing Rebuild from the Mailbox menu.
If the problem occurs in both the existing and new user accounts, then it's probably some weird problem with .Mac itself. You can contact them about it via the form on the bottom of the .Mac Mail support page. In my experience, however, the speed & helpfulness of their reply is abysmal. I have an issue with them personally regarding the spam filtering eating legitimate email from my car insurance company (my rates almost went up because of it) and spamcop.net. I've been trying to get it resolved for over three months and nothing's changed. All they'd have to do is add the ability for people to set their own spam filter settings and white list email addresses in their .Mac account settings & I could fix it myself. Hotmail, free from Microsoft, and other free webmail systems allow this. Thanks for writing.
Apple Doesn't Works
Hello,
I have most of my word processing documents stored in AppleWorks, although I used SimpleText for a while since it seemed to be more universal.
AppleWorks came with OS X 10.3 and I thought things were going fine. However, I recently erased and initialized before installing 10.4 which did not include AppleWorks, so I installed it afterward from the Tiger discs that came with my Mac mini.
The problem is now these old files open at my mouse click into TextEdit and they don't render all. Yes, I know how to 'file, open' in AppleWorks. I have looked but can't find a preference or option to set to avoid the automatic opening in TextEdit.
I bought into the Apple to run Photoshop in '96. Word processing before that was a Commadore 64.
Thanks,
Craig in Faribault, MN, USA
Hi Craig,
The solution is very easy. Find one of your AppleWorks word processing documents (you may also need to repeat this with any AppleWorks spreadsheet, draw, database, paint, or presentation documents), click on it once, and choose Get Info from the File menu in the Finder.
In the Open with: section of the Info window (see below), select AppleWorks from the popup menu, then click the Change All… button. This will fix the problem for all your AppleWorks word processing documents. It will also help if you make sure that all your AppleWorks document names end with ".cwk".

Tom has been a service technician with First Tech Computer in Minneapolis, Minnesota, one of the most highly regarded Apple Specialist dealers in the US, since 1994. Previous to that, Tom was the systems manager & a graphic designer for a small marketing firm from 1990 to 1992, then worked in technical & product support with Mirror Technologies & Envisio for 2 years.
Send your questions to tom@mymac.com. He will personally reply to each message when received and select letters will be included in the MyMac.com Help Desk column.