Do you have files that you want to open in one program, but they always open in another when you double click them? If so, there is an easy fix for this which I will discuss in this Macspiration.
For this article I am going to use a JPEG file, but this procedure will work with any file type.
To start, click the icon of the file in question. Choose "Get Info" from the file menu. An information window will open for that file.
Towards the bottom of this window will be a part called "Open with." If you don't see anything under the title, click the arrow next to the word "Open" so that it points down. This section of the window will tell you what program the file will open in when double-clicked. This samples file will open in ImageReady.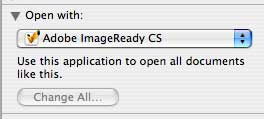 To change this application click the program name to see a list of programs to open the file with. Click the program you want to use.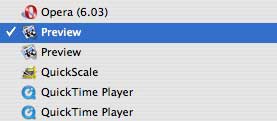 Now, when you open this file it will open in the program you just chose. To change all files of this format to open in this chosen program click "Change All…"
Close the window, and you are done.
There you go. An easy method for changing the programs your files open in.
Finally, if you only want to open the file in a different program than the default program one time, you can control-click the file's icon. Choose "Open with." You will be presented with a list of programs like I mentioned above. However, this time choosing the program will only effect the file once, and not be a permanent change.
Leave your comment below.