Delicious Library 1.6.4
Company: Delicious Monster
Price: US$ 40
http://www.delicious-monster.com
Do you have a library full of books, a collection of DVDs, CDs and/or games? Do your friends drop by to borrow any of these items and can it be hard to remember who got what item at what time? Or is it even hard to remember what precisely you have?
If you've outgrown a standard sized bookshelf this might just be time to think about bringing order to your collection. You could of course start a neat list, possibly even in Excel, but how about creating your own library catalog?
Delicious Library does just that, it replicates a complete library catalog for your collection, complete with catalog enrichment (courtesy of an amazon-API) and loan management. Rediscover your collection, manage your loans to friends and family and learn about additional items that might interest you…
Getting Started
Delicious Library is a 11 MB download and universal binary. Once installed and opened this tool will greet you with a very neatly designed workspace, that should remind you of a bookshelf in the middle, to the left some categories (Books, Movies, Music, Games) and a list of "borrowers". To the right is a section, which serves as data entry point, information screen and bookshop.
At first getting a large collection into Delicious Library might seem scary, but the makers of the tool have had an ingenious idea. After all few of us are librarians and enjoy the particular details of cataloging. Thus Delicious Library will only require a bit of information and collect most of the "catalog data" from amazon. You can pick the amazon location (Canada, France, Germany, Japan, United Kingdom, or United States) from preferences.
So it is time to turn around the first book and look for the bar code, the bar code contains the UPC (Universal Product Code) and usually the ISBN (International Standard Book Number). If you don't have a bar code on the back of the book, or you have long thrown out the book jacket, open the book and take a look at the first few pages. Unless your book is really old, it will have it somewhere.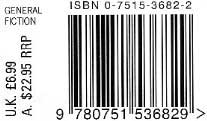 ISBN: 0-7515-3682-2: Albom, Mitch: The Five People You Meet in Heaven; Time Warner Books
Enter the ISBN in the data entry field and the program will recognize, whether you are entering an ISBN or an UPC and offer you Find by…, click the button, let the internet work its magic and pronto – you should have the most important bibliographic details (like title and author) filled in. It couldn't be easier and it truly couldn't be faster and for a treat you are given a cover scan. The makers of this tool assured me that I need not worry about copyright.

Hang on a second, if you have an iSight Camera – you can spare yourself the typing and simple have the software recognize the bar code for you. I wasn't able to test this, but I would assume it works. Your collection is gigantic and spread over several floors and taking each book to the computer isn't an option? You can buy a bluetooth bar code scanner, that will help. If you are out of bluetooth range, so the web site, it will store up to 500 bar codes, for later transmission. Now that is for the semi-professional librarians out there.
Of course, there are options to search by title and author – but most of the time you won't need those. Want a bit of fun? Enter some foreign titles and switch on your speakers. I had a jolly good time just listening to my computer try to pronounce some German book titles. Want to find an Easter Egg? Enter UPC 7321921586095 and have the speakers on, listen carefully as the DVD title is read out and just a second later "Voldemort". Delightful – simple minds, like mine, are easily amused.
So getting data in there is really easy and there are manual options and everything can be edited… Is there anything wrong with this tool so far?

Well some truly, truly minor stuff:
I have a fairly international book collection and I'd sometimes wished that I could just right click an item and pick "Reload Details from…" and then select the amazon-store I'd like to get my data from. By default my amazon store is the one for Germany, which is cool. I can change that to anything I like, but what I'd really like to be able to do is take an item that might be lacking a synopsis or a cover scan and try my luck. Especially for books purchased in the UK or US this might help me get better data, quicker, though there is little wrong with the data I find.
The ISBN is displayed as amazon# – now this isn't incorrect, amazon uses the ISBN as their ASIN (Amazon Standard Identification Number). This number will frequently be the same (actually in most cases) but I'd prefer the ISBN to be shown – I don't so much care for the ASIN, as one is an international standard and one is a proprietary, and thus not so very much a, standard. But that is just me – and hopefully won't bother any of you. The reason I got the desire is, because amazon is really good at showing the ISBN in their records.
Generally I have to say I am really surprised at how little time it took to enter a good part of my collection here (and no the screenshots don't even show part), enter the UPC or ISBN and you are virtually done. Need to change or add something, it is done in seconds, it it is truly intuitive. The rich data really makes all the difference to me.
Cataloging is not a task I would consider "enjoyable" and major academic libraries pay thousand and thousands of Dollars to enrich their catalog. In the past I have caught myself borrowing data from the Library of Congress' and/or British Library's z39.50 services, but this does it all for me without copy and paste – it is truly a outstanding solution!

Searching, Loaning, Rediscovering your collection
At the bottom of the screen is a search box, throw in an author name or a title and the display will change to only offer those books you have. It really doesn't matter whether you are in list view or shelf view. Very nicely done. While this isn't the advanced searching some library catalogs would give you, it is fully adequate for most of average Joe Users' needs.
Searching in a hurry – Delicious Library will integrate into a Spotlight search. You'd rather use a widget? No problem, Delicious Library comes with one, that lets you search your collection easily.
In the main window I entered brown de and it brought back Dan Brown – Angels & Demons. Thus it is reasonable to assume that an automatic Boolean AND operator is set and a common automatic right hand truncation is used. Fine by my standards, and more than just adequate.
Unfortunately the synopsis is not part of this search, which is a shame. My collection holds several items, which deal with a particular person and the synopsis would have allowed me to find those. So maybe you want to spend the time and add notes. Even if you only use the Notes field to add keywords, this will help you find more data efficiently.
With the enriched catalog data from Amazon you will also find categories – though with some titles categories are more or less meaningless. For example for Mark Haddon's "The Curious Incident of the Dog in the Night-Time" the amazon.de entries that have been imported into "genre" are Kategorien / Subjects / Bestseller Bargains. But this is by no means the fault of the program, but a shortcoming of the data supplied and you are free to change what's in there. Since I didn't pay for the data or service, I we can't complaint. So maybe once more a reason, to do some manually editing.
The benefit of these categories, when they are there properly, is that it allows you some slicing and dicing of your collection. Looking for contemporary literature – type in contemporary and see the selection of your bookshelf change.
And talking about bookshelf, I just couldn't help but be impressed by the eye to detail the programmers have had. Take a close look at the bookshelf to find a little label that tells you what you are looking at:

If you have friends, you might be letting them borrow a book or dvd or game or cd from you and obviously all your friends are good at brining the item back just when they promised to – not. The bigger the collection, the more you might be tempted to record who borrowed what.
This tool makes your life real simple. When you start the program for the first time it will pre-populate the borrower's section with people from your address book that share your last name. A basic logic to find your relatives, but it seems good enough to me, although I had to delete many entries, as Wolf is a fairly common last name in my neck of the woods.
Add more borrowers from your address book, or add a complete new entry. When you want to check out a book, simply drag the book onto one of your borrowers and the item is being checked out. Clicking on the borrower from now on brings up a list of items this person holds. There is a little calendar that records when the item is due back and all of this can sync with iCalendar. Managing your loans is simplicity itself and I very much like that the item still shows as part of your collection, but the cover scan and item description have a little yellow band saying "out". Once a book is overdue, this changes to a red band saying "late".
This section heading said something about rediscovering your collection – well you can search it and you get a better understanding of what you have. You can even setup different shelves to sort your books, maybe the books you use for your research paper on "Libraries in the 21st Century", or just a kids collections, or work related, or come up with your own…
The amazon API lets Delicious Library do something else that is quite nice – have amazon recommend items to you that are similar to the item you are looking at. You know this feature from amazon.com as "Customers who bought this item also bought".
Let's consider the book by Mark Haddon once more, if you like "The Curious Incident of the Dog in the Night-Time" you get a whole lot of recommendations, one of which is Marina Lewycka's "A Short History of Tractors in Ukrainian" and from my very own experience I can tell you they are good recommendations and make for entertaining reading.
Now obviously this feature could simply be meant to sell you more book, and it does that – but whenever the system recognizes that you've got a book already, it will not show a little shopping basked symbol, but a return arrow and dim the item ever so slightly and ultimately allow you to jump to that item in your collection. Rediscover your own collection, find connections that weren't that obvious. But also, build your collection systematically. This doesn't just work for one media type, but it might suggest a dvd that matches a book, and vice versa.
I have however found that the matching your library seems to work based on the ASIN (or at least it isn't the title), because for one DVD I am being recommended another that I already have. The title is the same, but the edition (I bought it in the UK) is different. So my advise is, don't hit that shopping basket right away, but have a look at your collection again.
A great set of functionalities and I probably haven't even scratched more than just the surface.

Conclusion
Delicious Library won't make you into a librarian, but you probably would have gone to Library School, if you wanted to be one. However it gives you a wonderfully sleek (and award winning) program, that allows you to quickly build up a virtual copy of your library, which you can search and manage, that you can use to mange your loans and borrowers, and which will allow you to take a whole new look at your collection.
The amazon-connection might at first look overpowering, everything comes from amazon and there are lots and lots of links back to them. Yes, it is true, this tool needs amazon to do its magic, but you are not forced to buy there. Amazon has data, they do not only know books in the same category, but they know that Joe bought book X and then Y and then Z and they are able to draw connections. Data Mining, the transparent customer, all is true – but for you it means they are able to find connections between books that pure category and title data couldn't and this tool harvests it in a much nicer way than what amazon.com does itself.
When you buy from within the program, Delicious Monster will get a share (5-7%) of the revenue. On their website they state that this revenue is donated – let's believe them, the price to you is no different.
All in all a truly wonderful application, that fulfills its purpose and shows a care to detail, which I cannot help to admire. I can highly recommend this to any aspiring hobby librarian, or to anyone with a decent sized book collection, and am happy to give it an excellent:
MyMac.com Rating: 4.5 out of 5
System Requirement:
Mac OS X 10.3 "Panther" or higher
Universal Binary
Notes:
Having mentioned some books in this review, I think it is just fair that I give full details, so you might be able to buy them. They are all rather short books, but they are truly good reads, in my humble opinion, and would make great stocking stuffers.
Mitch Albom
The Five People You Meet in Heaven
Time Warner Paperbacks, 231 pages
ISBN 0751536822
GBP 6.99
Mark Haddon
The Curious Incident of the Dog in the Night-Time
Vintage Vontemporaries, 226 pages
ISBN 1400077834
USD 7.99
Marina Lewycka
A Short History of Tractors in Ukrainian
Penguin, 325 pages
ISBN 014102576X
GBP 5.99