This week I'll dive into part of Apple's iWorks '06 package, and discuss some quick tips for Pages 2.

1. ENABLE RULERS
I don't know about you, but I like to see rulers when I type a document. In Pages you can quickly turn on rulers by using the key combination of "Apple+R." You can also go to the "View" menu and click "Show Rulers." Want to get rid of rulers? Use the same key combination, or click "Hide Rulers" in the "View" menu.

2. CUSTOMIZE THE TOOLBAR
Are there certain tools you use more often that others? You might be able to have them available in your tool bar. The toolbar is the row of icons above your document. To customize the toolbar go to the "View" menu and click "Customize Toolbar." If the toolbar is not showing, make sure you click "Show Toolbar" right above the customize option.
Once chosen, a window will drop down with all the different tools you can show on your toolbar. To add a tool, click the icon and drag it to you toolbar. To remove a tool click and drag the icon off your toolbar. When you are finished click "Done."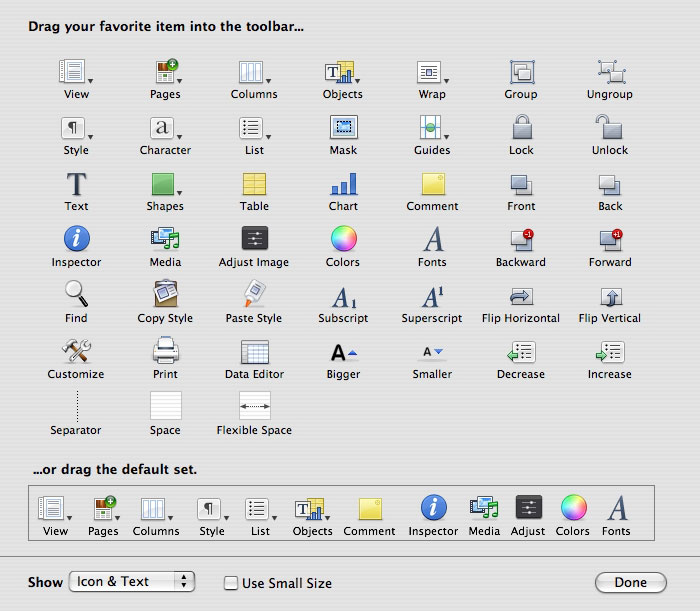 3. ADJUST IMAGES IN PAGES
If you are working with images in your document and find one that needs some minor adjustments (contrast, brightness, exposure), you don't have to work on the image in Photoshop or iPhoto, you can make the changes right in Pages.
To do this, select the image, and go to the "View" menu. Chose "Show Adjust Image." A window similar to the one you would find in iPhoto appears for making minor adjustments.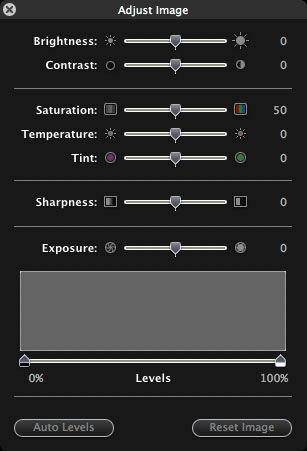 You can also access this window buy clicking the "Adjust" icon in your toolbar, if it is there.

4. SAVE TIME WITH TEMPLATES
When you first open Pages you are presented with a window where you can choose a premade template for your document. There is also a section called "My Templates." This is where your own templates are located.
Why would you want to make your own template? Well, if you use the same format settings in every document, making your own template can be a real time saver. I like my documents to have certain margins, always have the rulers showing, and to have hyphenation removed. Instead of making all of these settings each time I type a documents, I made a template.
Making a template is easy. First, you start with a blank document. You could even start with a premade template and make changes to that. Either way, once the new document appears, you would make all of your settings for the template(rulers, margins, etc.)
Next, you save the document as a template. Go to the "File" menu, and choose "Save as Template." Give the file a name in the window that drops down, and click save.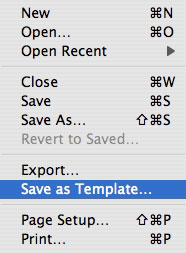 The next time you start a new document, that template will appear in the "My Templates" section.
It's that easy.
I wrote this article while using Pages 2.02. However, many of the tips above will work in Pages 1.0, for those that are using that.
If you have any tips for using Pages 1 or 2, leave them below. I'd love to read them.