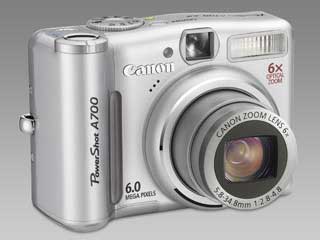 Canon PowerShot A700
Company: Canon
Price: about €255 (incl. VAT)
http://www.canon.co.uk
When I decided to buy a new digital camera in June it wasn't an easy decision. While I am not particularly talented, I expect a good deal from a digital camera. The new camera had to beat my old Sony CyberShot DSC-P50, which after five years still took some great pictures.
My main concern for a new digital camera was a better resolution, smaller size and more options. After some intensive reading up on the internet I decided on the Canon PowerShot A700, for a variety of reasons, but mostly because it offered 6 Megapixels, 6x optical zoom and lots of features in an affordable package.
Reviewing this camera for MyMac.com has been on my mind for a little while, but how to go about it? Well, I shall just tell you what I really like about the camera and what I don't like that much and that will be it. If you want a very sophisticated, in-depth review you might want to check out Steve's Digicams. But please, do read on…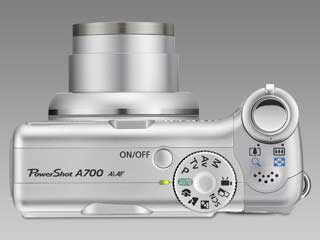 Size
At 9.4cm x 6.6cm x 4.3cm (my crude measurement) the camera is a good size, not too big to be a pain to carry around and not too small to actually use. I handled a lot of cameras before deciding on this one and some seemed to have been designed with children in mind. This camera has a good feel in my hand and all controls are easy to reach, navigate and use.
Due to the favorable size it fits easily the only space left in my laptop bag and thus the camera goes with me on every business trip and that is precisely what I wanted.
Zoom
My old Sony had a 3x optical zoom, and the Canon comes with a nice 6x zoom and it certainly was one of the main buying decisions. And boy is a 6x zoom useful, when taking pictures in a National Park, or even the city. It is a level of zoom I wouldn't want to miss anymore. Don't get fooled when buying a digital camera, some will say 6x, but they mean 3x optical, 2x digital… no fooling around here, 6x optical.
Batteries
The Canon takes normal AA batteries (a.k.a. Mignon), which to me is one of the biggest plus points you could think up. While a custom rechargeable battery would have allowed Canon to create a smaller body, the problem is obvious. Once you run out of battery power, you've run out. I run the Canon exclusively on rechargeable AA batteries, but have forgotten them on occasions and was happy that a trip to the local corner shop was all it took to get me taking pictures again.
It is also a good cost argument – those custom rechargeable batteries usually don't come cheap and after a few years might be hard to replace.
Memory Media
The camera takes SD memory cards and MultiMediaCards. Out of the box you get a 16MB MMC, which really takes you nowhere. I ordered a 1GB SD Card at the time of purchase and have since invested in another 1GB SD Card. Though, investment is really misleading – at about €20 a card, it isn't much of an investment anymore.
I found the memory sticks nice, but SD cards today are so popular that there is real competition out there and you can pick up media inexpensively.
User Interface, Screen, etc.
When you read the specification at the Canon website you read about 19 shooting modes, 9-point AiAF, DIGIC II and iSAPS, PictBridge and Print/Share button, etc and to be honest I don't really care. What I use more than anything else is the Auto mode and it is excellent. It makes mostly good decisions on what settings to use. Sure the odd pictures is a bit off, but then again there are other shooting modes that let me make those decisions.
The different options are easy to access, the icons easy to understand (even for me) and if I decide to adjust something it is easy to do. At my brother's wedding I used the continuous shoot mode at a few occasions and got some really nice pictures out of it. Before he got married there was the traditional German "Polterabend" and the movie feature made for a really nice snapshot movie of part of the celebration.
So I have used most of the features, but mostly to play around. I truly use maybe 4 or five shooting modes with any regularity. Remember that as well, when buying a camera – 19 shooting modes might sound cool, but you will probably only need a handful. If you are ambitious make sure the manual settings are sophisticated enough for your needs (and the Canon lets you adjust it all, if you want).
The one feature I don't care for is the stitch assistant – which allows you to take a panorama, by helping you align the pictures better. It is a really nice concept and surely helps you lots, but I guess what you really want for shooting a panorama is a tripod and that has given me the best results in the past. So I might not care for it, but I am sure some of you will feel it is useful.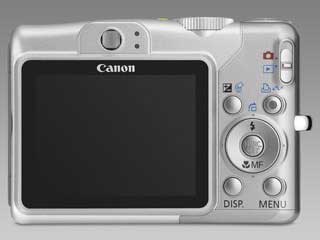 On the back of the camera there is a bright, well adjusted 2.5" LCD monitor with about 115,000 pixels (no I didn't count them). More importantly it is suitable for use in most lighting conditions and I hardly ever find myself looking through the viewfinder.
Built Quality and Shock Resistance
Built quality is outstanding, the camera feels solid, no cheap plastic here, all buttons are precise, the control wheel and zoom lever are firm, but still easy going. It really feels like a quality camera and I truly think it is just that.
In July (just a month after buying the camera) I got to test the shock resistance. I lost my firm footing while taking a picture on a hill side in Crater Lake National Park, the camera literally flew one way and I was happily sliding down the side of Mount Scott for a good 10 yards. I had a few scratches and bruises and the camera, well it has a few scratches as well. You can clearly see where the camera "impacted" and there is a scratch on the display, but it works well and has been on many trips since.
Obviously I was lucky that the camera hit the ground the way it did, but I would also like to think that a camera less well put together would have needed replacing – so I am happy a happy camper.
Software
It truly isn't that important with digital cameras, but Canon has a decent Mac OS compatible software package that comes with the camera. You are not very likely to install it, since the camera talks to iPhoto, but if you feel the utter urge to change the background you see when you switch on the camera and you'd rather hear dogs bark, when you press the shutter you can customize those bits rather easily. There is also an image manager that gave me a really good first impression, if you should be unlucky enough not to have iPhoto.
Still it is one of the big benefits of Canon, they support us Mac Users, and they don't just do with a driver, but with some additional software that is useful. I might have been complaining about my scanner's software package a little, but with the camera there is no need for a complaint.
DOWNSIDE
There are only two things I don't like about the camera.
First and foremost: Red Eye reduction is a joke – it doesn't take the route of a pre-flash, but the bright red led way of reducing red eyes. Trust me, it doesn't work well at all. The only reason why this doesn't actually annoy me is because I hardly ever take pictures of people anyway.
If there was anything else I dislike it would be out of box accessories. A 16MB Memory card gets you nowhere, a camera bag would have been nice and the USB cable probably was the cheapest you can find. But memory is cheap, a camera bag wasn't expensive either (and Canon had a nice one for only €20 fitting the camera perfectly) and if I really feel that I need a better USB cable, well I can go to the local electronics superstore and pick one up for a few euros.

Conclusion
I love this camera – full stop. More serious and professional reviews, like that at Steve's Digicams tells me it is a fabulous camera and that helped me made my decision, but my Flickr Account will allow you to evaluate on your own. Just remember it ain't the camera's fault that I am not a talented photographer and it is I who decided to only upload images of 1280×960 pixels, while the camera will happily take them at 2816x2112pixels.
My brother has a really nice Sony, it has its merits, but for my hands it is too small.
I believe that the market out there has the perfect camera for every user type and I would recommend that you don't buy online, or at least not until you had the camera of choice in your hands. A camera with the best reviews might not make you happy if in your hands controls are hard to reach, or it has so many buttons that taking a photo is like programming a computer to take you to the moon. What I wanted was a simple, yet powerful Point-And-Shoot Camera and that's what I have.
Also read up on the internet to find a source with a good review, the type of site that will tell you when a product just isn't good enough – but fortunately this one is excellent.
MyMac.com Rating 4.5 out of 5
Sorry Canon, the red eye reduction thing cost you the perfect score…

Note: All images were taken from canon.de