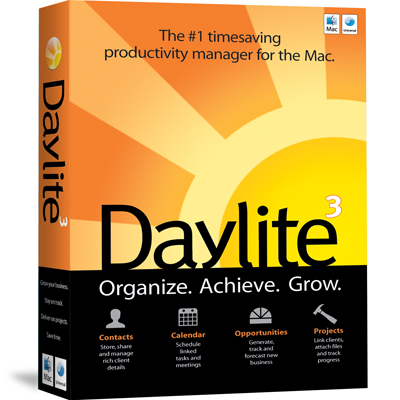 Daylite 3
Company: Marketcircle
Price: $189 (Productivity Suite, 1-User)
http://www.marketcircle.com/
30-day free trial
(Current version: 3.1.3)
For those who were appalled to hear Steve Jobs announce, in the WWDC Keynote, that he sends e-mails to himself as ToDo reminders, you're not alone. I was certainly amazed at this revelation.
But it's understandable. Even the best e-mail programs today aren't up to the task of managing a complex environment of communication, contacts, minor tasks, major projects, appointments, and personal notes.
Back in July, I was launching a project that I knew would require an e-mail program that could support the concept of a productivity suite. (I'm a Eudora user.) My first temptation was Microsoft Entourage. I knew from colleagues that Entourage supports not only e-mail but contacts, calendars, and project management. But I'm allergic to Microsoft e-mail programs because several colleagues of mine have lost e-mail using Entourage. So I looked around and discovered that Daylite 3 plus Apple's Mail application achieve even better functionality.
I also noted that while Entourage is Carbon-based, both Daylite 3 and Apple's Mail application are Cocoa-based. I liked that.
If you work in an intensive, collaborative environment, especially project management, sales or customer support, you need to keep track of who you talked to, important information about them, what was said, and what's next. Daylite, with very little up-front learning curve, allows you to manage all that complex information. That includes dropping Apple's Mail application e-mails into a searchable relational database.
But more importantly, Daylite 3 is very cool, extremely pleasing to the eye, well designed, a joy to use, and solid in its functionality. Even if you're working alone, Daylite 3 will help you manage all the information that's generated by meetings, Websites, e-mail and phone calls and help you organize your work.
If all this reminds you of SoHo Notes (which uses the same database), Daylite is similar in functionality, but appears to me to be more organized towards the specific goal of time, contact and project management. SoHo Notes, seems to me to be more of a information manager specializing in different kinds/formats of information with some added alarm clock features. I am a registered user of both, and I prefer to use Daylite for project and customer management and SoHo Notes for the organization of technical data related to my writing career.
Installation
The installation of a program is usually the first opportunity to assess what's in store. We either get a sinking feeling that the author hasn't done his homework or we get all kinds of warm fuzzies.
Daylite produces the warm fuzzies.
For example, Daylite installs a copy of the relational database OpenBase in /Library (not ~/Library). This requires administrative privileges, and right away, the Daylite installer explains what it's going to do and why it needs you to enter the admin password. And they do it clearly and politely.
Oh, I like that.
When you download upgrades, the installer makes it very clear whether you're updating the application or the app plus a new version of OpenBase. Again, you're kept in the loop at every point.
The second thing that happens during the installation of a program we're eager to start using is the license agreement. We often wonder, based on our experiences with other companies, whether the license agreement has some hidden language that will make us nervous or compromise our computer. I'm not a lawyer, but I read the license agreement thoroughly, and I didn't see anything that looked remotely suspicious. In fact, my take is that the license agreement was carefully worded to both protect Marketcircle and simultaneously put the customer at ease. It's almost as if they sense what constitutes being an insanely great company.
Oh, I like that too.
Features
Daylite is, as I mentioned, a beautiful Cocoa application that comes up with a single screen and a 3 x 3 array of function buttons. (See the screen shot.) When you click one of these buttons, Calendars, Contacts, Organizations, Projects, Opportunities, Groups, Tasks, Appointments, or Notes, the interior frames change to reflect this work flow. And the number of frames is user-definable depending on how you want the detail to flow from coarse to fine.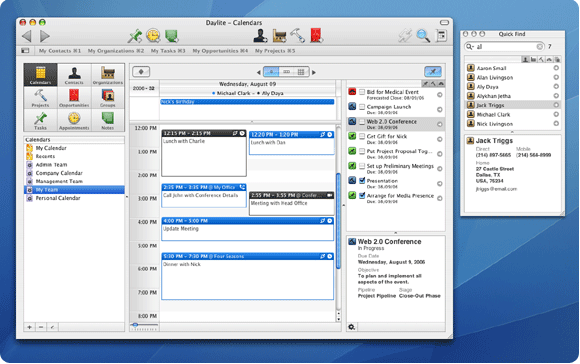 Copyright © 2006, Marketcircle, Inc. Used with permission.
For example, in the screen shot, the Calendars function is selected, and one of the many possible calendars is shown. Daylite uses the metaphor so nicely developed in, say, iTunes: for example, you can have a specialized calendar just like you can have a specialized playlist.
Again, in the style of a good Cocoa application, there is a tool bar at the top, just like the Mail app, and it's customizable in the same fashion.
There are so many features that, at this point, I'm going to refer you to the Marketcircle Website for a more extensive list of features.
Operation
One of the things you'll need to get used to is the input of information into a normalized database. You can find out more about that concept here, which I recommend reading, at your leisure. Basically, it means organizing the database tables and their fields to eliminate redundancy and maintain an efficient, relational database. Don't let that scare you. It just means that if the input of the data into, for example, contacts and organizations seems a little odd to you, it's simply because of this elegant organizational principle.
Once you create these tables, in database language, of information, you can then relationally link them in various useful ways. That's the payoff — the relationships that can be defined. On the other hand, you cannot fully exploit the loosely assembled tools that Apple supplies: iCal, Address Book, Mail.app and so on because there is no common database behind these three tools. (True, the Mail App is linked to the Address Book and iCal. Not the same.) So while it may feel like a pain as you enter data, remember, this is an enterprise-capable tool. The customers, colleagues, or entities you input to Daylite are probably not the same as your contacts of friends and family. And if there is some overlap, Dalylite allows you to fully customize and synchronize to your Palm and Mac OS X Address Book.
Once you enter the information, the real payoff comes when you use the power of the relational database to search or tie together people, events, and notes. And here is where you may have pause. We, as Macintosh users, are accustomed to things being very easy and intuitive for us. But when it comes to taking a few moments to carefully enter valuable information, some may suffer from a little impatience. Believe me, there is a payoff for a little diligence in carefully entering information into a powerful RDMS like this. It ends up saving you time and effort when panic time comes, for example, when you're trying to quickly find out what you said to a client last month, or when you're scheduled to contact someone with important information.
Entering a contact.
Screen shot by author.
I mentioned iCal before. There is a facility to import an iCal calendar, but in contrast to the Address Book synchronization, this is a one-time import. If you change iCal and import again, entries will be duplicated. Marketcircle has advised me that the thinking was that most users would import once and then continue to use the Daylite Calendar. They're working on a full sync function.
There is a lot more functionality in Daylite than I can possibly get into. Especially with respect to project management, sales opportunities, smart lists, preferences and customization. At this point, I strongly recommend that you download it and try it for yourself for 30 days. Note that if you want to integrate it with the Apple Mail app, you'll want to purchase the Daylite Productivity Suite, not just the stand alone Daylite 3 application. In the DPS, you get what's called the Daylite Mail Integration (DMI) package, a plugin essential to save e-mail messages in the Daylite relational database.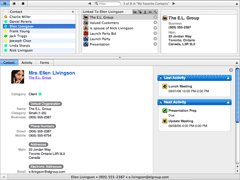 Copyright © 2006, Marketcircle, Inc. Used with permission.
Vendor Support
Marketcircle is right up there with the most responsive companies I have ever worked with in terms of responding to feedback and bug reports. Bugs that I have reported are responded to personally within a day or two, and I actually seen the effects in the next version.
I happened to be chatting with one of the Marketcircle sales people during WWDC week, and she mentioned that it was very, very quiet in the office: the entire development teams was in San Francisco at WWDC. I was impressed with that kind of company commitment.
The enthusiasm of the development team for this premiere product for Mac OS X shows in the perceived quality of the code (it has crashed on me just once in months of daily use), the user interface finesse, my communications with them, the attention to detail, the documentation, and the awards earned. One just gets the feeling that this is a very professional family of people who love working with customers and believe in their product. I suspect working on the Daylite team must be a great career experience.
Summary
I've tried to give you a feel for this product by describing it in ways that mean something important to me. You can experiment with it yourself to determine whether its feature set meets your needs. The bottom line is that if you work alone or in a collaborative project environment and need a network accessible tool that integrates with the Apple Mail app <b>and</b> can assist with the management of information, e-mail, events, tasks, people and organizations, there is, I am certain, no equivalent program for Mac OS X.
While Entourage is free if you bought MS Office for Mac OS X, I would strongly advise that you do some extensive testing and consult with colleagues first. Daylite appears to be much more powerful and capable than Entourage's productivity features. Again, I'll remind you that your project data is far too valuable to relegate it to a Microsoft e-mail program which has a public history of data corruption issues. If you're going to go to the trouble of running a business or a project in a professional way, $189 is well worth the investment. You'll definitely feel, in the ways that I've described above, that your personal or group investment was worth it.
Rating
Daylite 3 is software and Marketcircle is a company that inspires loyalty. There is obvious care and craftsmanship in this product. The company stands behind it, and the electronic documentation, now that there's a quick start guide, has to be rated excellent. While I have found some small software bugs over the last few months, they got fixed fast. All this generates, in my mind, a product one can both depend on and enjoy using.
System Requirements
Mac OS X 10.4.7 1 GHz G4
768 MB RAM
1024 x 768 screen resolution (Version 3.0 & 3.1 require 10.3.9)