Have you ever noticed how slow it is to transfer files to and from your iDisk by dragging and dropping? At times, the transfer speed can be painfully slow. Well, there is a solution out there in a free program called Goliath by Thomas Bednarz. It is not Intel native, but it will work fine on Intel machines. Just make sure you download the right version for your OS. It is available for OS9 and OSX.
*Note- This is not a review of Goliath. I am just presenting a "How To" on using Goliath to speed up iDisk. I am not going to go into all the features of Goliath, except what is needed for this process.*
To access your iDisk account through Goliath you want to click "Cancel" on the window that appears when you open the program.


Next, go to the File menu and click "Open iDisk Connection." You will be presented with an iDisk login window.

Enter your user name and password and click "OK." Your iDisk folders will then be presented in a list format. These are the same folders you would see if you logged into your iDisk without Goliath.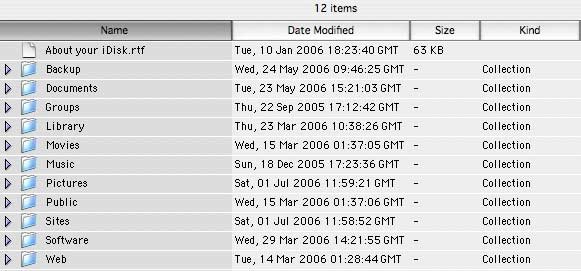 To open a folder double click the name. You can also access the content of the folder in a list view by clicking the arrows on the left of the folder. I have found it is easier to transfer files by opening the folders in their own windows.
Once you are at the folder you want to be in you can add files, transfer files to your hard drive, or delete files from your iDisk. All of these processes are faster using Goliath, especially deleting files.
To transfer a file to or from your iDisk, drag and drop from or to this window. A progress bar will appear and disappear when finished. To delete a file, select the file you want to delete. Go to the Web menu and choose "Delete Items." Just like in the Finder you can select multiple files while using the Apple Key or the Shift Key.
Once you are done with your iDisk, quit Goliath. It is that simple, and you'll save a bunch of time transferring files to and from your iDisk.
Use Goliath and your iDisk once and you'll be hooked. I am.