OWC Mercury On-the-Go Pro FW800 Hard Drive
Company: Newer Technology
Price: With 160 GB HD (5400-RPM), 8MB Cache, $349.99 USD
http://www.macsales.com
I am constantly amazed at how small things are becoming in the world of computing. I remember BIG cpu's, BIG floppy's and BIG headaches when dealing with all of it. Now we have Mac mini's and in keeping with "down sizing," OWC is offering the Mercury On-the-Go Pro FW800 Hard Drive. Compact in size, the FW800 HD is only 3.5"(W) x 5.5"(D) x 1"(H) (it's smaller than my hand!) and it only weighs 11 ounces. But being compact doesn't stop it from doing big things. The unit utilizes Oxford 911+, Oxford 912, or Myson Century Bridge chipsets to accomplish its job. The unit I evaluated came with a Seagate Momentus 5400 160 GB hard drive.
But before I get started on my review, I have to bring one point up at the very beginning. As it stands right now, Apple only has two models that have the capability of using this unit as it is without any adjustments; the 17-inch MacBook Pro and the G5 desktop unit. Each of these systems has one (1) FireWire 800 port. What Apple has planned for the future, I can't tell you but one would only hope it involves FW800 or better.
As always, the unit comes securely packed from OWC, as shown below. In each box is the HD, the carrying case, the AC/DC transformer power supply, one (1) USB cable, (1) FireWire 800 9-9 pin cable, a one sheet owner's manual and a CD containing Hard Disk Speed Tools and Dantz/EMC Retrospect Express software.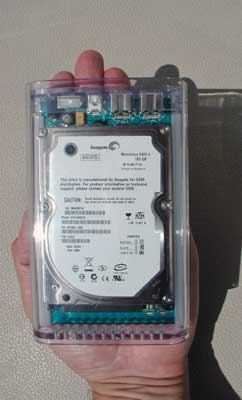 Setup of the unit is very easy, with the user making the choice of using the USB cable or the FireWire cable to connect the HD to whatever computer they wish to work with. Attach the AC/DC transformer to the back of the HD, turn the power switch on and you're ready to work. Now the paperwork with the unit states that it is ready to work with OS X and will also work with Mac OS 8.6 through 9.2.2, once you the HDST CD and follow the instructions of the installer, which may entail installing Apple's FireWire drivers. I'll be honest with you… I didn't even bother to try it out. Yes, I have OS 9.2.2 on my G4 but frankly, I only startup in OS 9 once or twice a year, just to make sure it still works. I didn't see the need to evaluate the HD's capability to work with OS 9 particularly with no Mac models running OS 9 having FW 800 capability.
Now the primary computer I use here is a G4, MDD 867Mhz running OS 10.4.6 (now 10.4.7) with 1.5GB of ram that provides FireWire 400 capability. So for me to evaluate the drive, I had to utilize a 9-6 pin cable for FireWire usage. I did try the USB cable first, but quite honestly, unless you're copying a small size (a few hundred megabytes) file from the HD to your computer or vice versa, please don't bother unless you have all the time in the world and nothing else to do. I went to copy a 6GB video folder over but I didn't have a couple of hours to waste so I switched to FireWire. Copying over the 6GB video folder took less then 4 minutes. My main complaint is the size of the cables that are provided, just not long enough for normal usage. I also tested the FW 800 with my Mac mini (PPC) and even with a miniStack running attached to both the mini and the G4.
Now thanks to the good graces of a friend of mine who has a relatively new G5 that he's always proud to talk about and show off, I was able to try out the On-The-Go FW 800 with it. Very nice, smooth in copying over items, very quiet, again very quick in the FW 800 mode. Again, the problem is the short cable necessitating human flexibility when plugging it into the FW 800 port on the back of the G5. Using the 9-6 cable and plugging it into a FW 400 port on the front made for easier use. USB, again too slow for large files.
Now, the problem for me was how to try out the On-The-Go FW 800 without a 17-inch MacBook Pro sitting here in my den/office. Thanks to the generosity of a manager at a store that sells Apple computers (Who wants/needs to remain nameless… Thanks again big guy!) I was able to bring the unit in, plug it into the MB Pro and try it out. Again, very nice, quick and easy to use. Of course, moving things around at 800Mbit/sec in FW 800 versus 400Mbit/sec in FW 400 or USB's max high speed of 480Mbit/sec (which never happens for me) does offer some explanation. The one thing that stands out in both situations is that the unit is so small and portable, you really don't mind at all carrying it to where you want to take it. Another nice aspect of using the unit is that when you utilize the USB cable or FireWire cable into your computer, you don't need to utilize the AC/DC power transformer.
All in all, I found the On-The-Go FW 800 to be a reliable, very quiet, very quick, very light and easy to use unit. A thumbs up to OWC for a great unit. The unit was great for moving video/audio files, large size folders, etc. from point to point.
Another point of interest with the FW 800 is that it is also Windows compatible with requirements being- Microsoft Windows 98SE, ME, 2000, XP; Any OS or device with standard FireWire or USB support. I did not try it out with my Windows laptop, wanting to utilize it exclusively for Mac work but it's good to have it available if need be.
So to review: The unit is small, very lightweight, extremely quiet and very easy to use. The unit (FireWire) is very fast in FW 800, fast in FW 400. Very good as a backup to your system or as a means of moving video or photos where you need to take them. It also works with PC's. The 40GB model 5400rpm is $139.99. OWC provides Hard Disk Speed Tools and Dantz/EMC Retrospect Express software with the unit.
Cons: Cost may hold some users back, particularly for the 160GB model. The unit is only 5400 rpm. The limited use of FW 800 (2 Mac computer models) is presently a downside for use.
Still highly recommended for those looking for FW 800 capability.
MyMac rating: 4 out of 5.