LineForm
Tribar Software
Price: $79

http://tribarsw.net
Over the past six months I have had the pleasure of trying several pieces of art software by smaller developers which make great, cheaper, alternatives to the big boys (ie. Illustrator, Painter, Photoshop, etc.). LineForm falls into this category as an Illustrator alternative.
Like Illustrator, LineForm is a vector illustration program. It is not as feature packed as Illustrator, but for $79 it is a great alternative for those on a budget. It even has some great features that Illustrator could benefit from.

INTERFACE
The LineForm interface is very easy to understand and use. The types of tools and effects are broken into smaller windows, which can be hidden to make the display even simpler.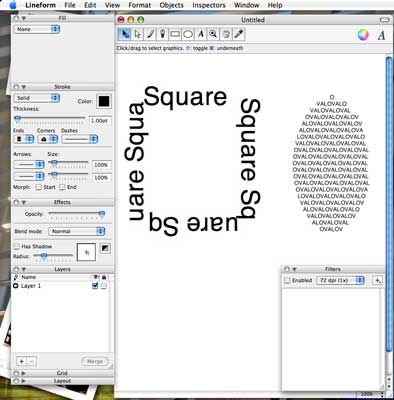 DRAWING TOOLS
LineForm has your basic vector drawing tools: bezier drawing tool (Paint), freehand (Pen), squares, and circles. I really like the smoothness of the Paint tool and the feature of the lines being smoothed after you draw something. (You can also override this option.)
Like you would expect, you can edit these shapes and lines by moving and deleting the points on them. You can rotate and scale them, as well.
The one thing I didn't like about drawing in LineForm is that every time you make a line or a shape, the tool automatically switches to the Select arrow. So, if you want to make two squares, you have to make the first square, and then click the square tool again to make the second square. This is not the end of the world, but a minor annoyance.

TEXT TOOLS
The text tools in LineForm are great. You can do your basic text box and type what you need to, but you can also be creative with your text. You can draw a shape and choose Text as the fill option, and whatever you type will take on the positive space of the shape you created. You can also choose to have your strokes be text, and as expected, the text becomes the outline of the shape. These two features could not be any easier to use. (See my sample at the end of this article.)

FILLS
I already mentioned that you can fill an object with text. You can also fill your object with the standard colors and gradients. One of my favorite features of LineForm is that you can fill an object with an image (i.e. a photograph). This is great for putting cartoons in real backgrounds, or making a picture frame and dropping in a photograph. The only improvement I'd like to see here is the ability to reposition the image inside the shape. Right now if you drop an image into a shape, where it falls is what you get. You can reshape the outline to show more of the picture, but you can't move the picture around inside the outline.

BE ARTISTIC
Some of the great customization features you'd expect to see in a more expensive program are in LineForm. These features are artistic brushes and filters. With the brushes (see sample below) you can really change the way an outline feels and make it feel like a different art material created the line. Filters are great for adding special effects and distorting your image. A lot of the standard filters like blurs, crystalize, posterize, and more are all in LineForm,
Besides the brushes and filters, you can add drop shadows with the click of a button. You can also add sixteen different types of arrows to the ends of your lines, create dashed lines, and control the opacity of objects and lines.

LAYERS
Another feature which you normally don't expect to see in less expensive software is layers. Lineform has layers, and they work great. You can reposition layers, lock layers, and hide layers.

IMPORT AND EXPORT
LineForm can import JPG images, which works great for making a tracing layer. You can also import EPS files, PDF files, and even Photoshop files. I was not able to import an Illustrator file, but exporting to EPS and importing the EPS file worked fine.
When it comes to exporting files, LineForm can export into BMP, EPS, JPG, PDF, PNG, TIFF, and SVG files. SVG and EPS files are fully editable in Illustrator, which is nice.

GREAT FOR THOSE ON A BUDGET
LineForm's price of $79 makes this a great Illustrator alternative for those who are on a budget. Does it have all of the features of Illustrator? No, but it has enough to make it a fully usable vector illustration program. The $79 price also makes it a great program to get for learning vector illustration. Plus, there is an education price of $59 which makes it an even better deal for students and teachers.
With its features, ease of use, and great price, LineForm is definitely worth looking at. MyMac.com rating 4 out of 5.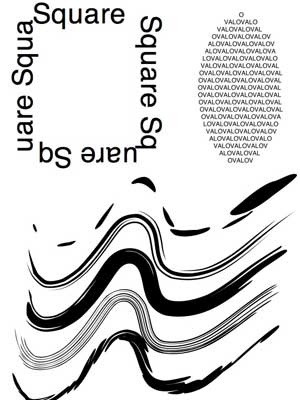 This image shows the text and brush features of LineForm.
This image incorporates many of the LineForm features. I used the text tools, the image fill, drop shadows, and more.