I never liked iChat much and I don't think this is going to change any time soon. I am very happy with what Skype does for me both in my personal and professional live.
Skype for Windows supports video calls, the Mac OS X version unfortunately doesn't and that's why I ended up playing around with iChat Friday evening and today.
A good friend of mine bought a MacBook with built-in iSight and really wanted to give it all a try. I was just all too happy to help. The biggest hurdle was to get the connection established, because iChat requires a bunch of ports to be open, which my router's firewall just blocks by default. If you want to know more, I recommend you read Apple Support Article 93208.
My solution was to place my Mac in the DMZ of my router for the duration of the testing, not something that gave me a warm and cozy feeling… But the video image was coming through now. It was nowhere near what Apple showcases on their own website, but it was decent enough, especially considering the bad lighting conditions.
Seeing this work reminded me that I had a Logitech QuickCam Express, which I sometimes used to do a video conference (via Skype) on my company laptop. Wouldn't it work on my Mac?
I plugged it in and unfortunately the quick answer was no. Logitech doesn't offer a driver either and so I had to google the problem and the solution unfolded before me: Macam
Macam is a driver and small viewer/recording software supporting a number of USB webcams. By no means all of them and for my model they gave me a 50/50 chance of success. I recommend you check out the listing of supported cameras, before installation.
I downloaded the application, placed the macam.component file in the Library > Quicktime folder and gave it a try. Success: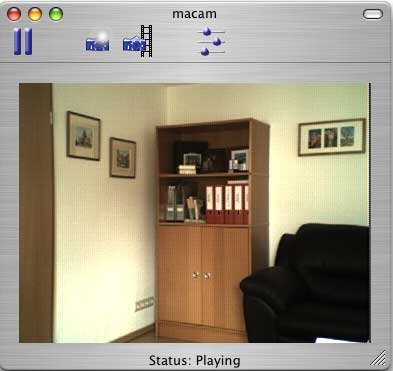 Next step, mount the camera on top of my TFT monitor – not a big problem, a bit of double-sided sticky tape does the trick. It might not be the most durable way of placing the camera, but it is holding up quite well.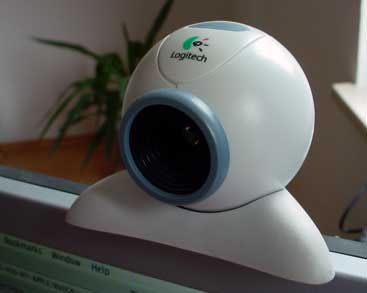 I restarted iChat and went to Preferences, but was told no camera was attached. Again I had to google the problem – iChat only seems to work with FireWire-based cameras. I did however find a software tool, which let's you extend iChat to work with an ordinary USB WebCam, such as the Logitech I have. If the cam works on your Mac, you can install iChatUSBCam from ecamm.
It comes at US$ 9.95 for a single license and there is also a 7 day demo available. After installation you get a new menu called "iChatUSBCam" in your iChat Video menu, which lets you select your video source. In my case my trusted, old Logitech webcam. And it works indeed.
So it works, it is doable, it doesn't take a lot of effort. But what do I think about the entire solution?
The quality is dreadful – but then again this is the fault of the cheap webcam I use. An iSight camera, as you'd buy it from Apple for $149 has far superior specifications. There is no doubt about that.
In iChat the image seems to be slightly zoomed in, making you miss out a part of the screen – again not a big problem, the main purpose of iChat is to show you, even though I avoided that in the images above. So not too much of a problem.
Overall based on my tests, I'd say the following:
Logitech QuickCam Express
Cost: I believe GBP 39 for two of them
MyMac.com Rating: not rated
iChat
Cost: comes with Mac OS X
MyMac.com Rating: not rated (I honestly didn't check it out well enough)
Double-Sided Sticky Tape
Cost: you "borrow" it from a neighbor if you have none
MyMac.com Rating: 5 out of 5 – just kidding guys…
Macam
Cost: freeware
MyMac.com Rating: 5 out of 5
iChatUSBCam
Cost: 7 day free trial, $9.95 single license
MyMac.com Rating: 4.5 out of 5