CoverScout
Company: equinux
Price: $19.95 ($15.95 until July 1, 2006)
www.equinox.com
It is always nice when a piece of software does exactly what the developer says it is going to do. CoverScout is one of those pieces of software, and it is very easy to use.
Basically, CoverScout is an iTunes utility that will seek out and apply cover art for you music tracks. Yes, purchases from the iTunes music store have cover art on them, but what about songs that you import into iTunes from other sources (i.e.. CDs). These imported tracks will not have cover art. You can seek out the artwork yourself, and cut and past each one, or you can use a utility like CoverScout.
When you open CoverScout you are presented with a display that will show your albums on the left, tracks on the right, and cover art on the bottom of the window. Your iTunes catalog will be imported automatically. A system of three icons will let you know if the album has or does not have cover art, or if just part of the album has cover art.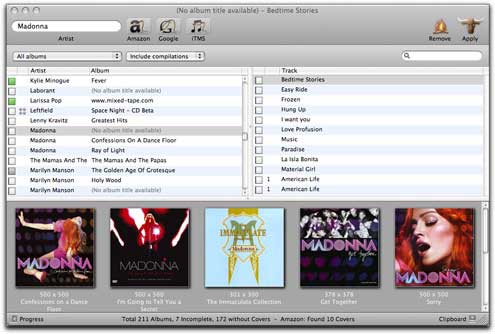 You can choose to only see albums from your Library that are missing cover art, have incomplete cover art, have complete cover art, or just view the entire library. Why would you want to list albums that already have cover art? CoverScout will remove art from an album and let you apply a new one. Maybe you want that special edition cover instead of the standard one.
You are not only limited to entire albums. You can also apply art to individual tracks of an album. If you like, you can have every track of an album have different artwork.
To find the cover art for your albums you need an internet connection. CoverScout uses Amazon.com, Google, and the iTunes Music Store to search for album art. Searching for artwork is as easy as double clicking the item in your library you want to search for. Results will be displayed in the artwork pane, and double clicking the artwork you want will instantly apply it to the selected tracks. Did not find what you were looking for? Use another of the three search sources. I found that Amazon.com was the best resource. The only problems I had finding artwork in the three sources were with local music that may not even have a web presence.
CoverScout also allows you to apply the artwork found automatically based on parameters you set. You have the options of automatically applying artwork if only one cover is found, if the album name matches, or both.
One of the nicest features of CoverScout is that once you choose the artwork you want to use, the program quickly applies it to the selected tracks. You will not be sitting around for hours as the program completes its task. Of course, the more tracks you need art for, the longer it will take; and the search time will depend on the speed of your internet connection.
For those who only need to use CoverScout for a few tracks, CoverScout's price of $19.95 may not be worth the money. For a limited time you can purchase CoverScout for $15.95, but that still may be a little pricey for something that is not going to be used much. There are free options out there that will find album art, but they will not be as feature filled as CoverScout.
Is cover art on an iTunes track going to change the world? No. However, it is nice eye candy (especially in an iPod), and CoverScout is a great "candy shop" to make getting the cover art easier. I definitely recommend CoverScout for those that have a bunch of iTunes tracks without cover art on them. It will save you a lot of time that could be wasted searching for the art on your own, and then cutting and pasting one at a time.
MyMac.com Rating: 4.5 out of 5.
Pros: Does exactly what it says it will do, and does it well.
A lot of great features make CoverScout easy to use.
Cons: A little pricey, especially if you only need art for a few tracks.