Generally, I try to keep the downloads in the Download Drawer centered around a theme. This time I decided to just list a few great programs that, basically, have nothing in common, except that they are made for the Mac. As usual, all of these programs are free.

1. Delocalizer, by Mike Bombich
http://www.bombich.com/software/local.html
If you find yourself in need of more hard drive space, try running Delocalizer. Delocalizer will remove any foreign language files off your computer. If you need a certain language, you can leave it unchecked in the Delocalizer window. I have freed up over 1GB of hard drive space with this fantastic program. My friend got back 1.7GB of space.
The program requires 10.1.2 or later to run. The website states it has not been tested on 10.3 or higher, but I have used it on 10.3 and 10.4 without problems. I have not tested it on an Intel Mac, so for those with Intel Macs- use this one at your own risk.

2. FreeSnap, by efritz.net
http://www.efritz.net/software.html
If you are a regular MyMac.com reader, you may have seen the name of this software before. I have mentioned it several times. I figured it was time to highlight it.
FreeSnap is a fantastic utility for making screen captures. It gives you the option of the full screen, a window on the screen, or a section of the screen. It has a timer you can set for taking the picture after clicking "Snap," to give you a few extra second to set up your screen. You can also set the program to scale the final image instantly to the percent of your choice.
Sure you can use different key commands for this, but why try to remember all of those when FreeSnap takes the guesswork out of it for you? I use it for all of the pictures in my Macspiration articles.
FreeSnap is coded for PowerPC's, but it does work on the Intel machines.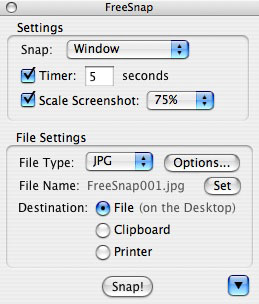 3. PhotoDesktop, by Alwin Troost
http://www.alwintroost.nl/content/photodesktop/home.xml
PhotoDesktop is a great program that I recently started using. When I first read about it, I didn't think it would be a big deal. However, I tried it out, and now I love it.
PhotoDesktop lets you put an unlimited number of photos over your desktop background. It does not replace the desktop picture, but adds to it. Photos appear on your desktop like sticky notes or prints that you might have thrown on your desk.
The program is really easy to use. You can resize your images in a photo, and adjust the size of the photo on your desktop, too. You can also have a caption under each image.
PhotoDesktop is a Universal piece of software, so it will run naively on a PowerPC or Intel machine.
That's all that is in the Download Drawer today. Leave your comments below, or send me an email.