DLO's TransDock micro
Company: DLO
Price: $69.99
http://www.dlo.com
One of the first features that drew me to this iPod gadget was the battery charger. I listen my iPod (using a cassette player adapter) mostly in my car and I can't count how many times the battery has come close to running down or out because I hadn't charged it for several days. So when I saw that DLO's TransDock micro would charge my 4th generation iPod while it broadcast my music , I wanted to check out its other features as a possible upgrade to my current transmitter.
My first impression of DLO's TransDock was very good. I like the design and versatility of the device. On unpacking it I was concerned that if I plugged into my car's cigarette lighter that it would get in the way of my gear shifter, but the adjustment screw enable me to secure a good fit. I was able to fit it into the cigarette lighter of my wife's car as well, but because her lighter is near the floor, TransDock's blue black-lit LCD screen was not as visible as it was in my car (the only function of the screen by the way is to display the radio frequency channel that you're using or searching for to transmit music.) You can only adjust the transmitter vertically, so depending where your cigarette lighter is located, it could be a potential problem.
The other useful features of TransDock is that it provides three different ways to broadcast music. Because it's mainly a mini radio station, you can use TransDock to broadcast your iPod's player to an FM radio station. I found three frequencies in my area that had no radio signal or radio station, and TransDock worked with two of them. The default 88.5 frequency provides the clearest sound of the three frequencies. Three preset stations exist on the device, but you can search for others.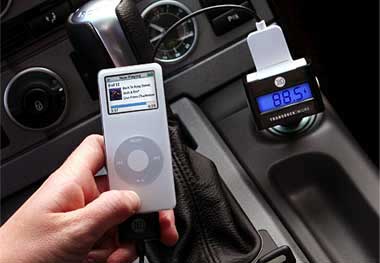 As for the audio performance of the device, I was not as pleased with the sound quality of the radio broadcast. While the clarity got better once I drove out of my garage, it just didn't have the higher and forceful quality of sound that I receive from hooking up the TransDock to my cassette adapter. If I didn't have cassette adapter in my car, I could certainly live with the radio broadcast, but the difference between the level of sound is very noticeable.
Though a cassette adapter does not come with this transmitter, one can be plugged into the back of it. The advantage of this method, and the radio frequency broadcast, is that when you use the TransDock, you can adjust the volume control of your car radio rather than your iPod's volume control. I like this type of access better especially when I need to turn down my music to answer my cell phone.
The transmitter also comes with a mini plug for cars with auxiliary input jacks, which means you can use it to play other MP3 and DVD players, and similar devices.
The biggest downside to TransDock, though, is the weird sounds you sometimes get when changing songs with your iPod. It's as if you're hearing what goes on inside your iPod when you click the forward button. That problem occurs both when TransDock is used with a clear radio frequency and with a cassette adaptor.
I can learn to live with this minor problem, but it's a bug that should be fixed in future releases.
The selling point for TransDock, for me anyway, is that it charges the iPod battery and plays music at the same time, but sound quality still needs work.
MyMac.com Rating: 3.5 out of 5.