iSale 3.0.7
Company: Equinux
Price: €34.79 (incl. German VAT), US$ 39.95
http://www.equinux.com
System Requirements:
Mac OS X 10.3.9 or higher (Some features will require 10.4 or later); an active internet connection
Universal Binary
eBay is a worldwide phenomenon and while my Mother would be hard pressed to name more than two online retailers, she will quite happily joke that I should sell some of my "junk" at eBay. Obviously I do not own junk, it is all highly sophisticated electronics and some of it just needs some fixing 😉
iSale is a tool, which is meant to help you upload your eBay auctions, keep track of them and then helps you through the after sales process. It does all of that with incredible ease and a terrific integration with iPhoto, Address Book, Mail and even your iSight camera.
I reviewed iSale 3.0.7, which is a major release with lots of new features, when compared to the earlier version.
It might also be worthwhile to point out that iSale was awarded an Apple Design Award for the "Best Use of Mac OS X Tiger Technologies – Runner-Up" at Apple's Worldwide Developers Conference (WWDC) in San Francisco 2005. Once you load the program, you'll feel right at home.

Installation
The installation is quick, as I've come to expect on a Mac. Download the 29.1MB Disk Image, drag it to your Application Folder, and double click 😉 OK, you really didn't need me to tell you all that.
Your first step will be to authorize your eBay Name. For this purpose iSale will load the eBay website within the program window and ask you to log in, eBay quizzes you whether you'd like to authorize iSale to access your eBay account – accept – and you are done.
You will then be asked whether you'd like to join .mac, which I declined. iSale will integrate with .mac in that it can store your images on your .mac account, if you don't have any other server space available for them, or if you don't wish to use the eBay picture service. However iSale will happily upload to any FTP account you specify.
In the third step you will be asked to register. If you are not sure whether you want to really buy iSale simply click demo and you'll have the opportunity to try it out with three auctions. After which I am sure you will be sufficiently pleased to register for good and pay up. The damage is minimal, US$39.95 (local tax may apply), or €34.79 (incl. VAT).
If you register online a unique license code will be generated, which is based on the serial number of your Mac. If you ever need to transfer a license go and visit the Equinux License Manager (http://www.equinux.com/licensemanager), so it will be really useful, if you remember the user-id and password, you've used for the online registration.
During installation you will also be asked what eBay site you wish to use, 14 are supported, so you'll surely find the one that is right for you. Furthermore iSale supports English, French and German as native interface language, which is always nice. Want to check out what sites are supported? Click here…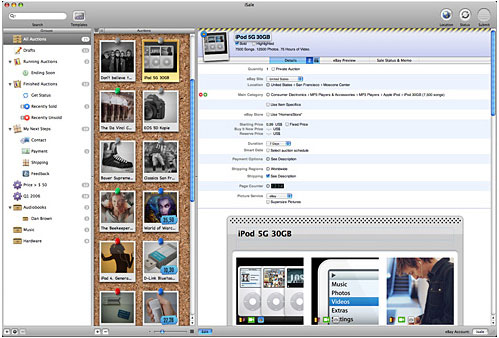 The iSale Window
The iSale screen has three columns, the first showing groups of auctions, by default: All Auctions, Drafts, Running Auctions, Finished Auctions, My Next Steps. Most of these groups have logical sub-sections, i.e. for Finished Auctions you can select to Get Status, view Recently Sold and Recently Unsold items. You can add additional groups or smart groups, which might come in handy, if you sell a lot of items.
The next column is designed to look like a pin board, showing what looks like a Polaroid of your items, plus a short description. If an auction's icon is black and white it means it is a draft, it changes to a color image once published and if someone bids on your item you'll get a little price tag to indicate the current item. Even the color of the pin will change along with the status of your item – subtle, but very effective. Very nicely done, especially as there also is an iPhoto-like slider to influence the size of those little "Polaroid icons" and you can influence the size of this pin-board.
The third column shows you either the details of your item, the eBay listing (or a preview for items in draft), plus the Sale Status & Memo. The latter is very useful, for the after sales process, as it not only shows you whether you have Contacted the seller, received payment, shipped the item or left feedback, but it also groups together all your email conversations with the seller. Now that is a useful feature.
Above those three columns you'll get a search box, which will display all matching auctions in an instance. It starts searching as soon as you type. There is a button to access iSale auction templates and a button, which brings up Google Maps. Unfortunately the level of detail outside the US and UK is rather limited, so Germany is one white canvas, not even the major rivers are properly shown 🙁 Lastly you've got a button to submit your draft items to eBay.
All in all I have to say the design of iSale looks very much like that of the other iLife application. My only gripe is that if you wish to remove an auction, you can't simply click and hit delete, but you have to go to the bottom of the column and click the minus button. Not a major issue at all, still slightly annoying.

Getting your Auctions into eBay
iSale makes it all very simple and I like the "what you see is what you get" approach to entering your data for an auction. It is fully integrated with eBay and iSale will prompt you to update the categories first time you use them, making sure that you have the most up to date list available. Simply browse the list until you found the category you'd like to use and you are done.
Fill in the basic information and then go and select one of the many iSale templates.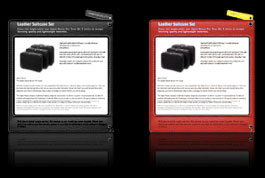 This feature is very nice indeed, however most templates really are the same just with different colors and well they are a matter of taste. Most of them also favor items that benefit of loads of picture. Still, they look different from what you usually see and that's always good for an auction.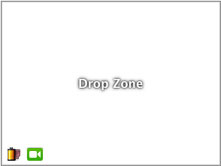 Want to add pictures? Simply click the little film-roll icon and your iPhoto library will be shown. Got an iSight camera? Click the little green camera icon and take a snap shot right there and then (couldn't demo for lack of an iSight). Or just drag and drop your image on the "drop zone"
It all is very simple and compared to going through these screens on eBay I'd think it is easier and allows you to collect all the info over a little time. Big plus in my book of never really having any time.
Lastly go to the top right hand corner and click the submit button. If you have any errors or required data is missing, you will now be prompted to correct your mistakes. Once you are done the button will display the eBay icon and allow you to upload the auction to eBay.
Before it all goes through you'll see a little notification telling you the listing fees – accept and the auction goes live. I really like the listing fee notification window.
Once your auction has finished
Once your auction has finished they will automatically be sorted into smart groups "Recently Sold" and "Recently Unsold". The recently sold items of course need your actions and thus the same auction also finds itself in "My Next Steps".
iSale will now have the buyer's details, including his email address and for your convenience this data has been added to Address Book, in a group called iSale, together with a note saying what item the user has purchased and what their eBay name is.
As soon as you click on the email entry within iSale the item will be marked as "contacted buyer" in eBay and iSale. Mail opens with a predefined subject line and you can contact your buyer. You've got additional tick boxes for paid, shipped and a link to leave your feedback.
All in all iSale will allow you to make sure that you follow through with your buyers making them "happy buyers" and that of course is the foundation for success on eBay.
The feature I like best, iSale will recognize your email conversations with the buyer and display them in the Sale Status & Memo section, giving you a quick, one-click way to review those conversations if trouble should arise.

Conclusion
iSale does what it says it'll do and does it very nicely indeed. I guess the main question is whether you need an application like this? If you are an occasional seller, like myself, iSale will make handling these auctions a little nicer, but you won't be gaining a lot. If you sell several items a month or even several items a week this software will very well be worth your time and money.
I like the intuitive interface, while I disliked the fact that I had to delete an auction via the minus button, rather than just hitting the delete key. But this is a minor issue. I like the templates, though there could be a greater variety – the numbers themselves sound good, but the templates are mostly different color versions. However iSale seems to update templates every so often, so there is hope for more.
Since I started looking at the software about a month ago I downloaded three smaller releases (from 3.0.4 to 3.0.7) – this surely shows that the developers are quite active in fixing bugs.
All in all, I think this software is a great tool making your frequent eBayers' life much easier.