MacMod – The Atari 2600 Macintosh
Building the iAtariMac
What the heck is this? Actually, it is the LONG overdue, been sitting in development hell purgatory, first MacMod.
What is MacMod? An idea and concept that sprung to life in the minds of Tim Robertson and Chad Perry way back in the summer of 2003. The idea? Wouldn't it be cool if there were a video show online that was like a combination of American Chopper and Junkyard Wars, but about Macs?
What? You don't think that is a cool idea? Obviously, we did, so we actually did it. We created a show, named it MacMod, and filmed the whole thing over a six-week period starting October 2003 and finishing December 2003.
The goal? Turning a vintage 1970's Atari 2600 game consol into a Macintosh computer, running the latest and greatest Mac OS X. The catch? Try and keep the Atari looking stock, up to a point.
The problem? Neither Chad nor Tim had ever done anything like this before. Not just "how to build it" but "how to film and present it" were questions they pretty much made up the answers to as they went along.
Firstly, they had to obtain both an Atari 2600 and a Macintosh. The first was easy, Tim already had two Atari 2600's, and they used one of those. The second was not as easy. Neither Tim nor Chad wanted to part with a perfectly good computer to use and, probably, destroy. Neither was confident that the build would be successful, and it was asking too much for either of them to give up a working Macintosh for this show.
The solution? A sponsor! Enter Tekserve! Who is Tekserve? Only one of the best Macintosh resellers in the world, located in New York City, but servicing clients worldwide. They started out as a Mac service company, but have grown well beyond those humble beginnings. Today, they sport over 125 employees!
Tekserve became the silent partner during filming MacMod. Without them, this project could not have happened. It was Tekserve who supplied us with the needed Macintosh to use for this project. Please visit their website today for more information, and be sure to tell them it was MyMac.com who sent you.
This project should have been online a year ago, but it was not meant to be. We ran into many more problems after filming wrapped than we want to go into here. Suffice it to say, we did finish the project, but not alone. Special thanks go to Jim Allard, who was present every day during filming. While you the viewer never see or hear Jim, he was the invisible third man of the show. This would not have happened without him. Tad Scheeler was the talent behind our animated opening, as well as helping film during day two. MacMod would not look the same, or have whatever polish is present, without Tad. Adam Karneboge lent his help in technical matters, as well as providing a part we sorely needed. And Chris Seibold stepped in at the last minute to provide the over-the-top narration the show needed. Without these people, MacMod would never have happened.
Now you can watch, in four parts, the entire build process. There is both a large and small version of each episode. If you are bandwidth challenged, view the smaller one. If you don't mind downloading a large file, enjoy the better detail in the larger ones. And if you would rather have a DVD copy of all four episodes, email us and we can give you more details. (Detail may be posted here in the future if there is enough interest.)
Warning! You will either think this is either really neat, or really stupid. If you think it is stupid, that is Tim and Chad's fault, not those who helped us.
QuickTime is required to view MacMod
Links below are working again. Enjoy!
Small Version View Episode 1
(Length 8:50 – Size 10.7MB)
Large Version View Episode 1
(Length 8:50 – Size 48.2 MB)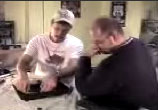 Small Version View Episode 2
(Length 18:27 – Size 19.7MB)
Large Version View Episode 2
(Length 18:27 – Size 98.7MB)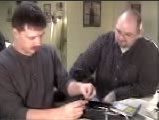 Small Version View Episode 3
(Length 11:47 – Size 11.4MB)
Large Version View Episode 3
(Length 11:47 – 63MB)
Small Version View Episode 4
(Length 21:28 – Size 20.8MB)
Large Version View Episode 4
(Length 21:28 – Size 109.7MB)

MacMOD iAtariMac DVD!
For only $10 (plus $3 shipping) you can own the complete MacMOD iAtariMac build on DVD. This DVD includes all FOUR episodes, plus a close-up Inside Look of the final build as well.
Full screen, this DVD presents MacMOD in a much higher quality than you can view on the web. Watch the iAtariMac build in the quality it was filmed in! Simply click the button below, and we will burn and ship your DVD within 24 hours!