Roxio Toast 7
Company: Roxio
Price: $99
http://www.Roxio.com
We here at MyMac.com have been reviewing Roxio Toast for years. The problem, then, is how do you review a new version that, for all intents and purposes, does not add many new real features to the software, looks the same as it did a full version ago, and is just as easy to use as it ever was? Well, perhaps it's a bit easier for me, as I did not write either of the reviews for version 5 or 6. (That would be Owen Rubin and David Weeks.) Nonetheless, let's give a look a Toast 7 for the uninitiated among you.
For Mac users wondering why they would need to purchase a $99 program to burn CD's and DVD's when they get those functions with a free program (iTunes for CD's, as well as data burning within the finder) or as part of a larger software package (iLife, more specifically iDVD for DVD creation) the answer is simple: where iTunes and iDVD falls short in their simplicity, Toast gives users much more control and options. This is not always a good thing; most Mac users enjoy the simplicity in the OS and iLife. But more serious or hardcore users will find, many times, that they need more options.
Toast can be used to create data back-ups, create and burn audio CD's and video DVD's, create other media discs (DivX, Super Video CDs, Video CD's, DVD's from Video-TS files) and much more. Toast plays nicely with the Mac OS, including giving the user access to iTunes libraries and playlists, the user movie library, and iPhoto, including all the photo albums therein. We will get more into the media features of Toast later in the review.
The newest feature I was most looking forward to is Data Spanning. This alone, in my opinion, is the sole reason to purchase Roxio Toast 7. Archiving large files, such as the video projects I work on, is now very simple with Data Spanning. For instance, I recently worked on remastering an old wedding video for a client, converting a VHS tape to DVD, as well as creating a "highlight" DVD in the process. The finished iMovie file was 25.98GB in size. While I could simply create a copy of the finished DVD's, I also wanted to keep on hand the iMovie archive of the project, in case the client came back later wanting to do something different with the footage. But how to archive almost 26GB of data? Sure, external FireWire drives would work, but I don't want to take up valuable hard disk space for a file I may never need again. Much more convenient to simply archive it to data CDs or DVDs. But the file is too large to fit onto either of those media.
Data Spanning solves this easily. I simply drag the file in question to the open Toast window, and the program will tell me how many discs I need, depending upon what media I will be using. In this instance, Toast informs me that I will need 6 blank DVDs, or 38 blank CD's, to archive the project. A ten pack of blank DVD's will only set me back five bucks, which is much cheaper than taking up storage space on an external hard drive. Data Spanning, however, only works with Mac discs, not Mac and PC, so keep that in mind.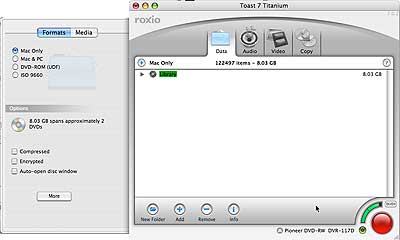 Toast has the ability to copy home brewed DVD's with ease. While the program will not allow you to copy copy-protected discs, such as movies you rent, you can copy those you made in iDVD. This came in handy for me a short time ago, as I had lost all my iAtariMac MacMOD files. Just gone. My only option was to grab the low quality files from the Internet. But thanks to Chad Perry, who had MacMOD on DVD, I simply copied his DVD.
As I said, Toast is unable to make copies of any DVD with Macrovision encryption, meaning commercial movie DVDs. So what's a person to do if they want to copy their own DVDs? For me, I used MacTheRipper, a free program, to copy an entire DVD to my hard drive, stripping out the encryption at the same time. Then I used Toast to burn a regular DVD from that file, and viola! – an instant copy of my movie. While you could also do the same thing with rented DVDs, that would be stealing, and we don't condone that here at MyMac.com, of course.
The interface of Toast 7 is the same as the previous version, which is a good thing. If something is not broken, there's no need to fix it. Toast uses a tabbed interface, which includes Data (data backups, copying data, etc.), Audio (to create music CD's, with many more options than you get from iTunes), Video (see above), and Copy (self explanatory). Each tab will bring up different options with a slide-out left preference pane, so that you can adjust or tweak different options as needed. For instance, the Data pane will show different types of disc you can burn, such as a Mac-only disc or a Mac and PC disc. The preference pane also links to the iLife media on your Mac, giving you quick and easy drag and drop access to your files.
You can author your own DVD menus using Toast 7, although I haven't spent much time doing so. It seems fairly straightforward, but after a cursory playing with this feature, I simply found iDVD much easier and intuitive to use.
With Toast 7, you can download DivX video files, drag them into Toast, and create DVDs playable on your home entertainments DVD player. As Roxio touts on their website, this lets you watch videos where you really want to; on your coach, watching the television, not on your computer monitor.
All in all, I am very impressed with this new version of Roxio Toast. It has become my disc burning solution of choice. Well worth the money for those needing to create easy backups, archiving, and much more.