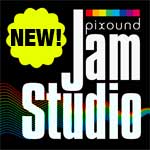 I make it to Macworld Expo about every other year. There are three reasons I go. First and foremost is to watch the keynote and see all of Apple's new goodies. Second is to see old friends and meet new people. Last but not least is to get my hands on all of the third party stuff out on the show floor. There are quite a few companies exhibiting that I already know about such as Adobe, Griffin and Canon. I'm glad companies like these exhibit because it's nice to make a feature request directly to an Adobe product manager or ask a Canon rep a detailed questions about a particular scanner. The response I get from them is always much better than the one I get from the spiky-haired 16 year-old working at Best Buy. That said, it's pretty easy nowadays to evaluate and purchase equipment from well-known companies through demo software, web articles and retail outlets. It's really the lesser-known exhibitors that I enjoy seeing at Macworld Expo, the guys tinkering away on innovative pet-projects, guys like Peter McClard of Pixound.
I haven't seen any articles about Pixound on the web since MWSF and that's a shame because their booth was packed. They were showing off a product called Jam Studio. Think of Jam Studio as the iTunes visualizer in reverse. Whereas iTunes makes pictures from your music, Jam Studiomakes music from your pictures. It looks at the color values of your image and converts them into notes. When you turn Sound Jam on, it presents you with a wheel of color gradients. Begin by moving your mouse around the wheel and interesting sounds begin to play. Choose file, open to load your own picture and get different results. Jam Studio offers two small palettes of controls to customize your song. By clicking on a red swatch I can and assign a jazz guitar to that color. Click on blue, and assign it a trumpet. If I move my mouse from lighter shades to darker shades of blue, my guitar moves from a high pitch to low pitch. If I move my mouse over a purple, I play a mixture of trumpet and guitar since blue and red make purple. Jam Studio allows you to easily adjust the mixture of instruments, control the tempo and alter the key. Jam studio will create music from video imagery as well. One of my favorite features is autoplay. Autoplay samples from different areas of the image by moving in patterns such as circles, zigzags or paths you draw.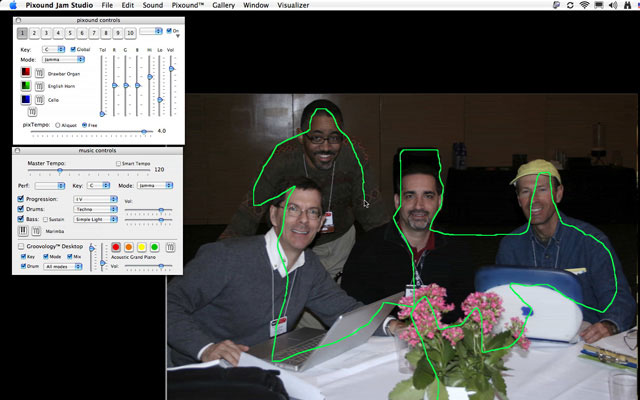 Pictured above, the mymac.comteam at expo. I've drawn a path of interesting colors for pixound to follow in autoplay mode. To hear my short interpretation of what this picture sounds like play the clip below.
The music quality I created was decent considering I have no musical talent whatsoever. The music did sound somewhat similar to my untrained ear despite using different pictures and instrument variations. This could be due to my lack of talent or the fact that Sound Jam, in its current version seems more geared toward the semi-pro and professional midi crowd. I suspect that the average Mac user with at least a pro-sumer level of interest in music creation will find the standard version of Sound Jam worth the price of admission. Those who are just interested in creating a quick score for a home movie should probably stick with tracks from iTunes or GarageBand (On an interesting side note, I noticed that Garage Band now allows you to view a video track in the timeline and score music to the video! A very cool feature stolen from Apple's Soundtrack available in the Studio Bundle). I see Sound Jam as a particularly nice tool for performance artists, visual D.J.'s and anyone just interested in exploring new and different ways of making music. Its unique approach to music creation has caught the eye of Herbie Hancock, David Byrne (of Talking Head fame) and Mark Mothersbaugh of Devo.
If you are interested in trying out Jam Studio you can do so at Pixound.com. If you like this type of software you might also want to check out MetaSynth from Eric Wenger (of Bryce 3D fame) at metasynth.com.