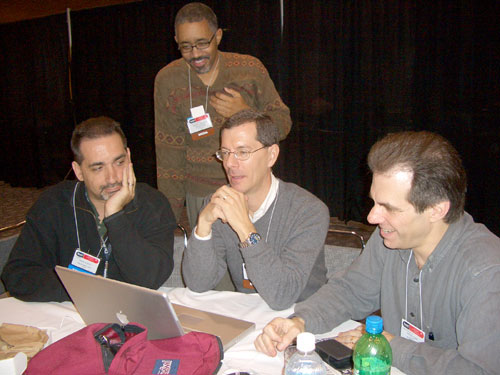 Trying to get Podcast photo to work, Every, Bakari, Weeks, and Owen are attempting to connect to Tim and Chad live via Skype, as heard in Tuesday's Podcast.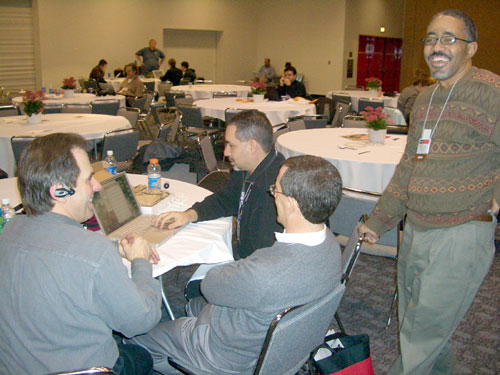 Eventually all we could do was laugh, and Owen called Tim via cell phone, saying "I'm on the Podcast now? Hi, Mom." Bandwidth or transfer speed or some other glitch prevents us from speaking real time with Podcasters from Media Room at Moscone Center.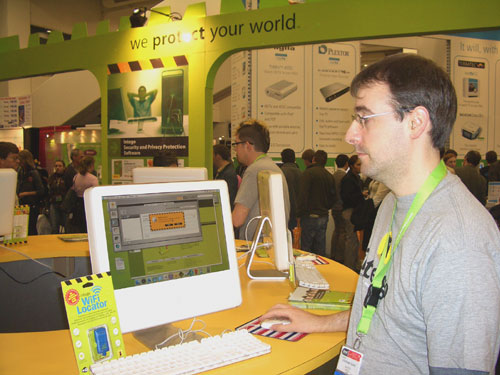 Intego's lime green booth features updated security software such as Net Barrier, to be reviewed soon here at MyMac.com. "We protect your world" is their motto.

Harman Multimedia received Best of Show award for this snazzy doughnut-shaped iPod player/charger/radio, also to be reviewed at our site.

LaCie has a powerful, versatile SATA RAID external drive, seen here in rear view of its ports and switches.

Ultimate Ears is a newcomer in the in-ear headphones high end audio market. We'll be comparing their products to competitors from Shure and other companies.

David Every's lunch looks hearty, healthy, and heavy on the carbs. Good choice, Dave! How was that ice cream bar?

Roger's lunch menu will keep him fit and smiling, so you can "Pump up your flash" while he fills up on fruit.

Whoops. That cookie was too much for Roger, who needed a quick nap before his afternoon sessions.

Out on the street, in the fading light, passers by are reminded that below, underground, Macworld Conference & Expo are a highlight of San Francisco 2006.