You have been loading your iTunes library with music from the iTunes Music Store, but you have a huge collection of CD's you want on your computer (for your iPod, to listen to through the computer, etc.). Well, by using iTunes you can easily accomplish this task.
First thing you need to do is open iTunes, and insert an audio CD into your CD drive. This does not have to be a music CD. It can be an audio book, a comedian, etc. If you are connected to the Internet when you insert the CD iTunes will identify the CD and all of the tracks. If you are not connected to the Internet, you can get the same results by going to the Advanced menu and choosing "Get CD Track Names" when connected.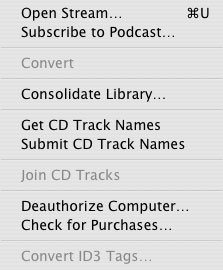 If iTunes is unable to find the information for your CD, you can enter it manually. First click the CD icon in the source window on the left, and choose "Get Info" from the file menu. This will present you with a "CD Info" window. In this window you can enter as much information about the CD as you choose.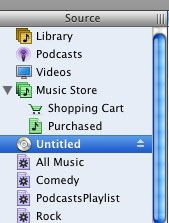 Next, you can do the same for each untitled track listed in the main window. Once again, you will be presented with a window where you can enter as much information as you desire. The Artist and Album will be entered for you already from the previous step.
Once you have your CD and the tracks identified you are ready to import the entire CD, or just individual tracks. If you want the entire CD click the "Import CD" button in the top right of iTunes and you're done. All you have to do now is wait for iTunes to finish importing all of the tracks. The speed of this will depend on the speed of your CD-ROM drive. You can track the progress by watching the center window at the top of iTunes.
If you only want certain tracks off of the CD that is just as easy. Each track listed has a check box to the left of its name. If you want to import the track do nothing, if you don't want the track click the check box to uncheck it.
Now, click the "Import CD" button, and let iTunes do the rest.
When iTunes is finished importing it will chime to let you know it is finished. You can now click "Library" in the source menu and find your newly imported songs in the list on the right. Now you can listen to these songs through your computer, add them to your iPod, and more.
Next week I'll be talking about making the most out of your iTunes library through the use of Playlists. Until then, leave your comments below or send me an email.