Time for another edition of the Download Drawer.
As an art teacher, I am always looking for free art programs that my students can use on the eMacs in my classroom. This week I am going to talk about three of them on the computers right now: "Palette 2.0" by HaranBanjo, "Tux Paint" by New Breed Software, and "ArtRage" by Ambient Design.
Let's start with "Palette 2.0." "Palette" is a very simple paint program, great for the very young computer user. It has your basic tools: drawing, square, circle, fill, erase, and typing. It also has a couple of special effects like mirror and rotate. Like I said, a very basic paint program, with a very small learning curve.
Next up, "Tux Paint." Will someone please explain to me why applications and games with the Linux Penguin "Tux" keep showing up on the Mac? Anyway, this is a fantastic paint program for the elementary age. It is very similar to the popular "Kid Pix," by Broderbund software (by the way Kid Pix Deluxe 4 is fantastic!).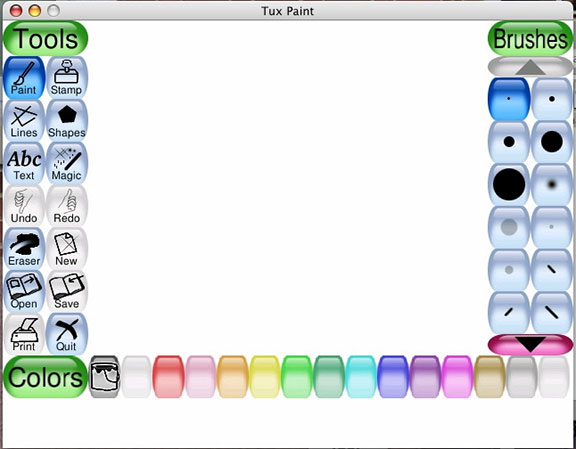 In "Tux Paint" you'll find the basic tools and more. You can draw with more shapes than just a square and circle. There are numerous brushes to choose from, color tints, rubber stamps (of Tux), and many "Kid Pix" type of special effects. The interface is more complicated, also.
Finally, for the older students (or even hobbiest and professionals) there is "ArtRage." This is another fantastic FREE program that mimics "Corel Painter." It has many similar features, including natural media emulation and tracing paper. The tools include pencils, markers, crayons, and more. It does not have as many tools and features as "Painter," but for free, you can't beat it. The interface is pretty straight forward, too. This would be a great introduction to drawing on the computer before purchasing a more involved program like "Painter."
There you have it. Three great paint programs for artists of all ages.
If you have any great freeware programs on your computer that you love, email me. I might mention it in a future article. Until next week, email me comments and questions, or post below.