Logitech Curve Headphones for MP3
Company: Logitech
Price: $29.99
http://www.logitech.com
Yes, I'm still continuing my hunt for iPod Shuffle perfection when it comes to Shuffle accessories. The one thing that has bugged me from the beginning has been the Apple earbuds. They just don't make it, at least for me, when it comes time to be active either running or working out.
When I got the chance to try out Logitech's Curve Headphones for MP3, I gladly jumped at the opportunity. Logitech's Curve Headphones do a very nice job of providing quality sound while one is running or working out and also work very well if you're sitting still for a change and just listening to your iPod. Utilizing 30mm neodymium drivers, (the 30mm neodymium drivers are everywhere in just about every company's headphones lately) these headphones are lightweight and highly responsive, providing great sound quality even when the user is active. While they are not "in-the-ear" headphones, the sound is great and does a better job of covering background noises, although if you are outside you will still be able to hear a car coming up on you, as well as the neighbor's dog that likes to chase people outside of its yard. I found that by just adjusting the sound level, say while running on a treadmill, the headphones do a very good job of providing sound that is easy to hear without driving one deaf while still reducing the background noise from the treadmill.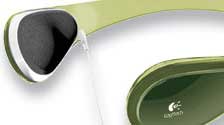 Made of durable, water-resistant polycarbonate, the headphones hold up very well to wear, tear, rain and sweat. I've dropped mine a few times to see how they do, no problems. The behind-the-head style does take a few days to get used to, particularly if you've been using regular earbuds but once you get used to them, you won't even notice them sitting back there. The behind-the-head style that includes optional comfort rings keeps the headphones in place and secure during active use. I've found that I prefer to use these rings to keep the headphones in place while running/exercising then to trust them to stay in place. Now the big problem with the headphones is that they are not adjustable but even with my hat size the headphones provided great sound and stayed right where they should be.
So to review; good sound quality, durable, stands up to rain and sweat, with a standard 3.5mm stereo audio output. No sweat or rain running into your ears while running or exercising. Oh yes, comes in 3 colors – Crystal, Graphite and Lime.
Cons: not adjustable.
Highly recommended.

MyMac rating: 4 out of 5