Dell UltraSharp 2005FPW 20.1″ Widescreen Monitor
Company: Dell, Inc.
Price: $ $434.00 USD
http://www.dell.com
What's the best thing about going into an Apple store? The hordes of black-shirted dudes with gleaming iPods round their necks? The Genius Bar answering any and every question that might come up in the Apple universe? Well, in my book it's the rows of Macs with those killer large TFT screens. Even if a lowly Mac Mini is out on display, it will be connected to a gleaming Apple Cinema Display, and even the iMac G5s seem to favour the 20″ models. As for the Power Macs, a pair of 24″ or 30″ screens seems to be the only way to truly show off Final Cut Pro or Logic.
Cinema Displays are killer cool, with their gleaming aluminium cases and fabulous industrial design. They are priced as a premium product, and they look like they are worth every penny but that doesn't make it any easier to afford one. I'd always thought that I would never be able to aspire to such a fine window to OS X. However, I have recently discovered that this is not the case. This technology is now available to us mere mortals, for little more than half the price that Apple charges.
Come Over to the Dark Side
You see, there is only one supplier of 20″ 1680×1050 resolution panels that manufactures in volume – LG.Philips. Accordingly, Dell's 20″ 2005FPW panel uses exactly the same LCD panel as Apple's 20″ Cinema Display. Dell prices for monitors start out somewhat less expensive than Apple, but are frequently discounted by massive percentages, something Apple is not known for.
I needed to replace the 17″ Acer panel I was using on my Power Mac G5. It showed poor colour registration and some fuzziness, principally because it only had a captive analogue connector, and no DVI input. It was playing havoc with my digital photography work, and was quite uncomfortable to use for long periods. I decided to get a DVI display, and when I got wind that Dell had a sale on their widescreen displays, I got my credit card revved. Three days later, a courier delivered my new screen.
Now, with Dell you get good value, a three-year warranty and industrial design that is firmly placed in the mid-nineties. The 2005FPW is dressed in a plastic shell in standard Dell dark grey, with the occasional silver highlight. However, build quality is very good, and the monitor ships with a robust grey and silver stand with cable management and height adjustment. The stand also allows the display to be rotated through ninety degrees to display a portrait image, though I have not tried this myself as I do not have enough vertical room on my desk. I believe this functionality will work without additional software on any Mac that is running OS X 10.4 Tiger and has an ATI graphics card.
As well as this feature, the monitor is stuffed with other goodies as well. There are four inputs (DVI, VGA, RGB and Composite) as well as a plethora of display modes, including a very funky picture-in-picture mode, which allows TV monitoring or multiple PCs to be used in you have them cabled correctly. The monitor has four USB ports, and acts as a USB hub – two are on the back and two are on the side. Dell also throws in power, DVI and VGA cables in the box but as you might expect on a higher-end product, none of the cables are captive to the monitor.
The only thing that is missing are speakers. I personally see this as no great loss, as monitor speakers are rarely of good quality. Dell will send a 'media bar' with speakers as an add on to the monitor if required,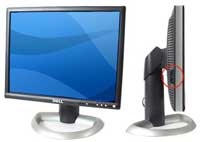 Yada, Yada, Yada – What Does It Look Like?
In a word & superb! Connected via DVI, a bright and clear image of my Tiger desktop is displayed, and running through the calibration screens shows that no changes are necessary. Backlighting is strong and even across the display, and contrast looks fine. DVD and video playback shows little smearing to my jaded eyes, though I have to admit I am not a big movie watcher while I sit in front of my computer. Of course, DVDs play back in the 16:9 aspect ratio they were designed for, and the excellent contrast ratio means that blacks look black and a 'washed-out' image is not seen.
I do play the occasional game, though, so I fired up Halo to see how the Dell performed. After adjusting the monitor to display the image in the centre of the screen rather than stretching it to fill the display, I was pleased to see that here too the image was bright and showed little ghosting.
What I was really pleased with was the way this display affects my workflow. In Photoshop, you can push the took palettes to the edge of the screen while working on a large representation of your image, browsing images is a much nicer experience as well, and iPhoto really works best on a widescreen display. The Finder takes on a new ease of use as it is easier to drag and drop between two windows that you can actually see, and applications like Mail, iTunes or NetNewsWire really benefit from the extra real estate.
The Bottom Line
Of course, it makes sense that the extra screen real estate that a 1680×1050 display gives you will improve your computing experience, and it's a no-brainer if the price is right. Here in the UK, you can pick up a decent, brand name 17″ 1280×1024 4:3 ratio panel for around £170, or US$300. A 19″ 4:3 panel will give you the same resolution for around £240, or US$425. This panel lists with Dell at £507 (US$900), which is £40 less than the price for a 20″ Apple Cinema Display. However, I got it from Dell at £325 (US$575), substantially less than the Apple product. I am lead to believe from some of the posts I see online that in the US, rebates can bring the price below the $400 mark!
I can remember just a few years ago that 17″ CRTs or 15″ TFT flat panels were priced at just over £300. The fact that for a little more you can today get such a fantastic display amazes me. As you spend all of your computing time looking at your monitor, and such a device should last longer than your current Macintosh, I feel that these displays represent excellent value for money.
MyMac Rating:
At this sort of price, I have no hesitation at all at giving the Dell UltraSharp 2005FPW 20″ Widescreen Display a mark of five out five.