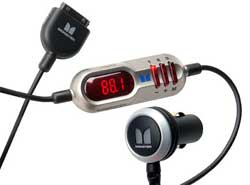 iCarPlay Wireless Plus
Company: Monster
Price: $79.95
www.MonsterCable.com
I recently bought an Apple iPod nano and I love it. While many apparently have had some screen problems, mine has chugged right along like the good little 1.5-ounce color screen digital music player that it is. It even worked with my Belkin TuneBase FM Transmitter and though it didn't quite fit properly, it was close enough for government work.
Everything was fine and dandy until my Belkin device's fuse burned out. It uses a very odd fuse size that I couldn't find anywhere. So, being the "just make it work" kinda guy I am, I substituted a slightly bigger fuse. The fuse holder for the TuneBase has a spring to hold it in place against the metal and it workedfor a while. I noticed that on occasion, the FM transmitter would stop working, and then start up again. Not often enough to replace it, just enough to be annoying. Then one day as I was driving along, I pulled the device out and it fell apart in my hands, right where the plug goes into the auxiliary power hole (what used to be called the cigarette lighter). Pieces went everywhere and I think the spring sprung out the window. I never could find it. I needed a new way to get music from the iPod into my car stereo without resorting to buying a new audio system. Also I wanted it to keep my iPod charged. I decided not to get another TuneBase, so I started looking for another solution. While not perfect, The Monster iCarPlay Wireless Plus does what it's advertised to do.
A quick word about FM transmitters of this type. These devices by law must accept any interference from regulated FM transmitters (regular radio stations), so static and buzz can emit from your radio if a strong enough signal is present. Also, sound quality from devices like this is usually pretty good, but not as good as a direct connection from your iPod's audio output directly through some tuner's auxiliary port (if available). That's the nature of the beast folks. No getting around it. If you can afford and want better, a direct connection is always going to be superior. In the product literature, even Monster acknowledges the limitations of this device and everything like it with this from their product literature: "iCarPlay Wireless Plus acts just like a tiny FM radio station, however no FM transmitter will ever sound like your favorite 50,000 watt radio station." I admire their honesty for admitting this, but wish it wasn't buried in small type in the manual.
Back to the iCarPlay. It's a minimalist device with a simple plug for the power port on one end, a standard iPod plug (for all current iPods except the Shuffle) on the other, and the FM tuner with presets in between. The FM tuner has a bright, easy to read red digital display for showing the currently used FM frequency, the three preset buttons labeled 1, 2, 3 on one side, and a plus, minus, and M (for memory) buttons on the other.
Keep in mind that you can't use the following two FM frequencies: 87.7 and 87.9 (I have no idea what the limitation is for). Other than that, the entire U.S. range of FM frequencies (88.1 to 107.9) are available. In order to program the presets, you hold down the memory (M) button until the display starts flashing. Then, use the plus and minus buttons to select the FM frequency you want. Hold the desired preset number button for one second and you're all done. While it's easy to do, it's not as simple or as straightforward as the Belkin TuneBase. If you live in a large metropolitan area, finding a clear frequency can be difficult and the added steps the iCarPlay Wireless requires for other than preset FM frequency changes is a burden and not recommended unless you and your vehicle are stationary. Monster could make this device better by allowing the plus and minus keys to change the frequency on the fly instead of having to hold down buttons to get it in program mode.
Once your three presets are..uh..set, using the device couldn't be simpler. Set your car's FM tuner to the same frequency as the iCarPlay, connect your iPod, and you're ready. The cable is long enough to reach just about anywhere in the front seat of most cars available in the U.S. There are no clips or mounts to secure your iPod, so set it down carefully somewhere it won't fly around with any sudden stops. You'll still need to use the iPod's controls to select songs and playlists, but that's not what this device is for. If you need more, or wish to use wireless controllers (There are some available for most iPods, but not the nano yet), or your radio's controllers, you'll need a different solution. Monster's iCarPlay is a simple solution for a simple problem.
Highs
Works with every iPod that uses Apple's standard iPod connection (except the Shuffle which is USB only)
East to read display
Corrosion resistant gold contacts
Highest power FM transmitter allowed by the FCC
Quickly re-charges your iPod
Full frequency range (except for 87.7 and 87.9)
Lows
Must accept frequency interference
Sound quality not as good as a direct connection
Nothing to securely mount your iPod within the vehicle
If you can accept the limitations of a device like this, the Monster iCarPlay Wireless Plus is one of the better FM transmitters available today.
MyMac.com Rating: 3.5 out of 5