The Boom Box
Company: Roxio
Price: $49.95
http://www.roxio.com
Listening to music is no longer a passive activity. Sure, you have your iPod, and you have a lot of music on your Macintosh, but just how do you decide what to transfer to your new iPod shuffle, or which songs go onto your iPod from your large collection? And what about all those old vinyl LPs and cassette tapes that you are just dying to listen to on your MP-3 player? If you are like me, you may also often listen to streaming Internet radio stations on your computer, but wouldn't it be great if you could record them and listen to them later on your iPod? Time to take control of your music and listening, and Roxio is here to help you.
Roxio, long known for its CD and DVD burning software, Toast, Jam and Popcorn for the Mac, and Easy Media Creator 7 for the PC, has brought together 5 great products in one bundle for only $50, The Boom Box. The bundle includes CD Spin Doctor, MusicMagic Mixer, Audio Hijack, iPodderX, and iSpeak It. You may have seen some of these before as separate applications, but now they are all in one easy to install bundle. And, since they are all in one package, a single serial number installs all 5 applications at one time. Each application has its own look and feel, which is to be expected since they came from separate companies, but each is fairly easy to learn, and some have a subtle iTunes design feel overall,. Here is a quick look at what these utilities can do for you:
CD Spin Doctor: This program use to be only available as part of the Toast bundle, but is now available in this package as well. Basically, CD Spin Doctor lets you import and digitize music straight from your turntable, cassette player, or any other analog audio source you can input to your Mac. Most Macs have an external audio input connector, and if yours does not, you will need to purchase a device like Griffin's iMic to convert an audio mini-plug to a USB plug.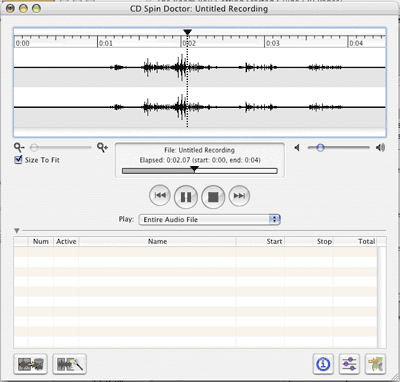 With this software, you can even record live performances. The software allows you to create and delete tracks automatically or by hand, and significantly reduce clicks, pops, hiss and noise from your music source to enhance the sound quality of the recording. It does a great job making old LP records sound great as MP3s.The user interface is simple and straight forward, and it even generates a waveform of the file it recorded, which takes some time if the file is large. CD Spin Doctor will also analyze the recorded info and automatically break it up into "tracks" for you, so an LP, for example, can be recorded in one single pass, and split into songs later with this feature.
MusicMagic Mixer is a must for iPod users, or anyone who wants to become their own DJ and does not have time to analyze all their music. And if you own an iPod Shuffle, and want to pick your music a bit more smartly, this is for you. With this program, you can intelligently build play lists of music types by letting MusicMagic Mixer analyze the input sound wave for each audio file you have. It actually looks at multiple aspects of the acoustic elements of each song in your collection, and generates play lists based on that analysis. And if you own a Shuffle, and would like a play list of similar types of songs, this will do it for you now automatically.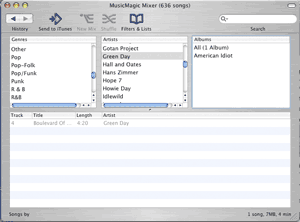 For the iPod or Mac users that want to go beyond a just MP-3s, The Boom Box has three applications that especially help out. One of my favorites is Audio Hijack. This is a powerful audio capture program that will capture and record, in real-time, audio streams coming into your Mac. For example, I am a fan of one of the Live 365 feeds, Virgin Radio. They play a lot of good music, especially in the afternoon. With this program, I can set up my Mac to record this stream to a file, move that file to my iPod, and then listen at a more convenient time. Think of it as an audio "TiVo" for your Mac, as you can set it up to automatically record a streaming program at a set time. Again, the interface is quite simple, Select from one of five initial sources for hijacking: Windows Media Player Session, Safari Session, RealPlayer Session, iTunes Session, or a DVD Player Session. You can, of course, add additional sources as well. Start that program you wish to Hijack, and then go into Audio Hijack and hit the Hijack button. The program you hijack may need to quit and re-launch, and will be now captured by Hijack. Simply restart the stream you wish to capture, hit record, and the audio stream will be put into a file in real time. This can be a list of MP-3s you play, a streaming radio station, anything. When you are done, simply hit Record again to Stop and hit Release to free the captured program. The end results is an aiff file, left on the desktop, entitled iTunes Session 20050616 1437.aiff, (obviously the date and time of the recording.) Playing back this file sounded as good as the original stream.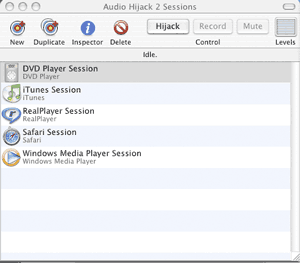 But I have two small issues with this application. First, I noticed that hi-rate data streams (128 kbps and above), which never needed to re-buffer before, now occasionally stopped and re-buffered the streams. And, on occasion, when it could not continue, simply stopped the stream all together without much notice. Not sure if this was an ITunes issue or am Audio Hijack issue, but it was annoying. It is worth noting that when it did continue, the playback file did not have the empty gaps I expected to hear, but MIGHT have skips in the audio content depending on the time needed to re-buffer. The other thing I did not like is that when you stop recording a stream, nothing indicates that ANYTHING happened at all. You just have to know that a file will magically appear, labeled by date and 24-hour time, on your desktop in a few seconds. Yet, given the cool ability to capture streams like this, these issues are minimal!
iPodderX allows you to subscribe to your favorite podcasts, have them downloaded and left on your desktop ready to play or move to your iPod. While this sounds like the program above, this is aimed specifically at podcasts. This program includes one of the largest collections of podcast broadcasts collected anywhere (although the MyMac podcast was not in their list!), but of course, you can always add new ones. Similar to Audio Hijack, this application can be set up to automatically record a podcast when it starts, and have it ready for you to listen when you want. Recorded podcasts can be automatically transferred to iTunes or an iPod. The interface is strangely iTunes familiar, and thus easy to use and set up.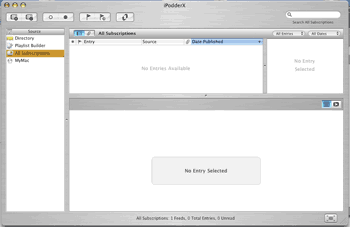 Again, I had a small problem though getting MyMac podcasts with this tool because I did not understand it properly. I found the interface a bit awkward. It seems the MyMac pod casts are downloadable mp3 files that are stored on a file server ( the latest, as of the writing is at https://www.mymac.com/podcast/MyMac-Podcast-37.mp3) so I thought I simply pointed to that directory. WRONG! Since I want iPodderX to always get the latest, I needed to point a new subscription at the MyMac RSS feed: https://www.mymac.com/newsfeed.rss and then I will always get the latest. As soon as I pointed there, within seconds forty "news" items appeared in the subscription files list. This included news feeds for articles as well as Pod Casts, which I found a bit confusing since I am in this program for PodCasts, not news. If you double-click on an article, it opens a web page to that article. A single-click gives a preview of the article in the program. But what about PodCasts?
Personally, I found this program VERY non-intuitive and confusing to use, with items not functioning the same each and every time, and things happening that were completely unexpected. For example, if you double-click on a PodCast list item, it opens your browser to the PodCast page, AND it gives you the option of downloading the file (by pressing a down arrow,) or playing the file if already downloaded. Pressing the download button retrieved the file and played it inside this program displaying a small "QuickTime" control bar. But one time I downloaded the file and a small iTunes icon appeared next to the file name, and the next time I downloaded a file a small Finder icon appeared. Why? Clicking on the Finder icon opens the containing folder of the file, AND started playing the PodCast. If already playing, it will re-start the same PodCast, an annoying feature that did not make sense at all. I pressed the iTunes icon on the other download and the PodCast started playing in iTunes, but is also started playing in this program as well. That too was strange. I also noted that touching any rss feed line with a PodCast attached that had the iTunes icon, caused this program to immediately launch iTunes, but did NOT start playing the PodCast in either place. Also, if you are playing a PodCast inside this program, and touch any other rss feed line, the display will change but the cast will continue to play. However, clicking back on the line of the playing PodCast will not return you to the playing QuickTime control bar, but rather some text about the PodCast, so now there is no way to control the playing PodCast. You can click the icon again which will bring up the control bar, but it will also start the PodCast over from the start. Ok, great to get PodCasts, but not a very well written program in my opinion.
The last item, iSpeak It, is a way to take any web feed, web page, or document and convert it into an audio track in iTunes, using the Mac's built-in text-to-speech capabilities, and then transfer them to your iPod or listen on your Mac. What a great way to get web content like the news, weather or even driving directions and HEAR them on you Mac or iPod. Or take that Word document you need to read before work, convert it, move it to your iPod and listen to it on the way to work. It will even work with RSS feeds. iSpeak It has built-in support for PDF, Word, Appleworks, RTF, HTML and plain text formats. Output formats to iTunes include AAC, AIFF, Apple Lossless, MP3, and Wave files.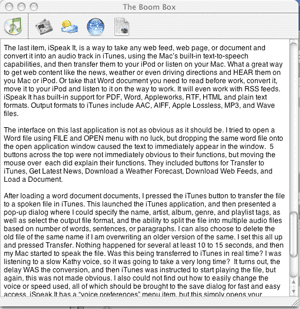 The interface on this last application is not as obvious as it should be. I tried to open a Word file using FILE and OPEN menu with no luck, but dropping the same word file onto the open application window caused the text to immediately appear in the window. 5 buttons across the top were not immediately obvious to their functions, but moving the mouse over each did explain their functions. They included buttons for Transfer to iTunes, Get Latest News, Download a Weather Forecast, Download Web Feeds, and Load a Document.
After loading a word document documents, I pressed the iTunes button to transfer the file to a spoken file in iTunes. This launched the iTunes application, and then presented a pop-up dialog where I could specify the name, artist, album, genre, and playlist tags, as well as select the output file format, and the ability to split the file into multiple audio files based on number of words, sentences, or paragraphs. I can also choose to delete the old file of the same name if I am overwriting an older version of the same. I set this all up and pressed Transfer. Nothing happened for several at least 10 to 15 seconds, and then my Mac started to speak the file. Was this being transferred to iTunes in real time? I was listening to a slow Kathy voice, so it was going to take a very long time? It turns out, the delay WAS the conversion, and then iTunes was instructed to start playing the file, but again, this was not made obvious. I also could not find out how to easily change the voice or speed used, all of which should be brought to the save dialog for fast and easy access. iSpeak It has a "voice preferences" menu item, but this simply opens your System Preferences to the voice panel where you choose the default voice. Note that the audio file you play is a recording, so you must pick the correct voice here before converting. Lastly, if you are like me and hate almost all the voices in the Mac, you can go to http://www.cepstral.com to purchase some much better voices.
BoomBox is a very cool collection of applications and utilities that will make your iPod and Mac truly a sound experience, and are a MUST for all iPod users. I only hope in future releases they can make these 5 applications feel a bit more integrated to each other, with similar interfaces and feels.