Download the show at this address, or subscribe to the show via the iTMS from THIS link. (Link will open iTunes.)
This podcast is sponsored by
SmallDog.com
RamJet.com
Last week to enter the Adobe CS2 contest! This is your chance to win the $1,299 premier graphics suite in the world. All it takes is listening to this or last week's show and following a few simple instructions. All entries should be emailed to contest@mymac.com. One entry per person, please.
This week, Tim and Chad do a live review of Pzizz, the Power Napping Software. Seriously! Of course, if the software really works, Tim and Chad may just end up falling asleep during the show.
Also, we look at the fiasco of the The Henrico County school system $50 Apple iBook sale.
Reader feedback! We read a few emails on the show, and look forward to reading yours next week. Send all feedback to mymacpodcast@gmail.com
Links from this weeks Dashboard Minute
For AutoCrossword
For Easy eBay
For most Widgets
Also on the show: a back to school special from SmallDog.com
And Not Mac News by Chris Seibold!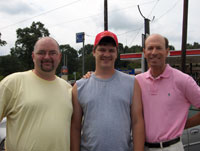 Here is the picture of Chad (Left), Tim (With hat), and Nemo (Right) taken last weekend that Tim and Chad make reference to on the show.